Parler, the right-wing, "free-speech" Twitter alternative, on Tuesday was (yet again) accused of censoring content they don't like.
This time it was the pro-President Donald Trump hashtag "#WriteInTrumpForGA" on the site that allegedly got the ax, which encouraged write-ins for Trump in the U.S. Senate runoffs in Georgia.
The hashtag stems from the campaign of right-wing provocateur Roger Stone's Super PAC, The Committee for American Sovereignty, which is calling to "Hack the Runoff" and write-in Trump in the Georgia runoff.
"The Parler admins appear to be censoring the #WriteInTrumpForGA hashtag… DISGRACEFUL!" Twitter personality William LeGate tweeted, mocking the site, which bills itself as a bastion of free speech.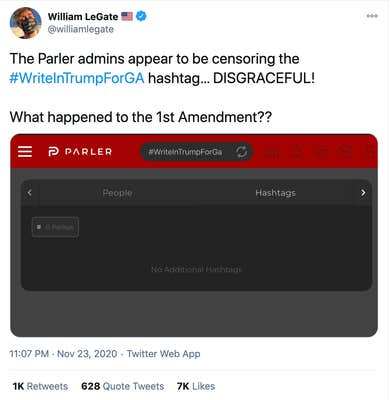 Following the hashtag apparently being taken down, as of Tuesday afternoon, the Daily Dot found the tag had re-populated, with at least 197 posts mentioning "#WriteInTrumpForGA."
Most of those posting "Parleys" were frustrated and accused the social media platform of squelching their free speech.
"Parler is censoring the #WriteInTrumpForGA hashtag," one Parler user wrote.
A request for comment to Parler from the Daily Dot went unreturned regarding the matter.
Parler policy employee Amy Peikoff responded to the apparent censoring of the hashtag, claiming there might have been a "glitch."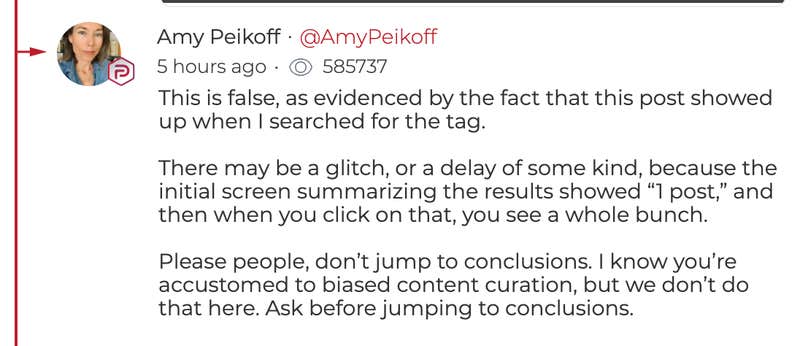 "This is false, as evidenced by the fact that this post showed up when I searched for the tag. There may be a glitch, or a delay of some kind, because the initial screen summarizing the results showed '1 post,' and then when you click on that, you see a whole bunch," she wrote on the platform.
Yet, the censorship behavior from the "free-speech" platform doesn't begin there. When people pivoted to the site, they realized it was free speech in name only, with strict terms of use.
NBC News reporter Ben Collins earlier this week described the up-and-coming conservative platform as a "free speech platform in racism only."
More election 2020 coverage