Today, former President Barack Obama broke his silence about the police killing of George Floyd.
A video released earlier this week of a police officer holding his knee on Floyd's neck until he died has sparked nationwide protests. In Minneapolis, where Floyd was killed, protests have turned into chaotic clashes with law enforcement punctuated by looting and arrests, including of a CNN reporter early this morning.
Obama has rarely spoken out about current events and politics since his term of office ended. But Floyd's killing proved too much for him to keep silent.
As President Donald Trump waged a war with Twitter, and appeared to both condemn the protests and encourage police brutality, his most recent predecessor took a much different tack.
In a statement released on Twitter, Obama wrote of conversations he's had with friends since the video of Floyd's death surfaced, urged Americans to come together to acknowledge and eradicate racism, and put the onus on Minnesota officials to properly handle Floyd's case.
The statement predictably went viral. Obama's supporters felt inspired and soothed—and in no small part frustrated with his successor—while his detractors mocked and denigrated him.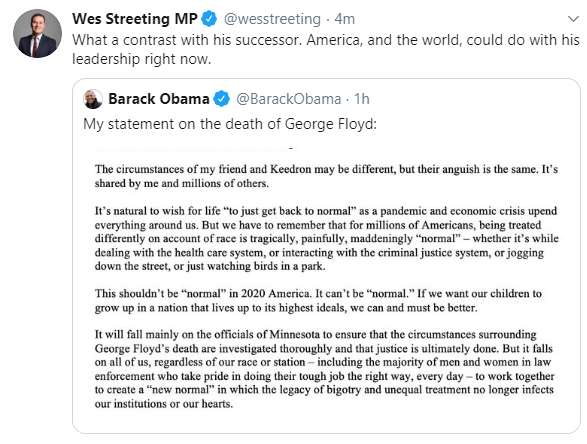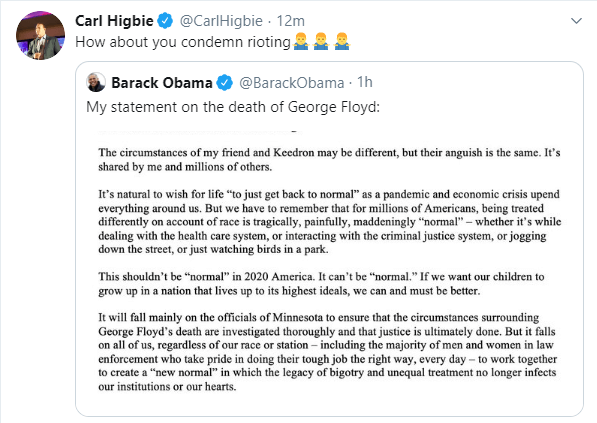 In the statement, Obama wrote of a friend, a middle-aged Black businessman, who emailed him, "I cried when I saw that video. It broke me down. The 'knee on the neck' is a metaphor for how cavalierly the system holds Black folks down, ignoring the cries for help."
Another spoke to Obama of the viral song about Floyd's death written by 12-year-old Keedron Bryant.
The gospel singer sang of being a "young black man": "Every day/I'm being hunted as prey … My people want no trouble/We've had enough struggle … I just want to live."
Obama noted that it's "natural to wish for life to 'just get back to normal," but urged Americans to remember that, for many, "being treated differently on account of race is tragically, painfully, maddeningly, 'normal,'" and alluded to recent incidents in which a woman threatened to call the police on a Black birdwatcher, and the death of jogger Ahmaud Arbery.
"This shouldn't be 'normal' in 2020 America. It can't be 'normal.' If we want our children to grow up in a nation that lives up to its highest ideals, we can and must be better."
In conclusion, Obama said that it will fall on Minnesota officials to see that justice prevails in Floyd's case, and urged all Americans to do their part "to create 'a new normal' in which the legacy of bigotry and unequal treatment no longer infects our institutions or our hearts."
This afternoon, the officer involved, Derek Chauvin, was arrested and charged with 3rd-degree murder.
READ MORE: