Rumors are pervasive as protests over the police killing of George Floyd enter their second week.
This morning, New York City Police Commissioner Dermot Shea repeated a viral rumor about protesters preemptively placing bricks around the city to use against police.
"This is what our cops are up against: Organized looters, strategically placing caches of bricks & rocks at locations throughout NYC," Shea tweeted.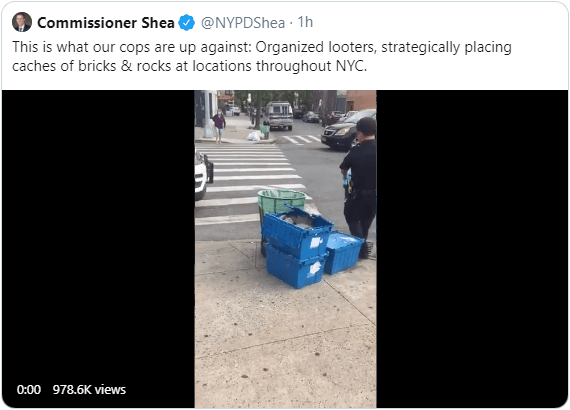 There have thus far been minimal reports of protesters using bricks against police, civilians, or property. But rumors that piles of bricks are showing up in protest areas have been rampant in cities experiencing unrest over Floyd's death, and the preceding deaths of Breonna Taylor, Ahmaud Arbery, and others.
People were quick to point out that Shea has a tool at his disposal for identifying who put the bricks there: closed circuit television (CCTV).
In fact, New York City has one of the most elaborate and advanced CCTV systems in the world. So, as many suggested, instead of complaining and repeating what is beginning to take on shades of being a conspiracy theory, Shea could've just investigated.
"Damn this guy should get closed circuit footage from around the area and see who put them there!" tweeted @RickPaulus. "Like do actual police work!?!? Or maybe they don't know how to do anything but pepper spray and batons now?"
Some were skeptical that the bricks had anything to do with the protests.
New York Times reporter Evan Hill said that the video Shea shared was geotagged to a location 6.5 miles from the main protests in Brooklyn, and 9.5 miles from serious looting in Manhattan.
It also appeared to come from an account without much provenance, one that a police commissioner shouldn't be tweeting it out as fact.
Others suggested that police or their allies were putting stacks of bricks in protest areas in an effort to malign protesters, which has become a conspiracy theory in its own right.
"I'm willing to bet $1,000 that this was done by you or similar authorities," retorted writer Lev Novak.
"Literally no one believes you," added writer Grace Spelman.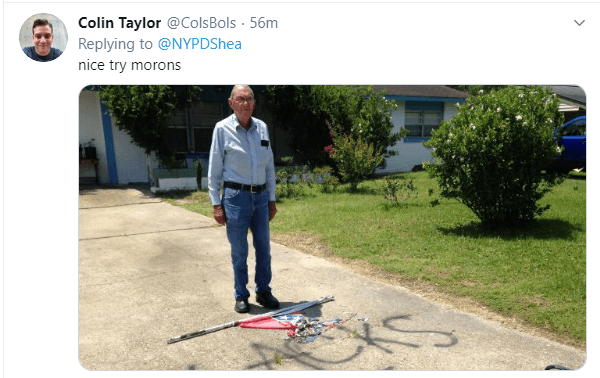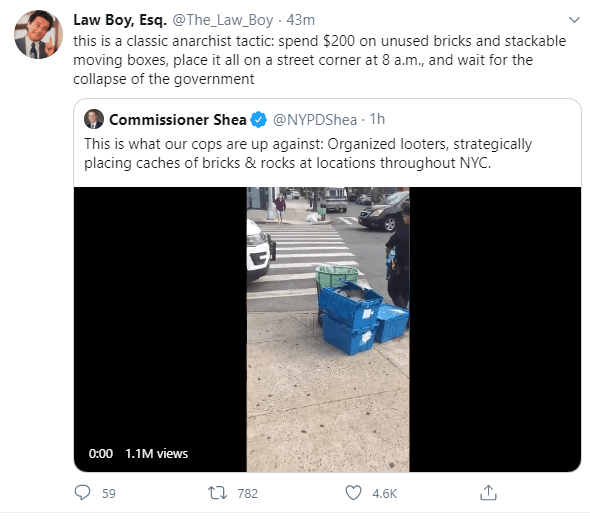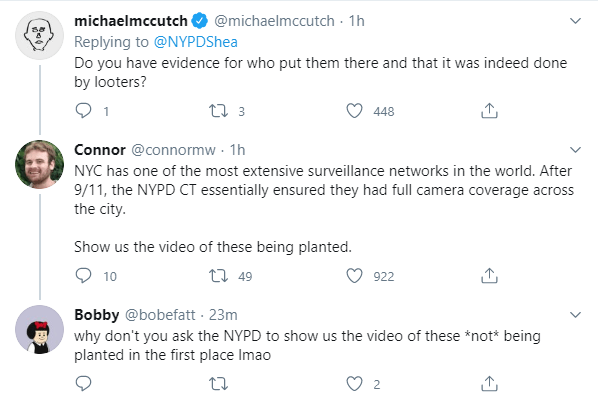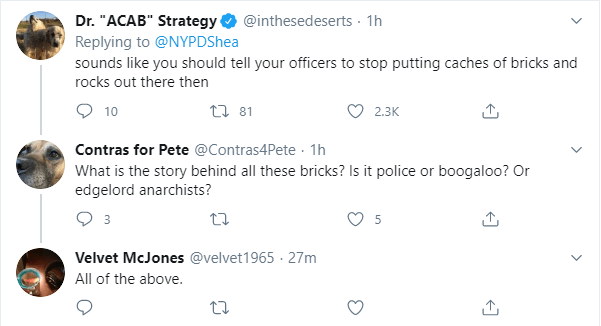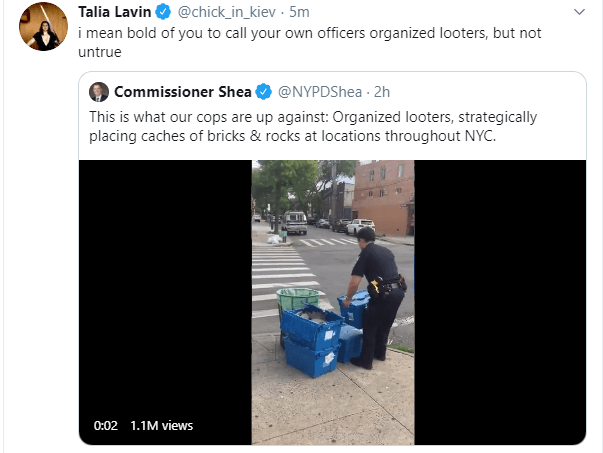 Within two hours, the video had more than 1 million views and thousands of reactions.
Shea has not commented further on his claims, nor have police produced any video footage showing "organized looters" dropping off the bricks.
A similar claim in Texas was debunked when it was revealed pallets of bricks were not left by antifa, but for construction.
READ MORE: