Just a couple days after trying to take down a Dallas police "snitch" app, K-pop fans are at it again. This time they're drowning out the Twitter hashtag "#WhiteLivesMatter" with famcams and memes.
On Monday morning, K-pop stans used GIFs to overload the "WhiteLivesMatter" hashtag with content in support of the Black Lives Matter movement.
K-pop fans are known for sharing their fancams, or videos and GIFs of band members performing. Now, they're using their impressive collection of K-pop content to defend George Floyd protesters.
When users click on the "WhiteLivesMatter" hashtag on Twitter, they'll need to do some serious scrolling before they can find a tweet in support of it. What they will find are the K-pop memes and people celebrating the fans for helping out the Black Live's Matter movement.
"Imagine trying to trend #WhiteLivesMatter like a typical racist, and K-pop fans said, 'Not on my watch, b*tch,'" one Twitter user wrote.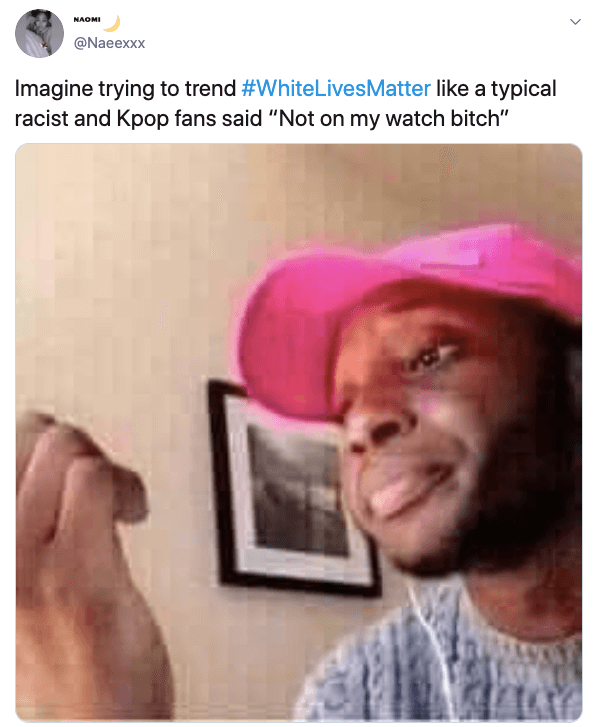 Earlier this week, the fans attempted to take down a Dallas Police Department "snitching app," which encouraged citizens to rat out protesters. Instead of giving the police tips, the K-pop stans flooded the app with videos, memes, and pictures of their favorite celebrities.
Not long after, the app was down because of "technical difficulties."
In light of their recent success, it appears K-pop fans were especially eager and ready to take down the "WhiteLivesMatter" hashtag.
It's unclear where or when the "WhiteLivesMatter" hashtag began on Monday morning. There are very few tweets in support of the hashtag.
READ MORE: