Amid protests against police brutality, one of the names being chanted alongside that of George Floyd is Breonna Taylor, an emergency room technician who was killed by police in Louisville, Kentucky in early March.
Taylor's name was used to create breonnataylor.com, a site that has been taken down. The page did not share any information about Taylor, despite the name. It did list several charity links to support healthcare workers, police, and the Louisville "community."
The site was brought to attention online by radio personality Martin Weiss, who says the domain name had been bought by the Louisville Metro Police Foundation.
The foundation denies any ties to the website.
"Louisville Police killed Breonna Taylor a few weeks ago and just killed David McAtee yesterday and this is what happens when you go to breonnataylor.com," Weiss wrote in a tweet that has more than 16,200 likes. "The Louisville Metro Police Foundation bought the domain name."

As of Tuesday, he's sticking to his story.
"I saw a post with the information and couldn't believe it," Weiss wrote to the Daily Dot via DM. "I went to the site on my phone to verify and then tweeted it out. It got more attention than all of my other tweets, ever, combined."
Weiss said he thought the page was created by someone at the Louisville Metro Police Foundation, or someone on its behalf, after seeing other posts and viewing the site itself.
The tweet which Weiss found was from @DanCanon, who shared a Facebook post alleging that the page was an example of how much the Louisville Metro Police Department "does not care about the Black Community."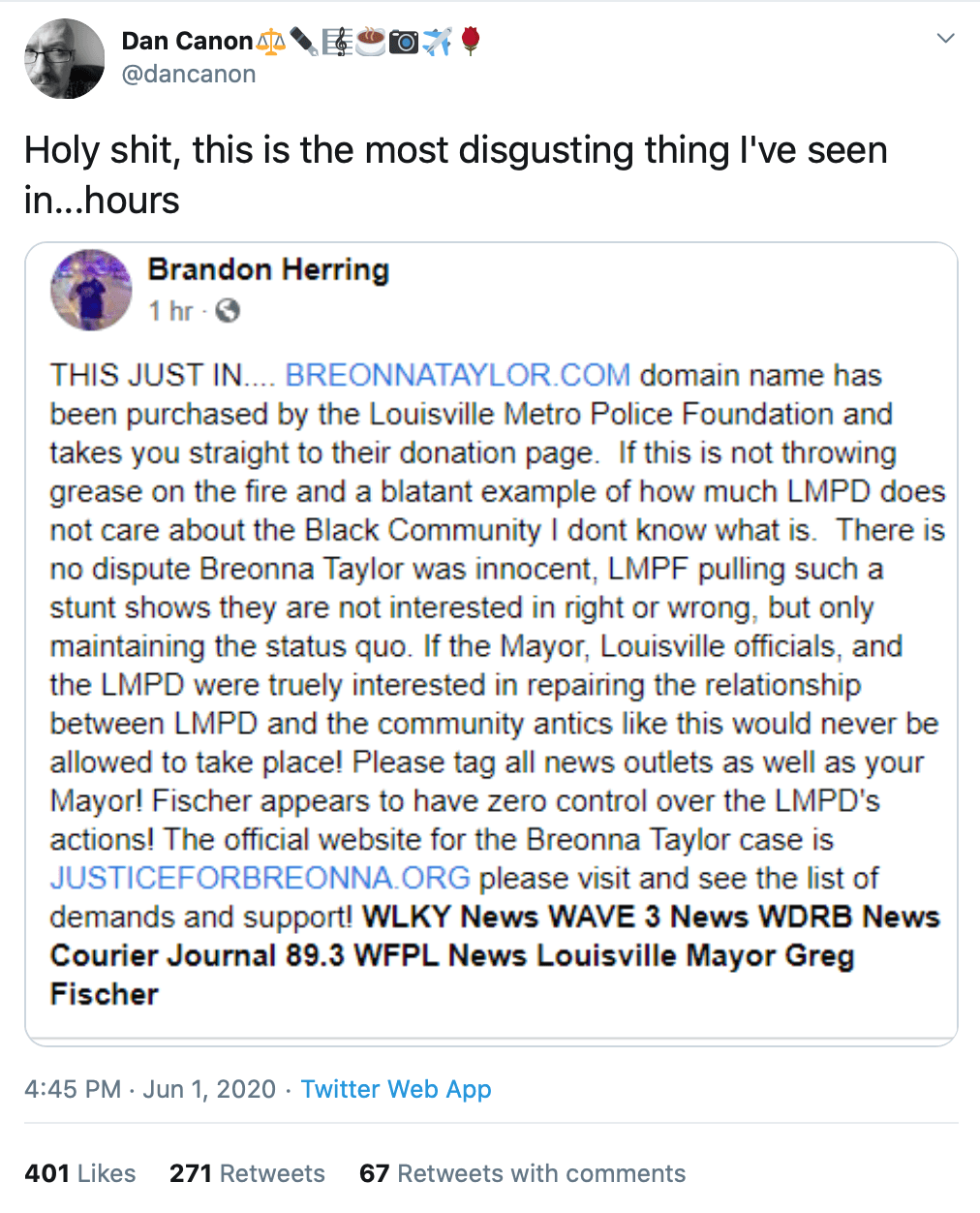 However, the Louisville Metro Police Foundation, which was linked on the site, claims the site domain was not purchased by Louisville PD, saying it was just as "horrified as everyone else."
"(1) We have received several calls and emails about the domain name of BreonnaTaylor.com and are as horrified as everyone else that our charity has been linked here," the foundation wrote from its Twitter account. "We did not and would NEVER show this disrespect."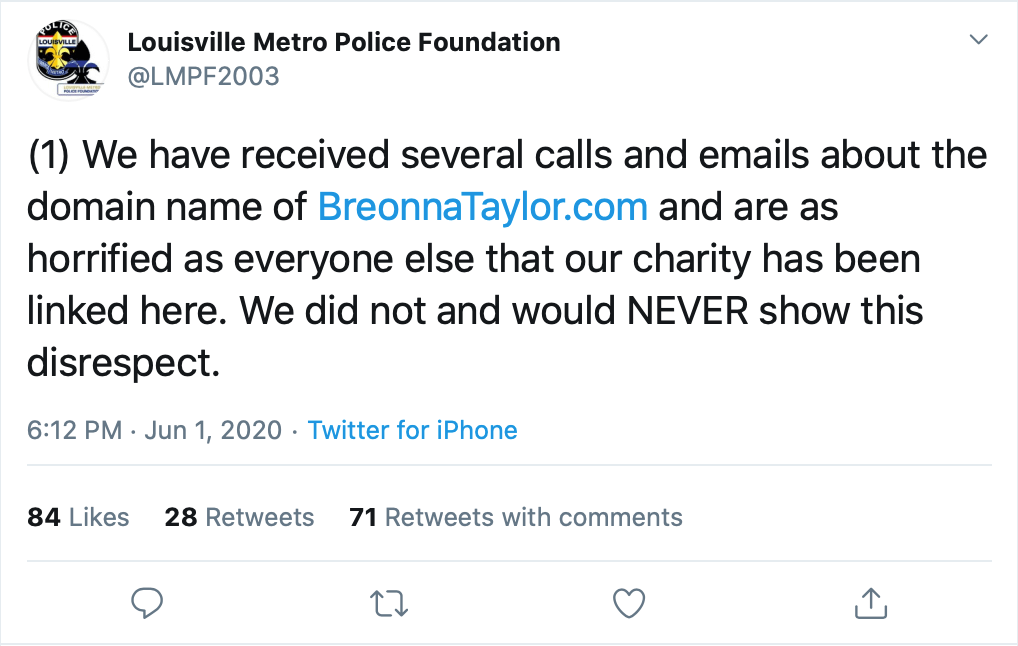 "My opinion did not change after the police posted the statement although I am not naive and understand that we live in a world now where websites and graphics can be easily manipulated during times like these," Weiss added.
The site has been identified as fake by WLKY in Kentucky, which says the domain was purchased by someone in Phoenix.
The domain was created in early May, but nothing was done to it until June 1, according to internet archives. The domain is registered to Namesilo and hosted by IBM's Softlayer. We reached out to Namesilo and per company policy a representative said the only publicly available information about domain registrants is what shows up under the Namesilo "whois" lookup. This information shows the domain owner is unlisted. The Namesilo representative said the page had been suspended June 1 by their abuse team. We've also reached out to Softlayer.
The Louisville Metro Police Foundation has temporarily shut down its fundraising page, which was linked to on the fake page using Taylor's name. The other two linked pages were for Norton Healthcare, which leads to a page that doesn't exist, and a resource page of ways to support the Louisville community.
There is currently no tangible evidence to suggest Louisville police bought the domain in secret. As for the real site, justiceforbreonna.org calls for accountability of the police department regarding her death.
Update 11:09am CT, June 3: In a twist of events, the domain name louisvillemetropolice.com has been purchased and the site now redirects to the Wikipedia page about Taylor's death. Domain registration details indicate that the domain was purchased and redirected on June 2 by Contact Privacy Inc. customer 1247366679 through Google Domains and lists the offices of Tucows Domains in Toronto as its administrative address. We've reached out.
READ MORE:
H/T WLKY