On Monday night, shots rang out as protesters attempted to remove the statue of Spanish conquistador Juan de Oñate in Albuquerque, New Mexico.
The aftermath left one man in critical condition, another charged with aggravated battery with a deadly weapon, and accusations flying about a self-described militia group who witnesses said were either with the suspect or sympathetic to his opposition to the protest.
That militia group, the New Mexico Civil Guard, denies that the suspected shooter, Stephen Ray Baca, is a member.
The incident has given rise to questions about its role in the shooting, precisely what the New Mexico Civil Guard believes, and why its members have repeatedly shown up at recent protests decked out as if for war.
People present that night have claimed that members of the guard were friendly with Baca prior to the shooting and that afterwards, they formed a protective circle around him.
The guard claims they did this to secure his weapon and prevent further violence.
Who is the New Mexico Civil Guard?
The New Mexico Civil Guard appears to have emerged from the ether of Facebook sometime in March.
In recent weeks, Black Lives Matter protesters in Albuquerque began noticing heavily armed men showing up to protests without any apparent intention of taking part. More recently, members of the guard began telling people that they were there in a protective capacity, as a self-appointed pseudo-police force of sorts.
The guard claims it's peaceful, but the excessive weaponry, camouflage, and other instruments of war have put protesters on edge.
After Monday's shooting, many began speaking out against them on social media.
By Tuesday morning, the New Mexico Civil Guard Facebook page was inundated with angry comments from people accusing them of being involved.
The page has since apparently been deleted.
Screenshots obtained by the Daily Dot include claims that members are current and former law enforcement and military.
One member said that those with law enforcement and military experience train the others a few times monthly.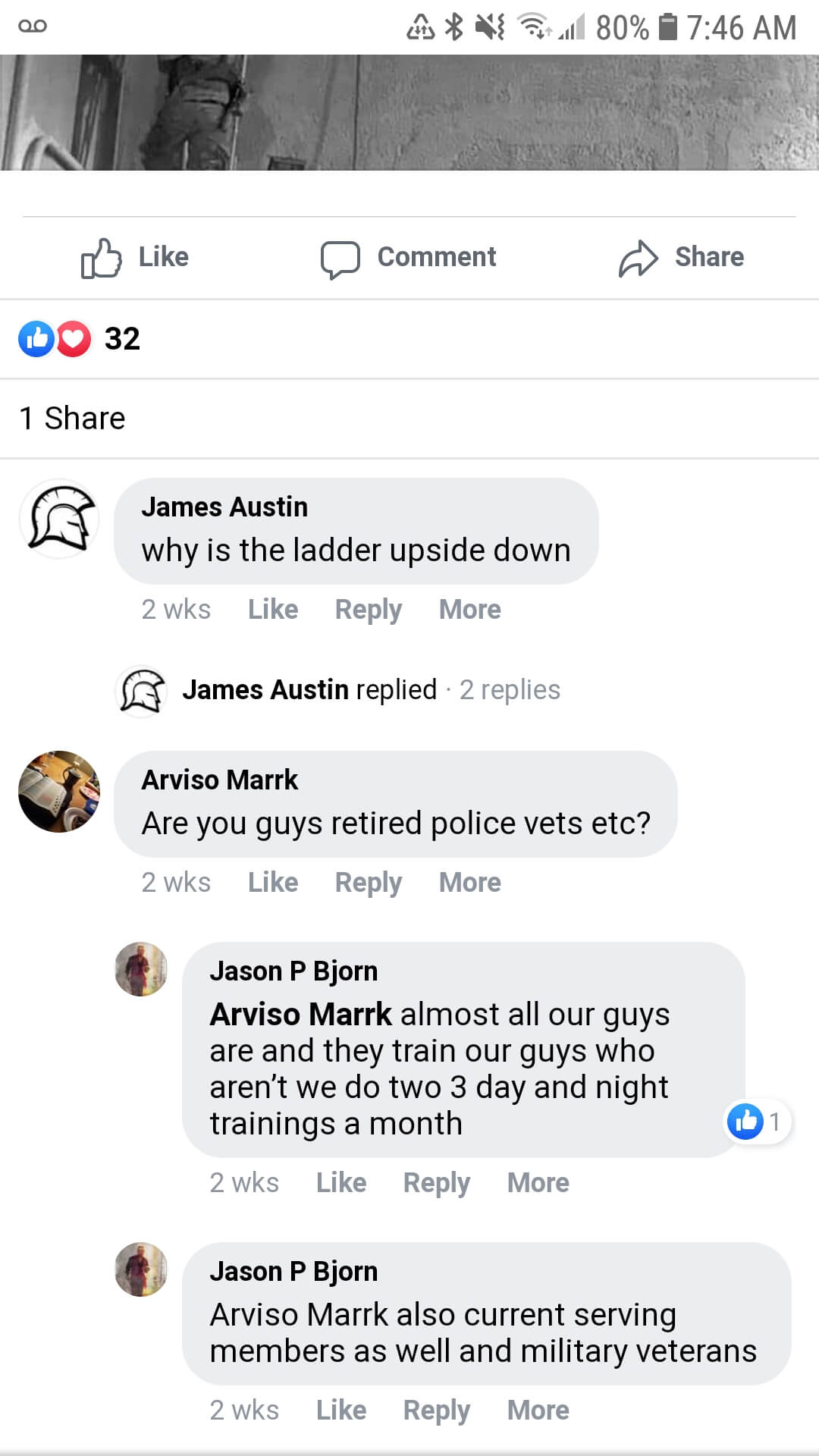 That might explain why reports on scanners after the shooting said that police referred to the group as "armed friendlies."
A leader from the group also told the Eastern New Mexico News earlier this month that members include retired law enforcement and military highly trained in weaponry, CPR, and survival skills.
Baca, last night's alleged shooter, is the son of a former police officer. The Washington Post reports that the Bernalillo County Sheriff's Department said his father hasn't been with the force since 2001.
Other posts from the Facebook page reference plans to possibly attend the protest to "protect" the statue from "the liars [who] are going to try and remove" it.
At the protest, members of the New Mexico Civil Guard told a local reporter that they were there "to do what the founding fathers would have: protect the statues."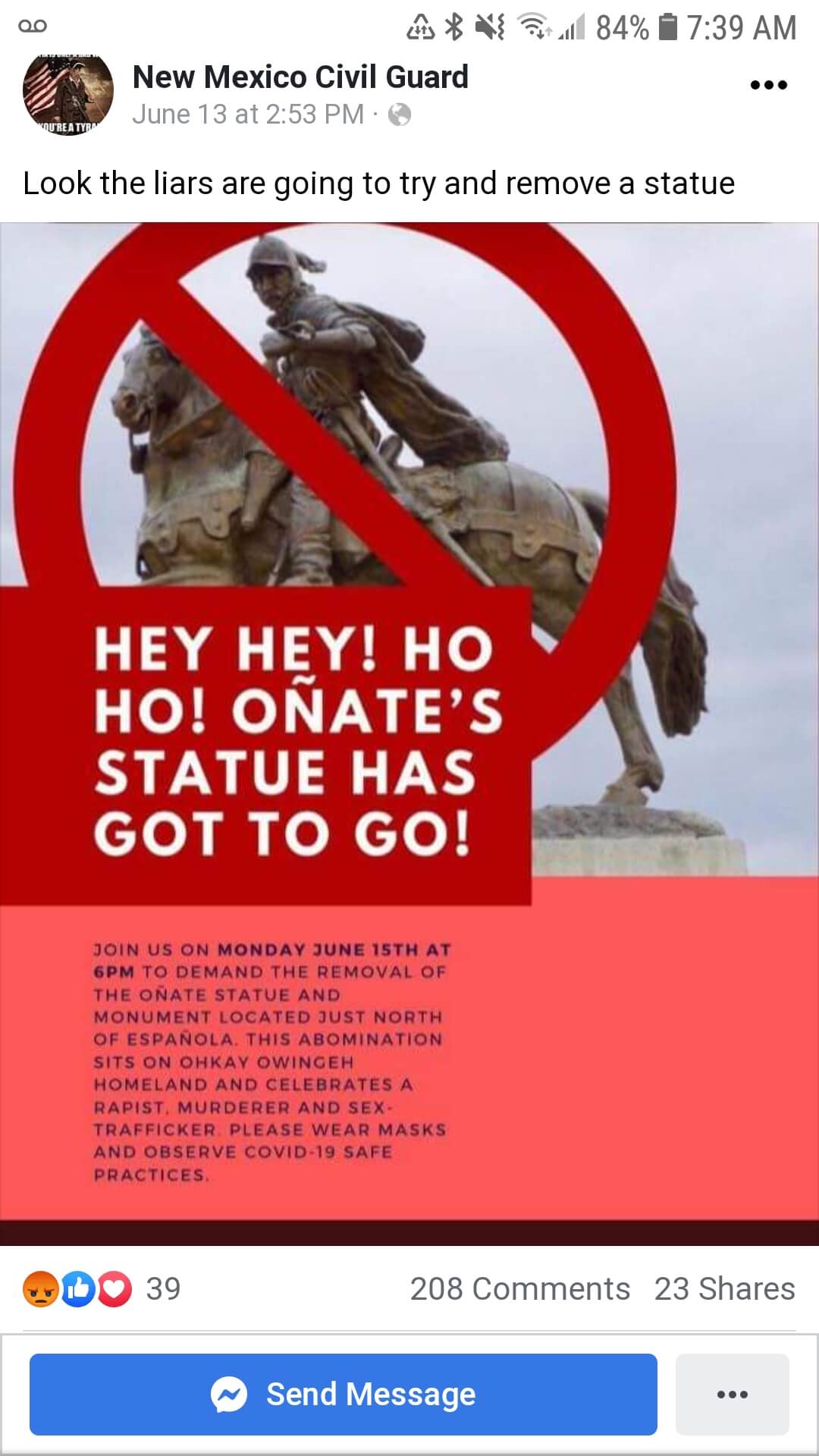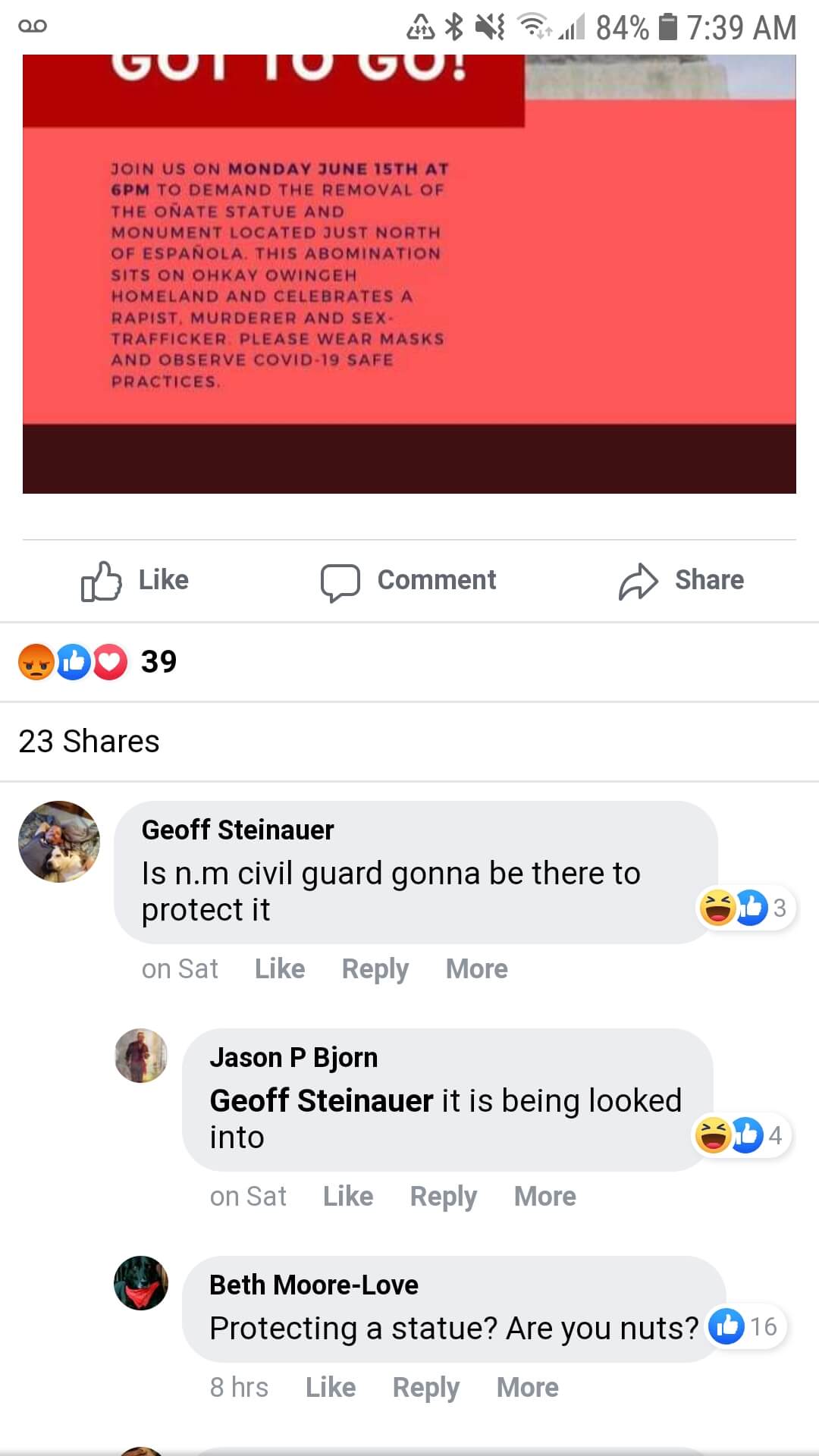 On the Facebok page, which was launched in March in apparent reaction to the pandemic, the group also posted YouTube videos on ambushing and killing enemies, schedules for its trainings, conspiracy theories, pro-gun memes, and numerous calls to "muster."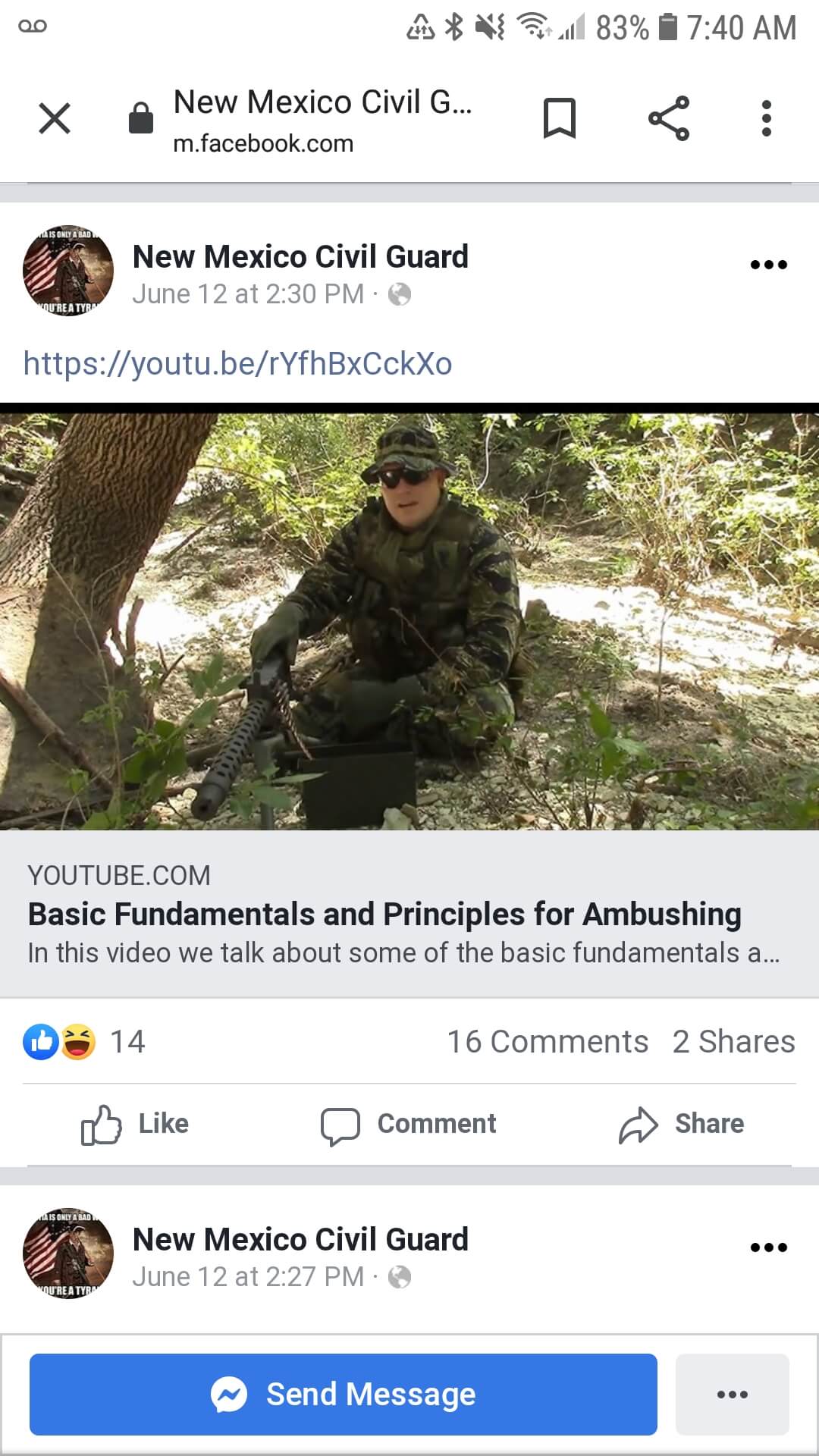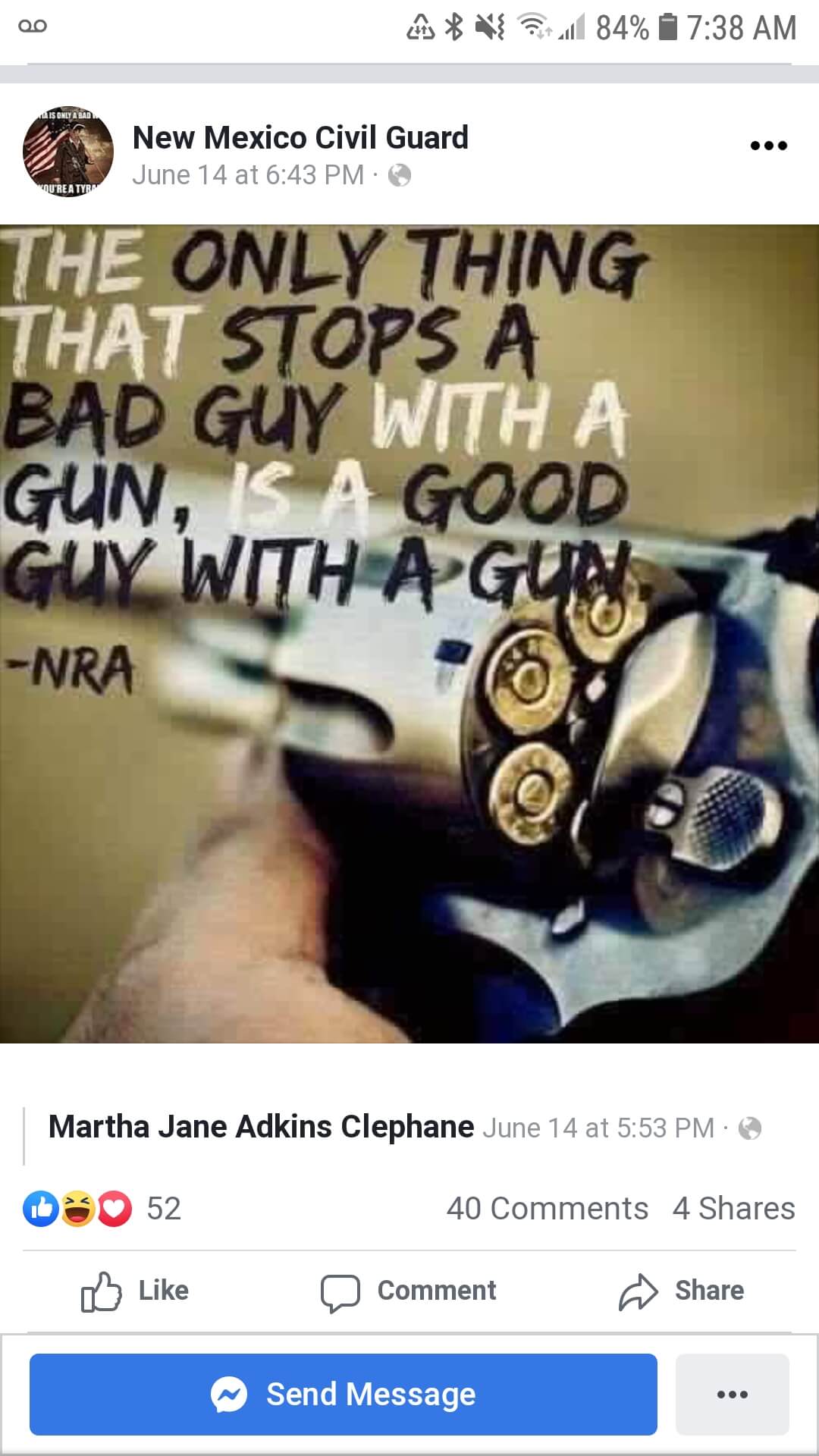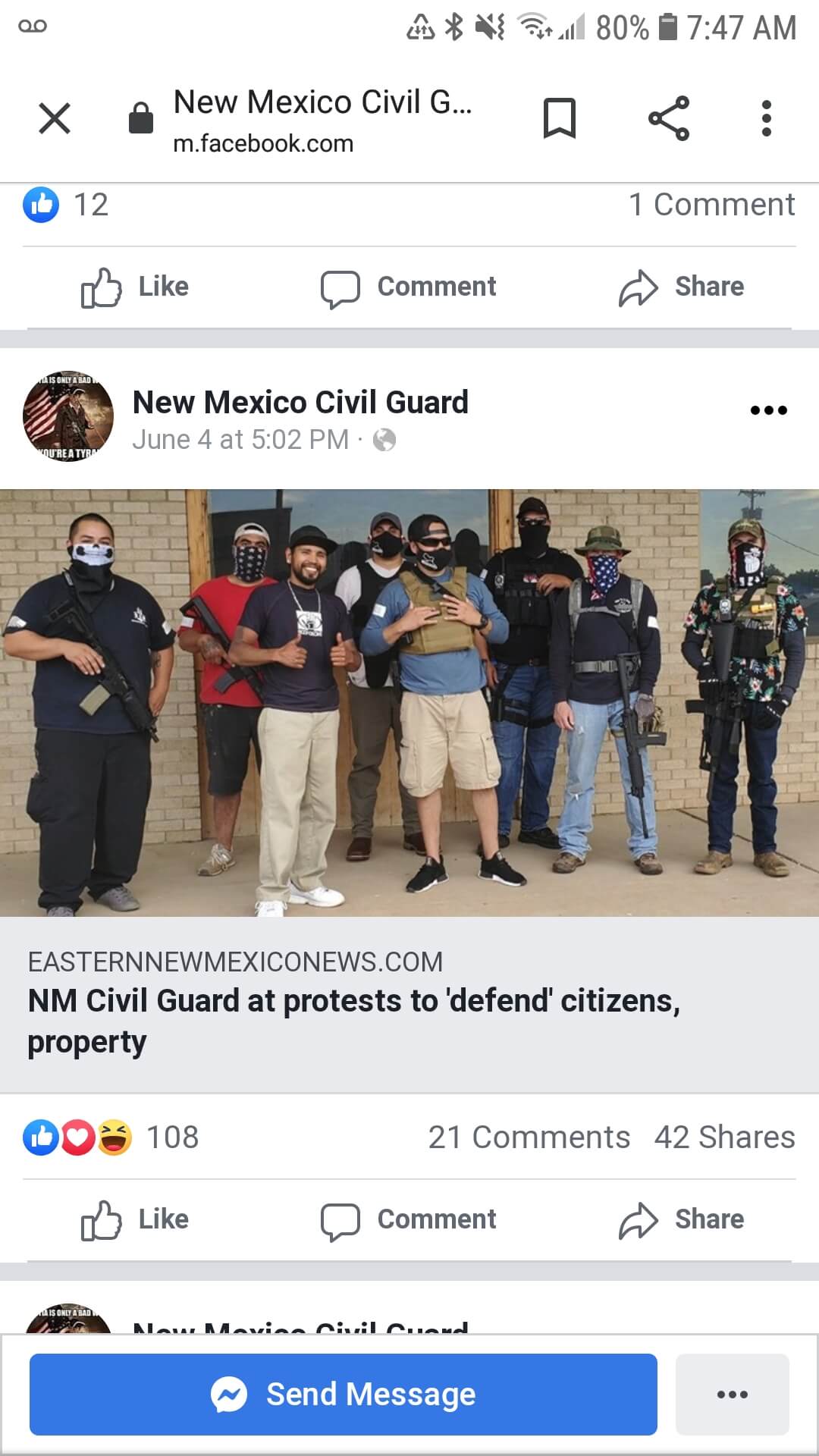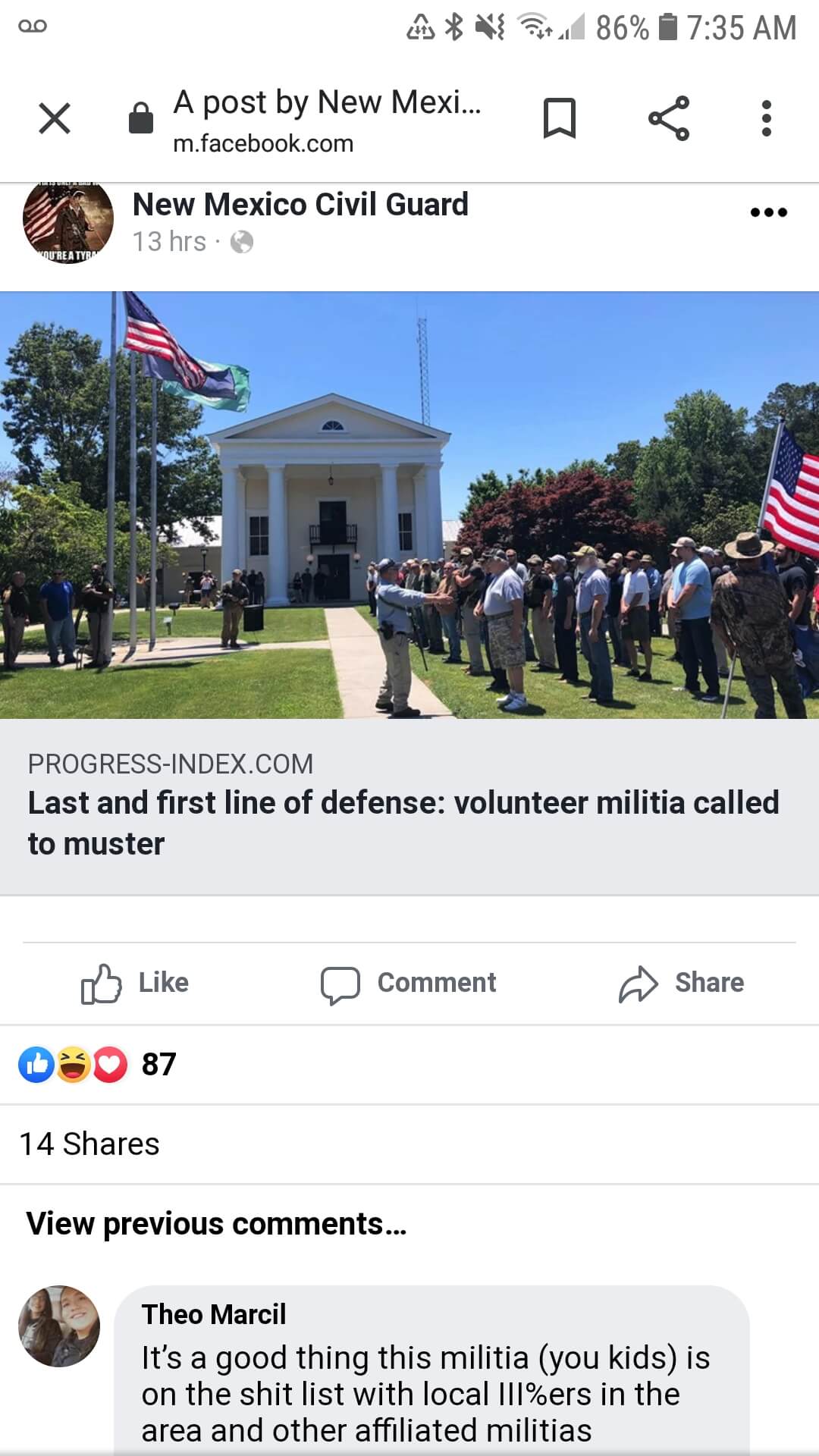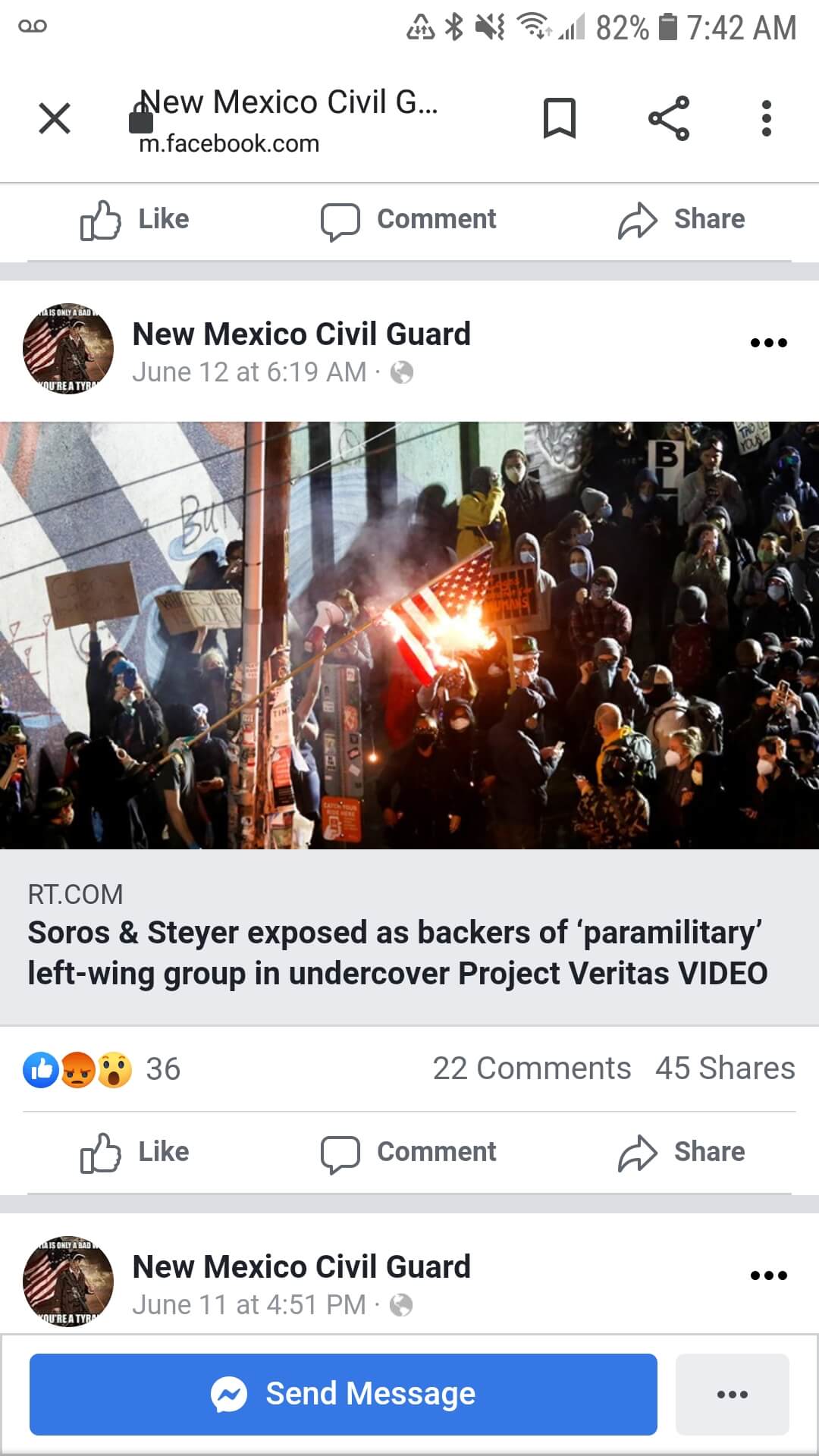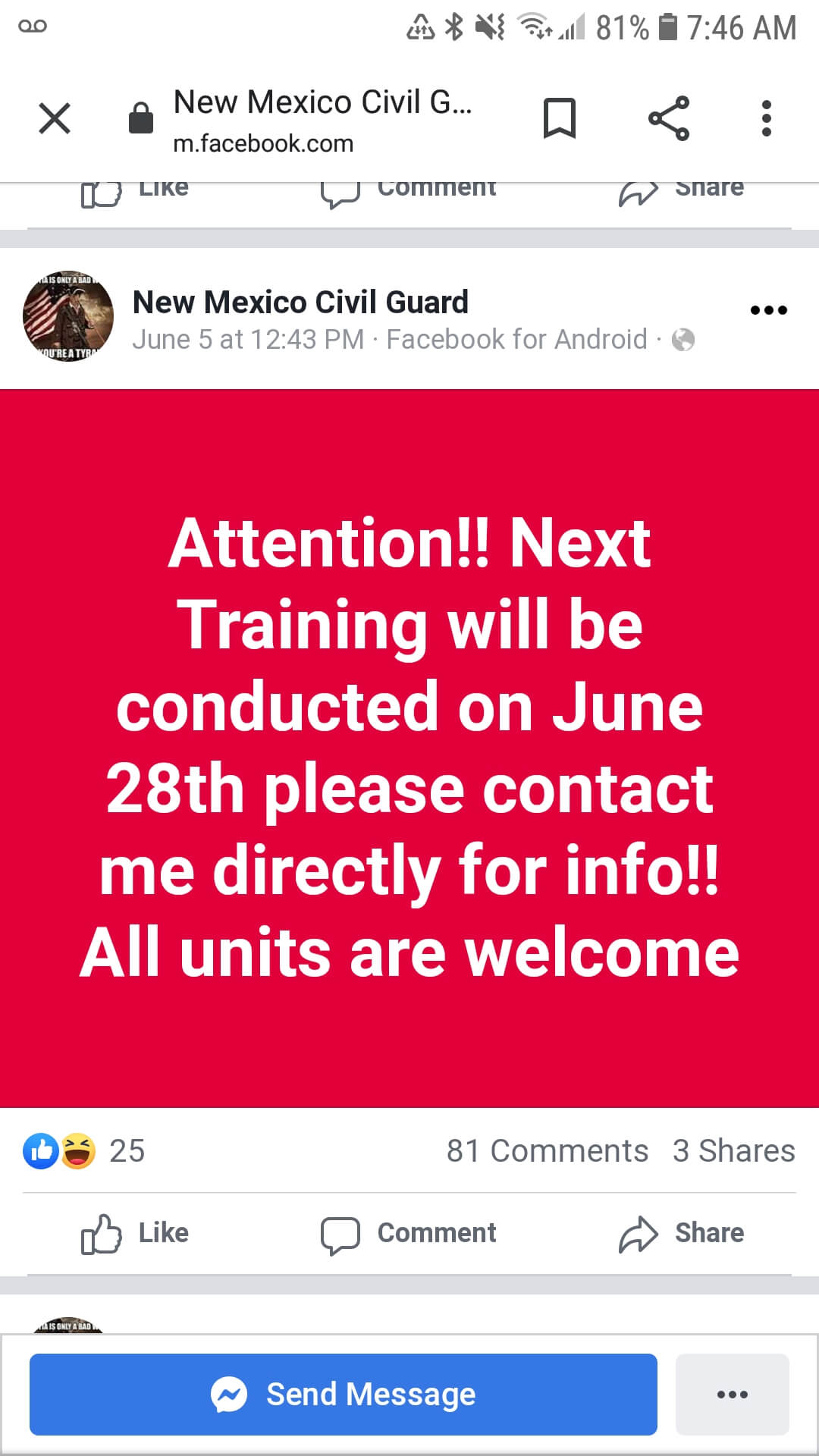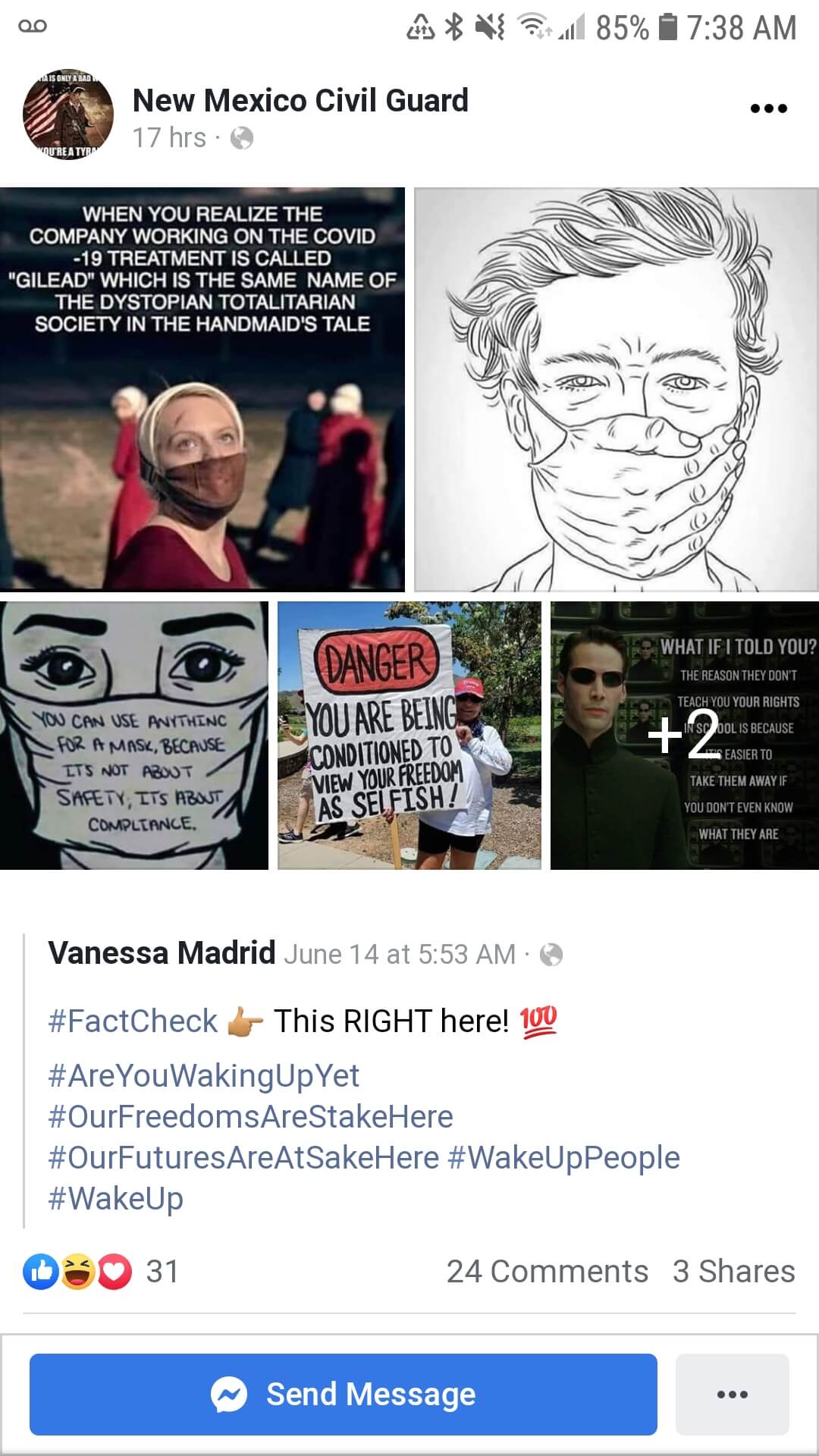 In one lengthy post, the group argued that militias will need to step in if police are defunded or disbanded.
"The NMCG has been out every night in ABQ after the violence happened after that one protest," reads the June 8 post.
It then says they don't "put it past" Albuquerque Mayor Tim Keller to defund the police.
"We need the good citizens of N.M. to join up and help defend our peaceful citizens. Just because the protests are dying down doesn't mean it is time to become less vigilant, this is just a temporary reprieve.
"If we've learned anything from 2020 it's that it will be something new next month," it concludes. "So join up and help us keep N.M. safe from threats foreign and domestic."
Much like other groups whose members have used the Black Lives Matters protests as an excuse to don combat gear and "protect" the citizenry, New Mexico Civil Guard has numerous local affiliates, as well as private pages.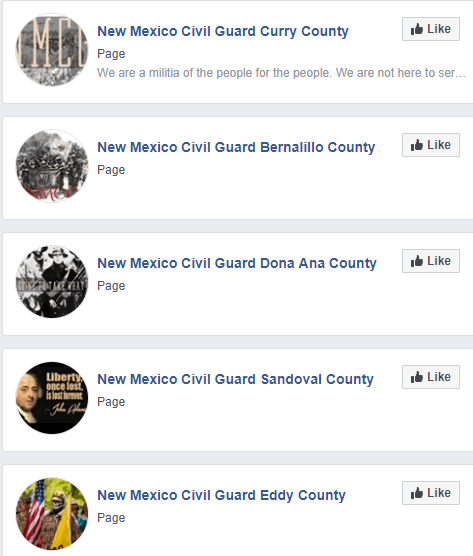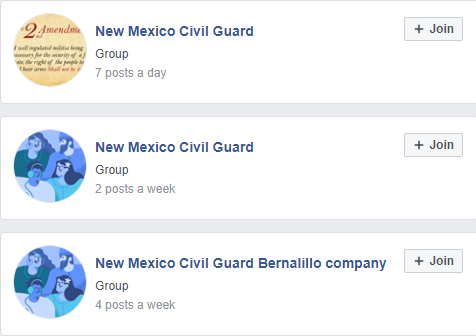 All of the local pages were created on May 21.
The largest of the pages has 300 followers; the smallest has two. A few have a couple dozen. The main page had more than 1,000 before it was deleted.
Each of the three private groups has roughly a few dozen members.
While people involved with the New Mexico Civil Guard say their only intention is to protect, those presumably benefiting from the protection are largely less than enthusiastic. Many believe that the guard is attempting to incite conflict, not eradicate it.
Now Albuquerque police are promising to investigate.
"We are receiving reports about vigilante groups possibly instigating this violence," Albuquerque Police Chief Michael Geier said in a statement. "If this is true [we] will be holding them accountable to the fullest extent of the law, including federal hate group designation and prosecution."
READ MORE: