What began as a probably-sincere letter from Congressional members, seeking common ground with newly-inaugurated President Joe Biden, has turned into a controversy over Rep. Madison Cawthorn (R-N.C.) and his signature.
Rep. Ashley Hinson (R-Iowa) tweeted a letter she sent, co-signed by 16 other Republican members of the House of Representatives, stating that, "As our nation prepares for the peaceful transition of presidential power, I stand ready to find common ground with the Biden Administration where possible so that we can help Iowans & Americans."
While Hinson sending such a letter from her Twitter account might smack of PR, given that the Iowa Democratic Party is asking a House ethics committee to look into how Hinson's used her social media accounts, the letter got attention because Cawthorn was one of the signers.
Cawthorn has stepped into some prior controversies, as the Daily Dot has reported over the past few months. Those include telling liberals to "cry more" after he was elected to the House, using the term "Jewish blood" while discussing his aim to convert Jews and Muslims to Christianity, and admitting he was carrying a firearm during the Jan. 6 Capitol riot, noting, "Obviously having the wheelchair I'm able to carry multiple weapons at one time."
But this controversy didn't stem from something he said: It came from how he signed his name. As Alex Abad-Santos tweeted, "If I had to see the Madison Cawthorn signature, you have to see the Madison Cawthorn signature."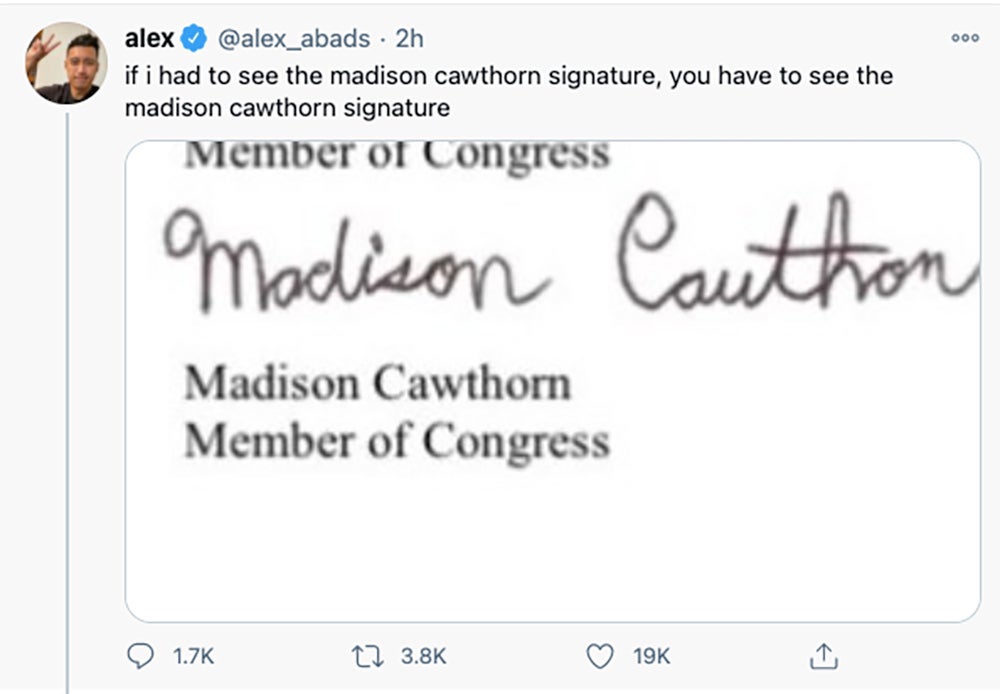 Some, who saw the signature as crude and even child-like, commenced on dunking on the conservative House member. The @popehat account asked, "Why is this not on the cover of a Trapper Keeper?"
Another satirical account, the Mrs. Betty Bowers account, observed, "Apparently, Madison's home-schooling was more about Jesus riding a dinosaur than Madison using a pen."
More than one person wondered if he'd misspelled his own name, with the "W" in Cawthorn looking like a "U," and either the "R" or "N" at the end appearing to be missing.
The animosity for Cawthorn online isn't new, and some might argue that's he brought it upon himself.
Cawthorn did once—as the Daily Dot reported back in August—go on Instagram to call a visit to Adolf Hitler's Eagle's Nest retreat a "bucket list" event. (He also called the disgraced Nazi leader "the Fürher," which raised some eyebrows.) And, also, there's that whole "cry more, libs" business.
At least one person thought it was out of bounds to fault Cawthorn for bad handwriting, noting, "Ah, nothing says talent like making fun of someone's signature. My son can barely write his name, would you like to make fun of him, too?"
That tweet also opened up the idea that mocking Cawthorn will "harm people who have disabilities, and it's not funny."
Some surmised the signature could potentially be a reflection of the injuries from the 2014 car accident that left him partially paralyzed. And in some people's view, comments criticizing his handwriting could be taken as ableism.
"Might be a little ableist, my guy," the @95Sports account pointed out. "Paralyzing injuries can impact all extremities. Just saying."
One person, however, responded with a photo of Cawthorn holding a rifle on what appears to be a hunting adventure, and said, "His hands work well enough for firearms."
That set off another round of spirited debate on Twitter—which, although seems the norm for Cawthorn, didn't happen in the way it usually does with him.
Update 12:31pm CT, Jan. 21: After this story published Wednesday evening, Abad-Santos deleted his tweet, noting, "I'm deleting this tweet. I found it odd that a man whose image is about being tough, and guns and how 'soft' libs are was dotting his I's with circles. People reached out and said his writing style is because of his disability. I didn't realize that and am sorry I caused hurt."
He provided a screenshot of his original tweet with the explainer below; the Daily Dot also preserved one for posterity and included it in the story where the embedded tweet initially was.
---
Read more of the Daily Dot's tech and politics coverage