Facebook wasted no time jumping into a potential void that a TikTok ban would create by launching Instagram Reels.
President Donald Trump signed an executive order targeting TikTok that would effectively ban the enormously popular app. But just before that, Facebook pushed out Instagram Reels, which immediately faced criticism of being extremely similar to TikTok.
So while TikTok faces an uncertain future and a potential new owner for its U.S. operation, Facebook is trying to lure users to its new service.
The new TikTok-like feature came just one week after Facebook CEO Mark Zuckerberg testified before Congress as a part of an anti-trust probe. The hearing intended on determining the vast reach of tech giants like Google, Amazon, and Facebook.
Zuckerberg downplayed Facebook's control over the social media market. But now, it is clear that Instagram Reels is aiming to sweep TikTok under the rug—or, at the very least, bite into its base of users.
Here is what we know about Facebook's new Instagram Reels.
What is Instagram Reels?
The new video editing feature is now available to Instagram users in over 50 countries, including the U.S.
Reels is accessed through the Instagram Stories camera as an option on the bottom of the screen. Users slide left when opening the app and "Reels" is next to the normal picture or video option.
After selecting Reels, users will find five features for their videos including audio, speed, effects, align, and timer.
The audio option provides music from Instagram's licensed library. Once a song is selected, the user can decide which portion of the song they want to play during the 15 seconds. Or, the user can use their own audio by hitting record.
The speed option can slow down or speed up the time of the video.
The effects option on Reels is perhaps the feature's most valuable option. Any filter or effect available on Instagram can be used on Reels. Instagram's augmented reality capabilities allow for more effects than any other shortform video platform.
If a creator has multiple clips, the align feature helps to create seamless transitions. It lines up the images from the first clip so that the second clip flows naturally without any jumps.
Finally, the timer option allows for users to start the video after a designated amount of seconds so that recording is hands-free.
Once a Reels video is finalized, Instagram users can post to their feed, direct messages, or story. Accounts set to public may have their Reels video featured on the 'Explore' page, which is a compilation of public accounts suited for each individual user.
How similar is Instagram Reels to TikTok?
While Instagram Reels and TikTok look almost identical, there are some minor differences.
The interface itself appears pretty much the same as TikTok's but with the user controls are on the left side of the screen. While Reels only allows for 15 second videos, TikTok lets users have videos that can be as long as 60 seconds.
Meanwhile, the two apps both have music libraries. But, TikTokers can take original audio from other TikTokers. So, one creator's original voice can be used on top of another creators video.
Another differentiating factor is audience. If an Instagram account is public, then a user's Reel video is available to a larger audience similar to TikTok's 'For You' feed. But, popularity around TikTok is based on the 'For You' feed.
Also, while TikTok is its own app, Reels is nestled within Instagram.
Despite the small differences, TikTok trolled Instagram, tweeting that the newly-launched app "looked familiar."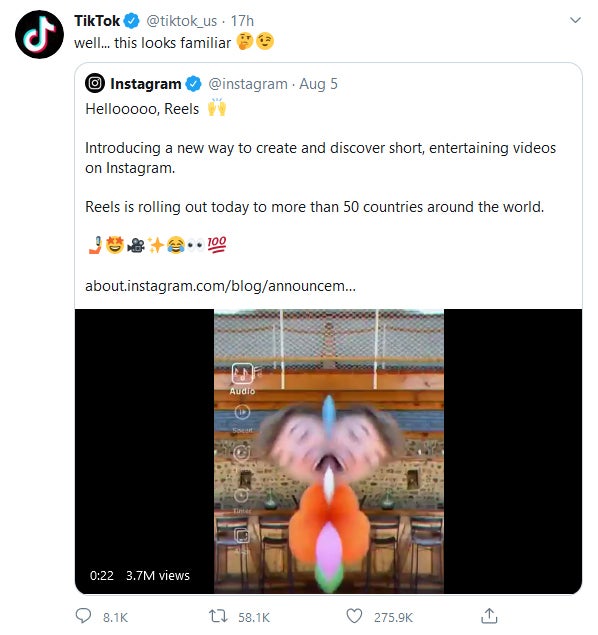 Although Instagram has more monthly users, a popular TikTok video is more likely to see more viewers than a popular Reels video because it does not have to compete with other content like images, stories, or long form videos.
Facebook has a history of introducing features on Instagram to try and offer a similar service as a competitor. The Stories feature on Instagram was considered a clone of Snapchat.
In fact, this isn't even the first time Facebook tried to create a TikTok competitor. Remember Lasso?
READ MORE: