Most of the largest and far-reaching social media platforms have removed content, podcasts, and pages dedicated to InfoWars and Alex Jones.
And today, the removal was made unanimous across Silicon Valley, as Twitter banned the prominent conspiracy theorist.
As big names like Facebook, , iTunes, and Spotify have removed InfoWars content,  Twitter had been the lone holdout, saying Jones and the show's accounts have not violated their terms of service.
However, that changed Thursday.
Today, we permanently suspended @realalexjones and @infowars from Twitter and Periscope. We took this action based on new reports of Tweets and videos posted yesterday that violate our abusive behavior policy, in addition to the accounts' past violations. https://t.co/gckzUAV8GL

— Twitter Safety (@TwitterSafety) September 6, 2018
After Facebook's announcement, InfoWars wrote that the removal of the pages was a "shocking intensification of Big Tech's censorship purge."
Here's a list of places that have removed InfoWars—which has peddled conspiracy theories for years—and Jones' pages, or content, in recent weeks.
This list will be updated if more companies announce similar action.
Platforms that have removed InfoWars content
Twitter
Twitter initially faced tremendous backlash over its decision to keep Jones on the platform, saying he had not violated any of its rules. However, numerous users rebelled against that, prompting a movement to block advertisers on the platform.
The site responded by suspending Jones for seven days, but today Twitter kicked Jones and InfoWars off for good.
Today, we permanently suspended @realalexjones and @infowars from Twitter and Periscope. We took this action based on new reports of Tweets and videos posted yesterday that violate our abusive behavior policy, in addition to the accounts' past violations. https://t.co/gckzUAV8GL

— Twitter Safety (@TwitterSafety) September 6, 2018
As we continue to increase transparency around our rules and enforcement actions, we wanted to be open about this action given the broad interest in this case. We do not typically comment on enforcement actions we take against individual accounts, for their privacy.

— Twitter Safety (@TwitterSafety) September 6, 2018
We will continue to evaluate reports we receive regarding other accounts potentially associated with @realalexjones or @infowars and will take action if content that violates our rules is reported or if other accounts are utilized in an attempt to circumvent their ban.

— Twitter Safety (@TwitterSafety) September 6, 2018
FCC
A radio station in Austin, Texas that hosted Jones' show was taken off the airwaves by the Federal Communications Commission, according to the Austin American-Statesman.
The newspaper reports that the station, Liberty Radio, was also handed a $15,000 fine. A lawsuit claims that Liberty Radio was functioning without a license since 2013 and was transmitting from a "maintenance or utility room" in an apartment complex in Austin.
In testimony to the Senate today, FCC head Ajit Pai addressed the matter, saying that the decision had nothing to do with the content the radio station was sharing, but rather enforcing laws surrounding illicitly operated radio stations.
Facebook
On Aug. 6, Facebook announced that it had removed four prominent pages run by InfoWars and its host. The company said the Alex Jones Channel page, the Alex Jones page, the InfoWars page and the InfoWars Nightly News page, were taken down because of "repeated violations of Community Standards" and "accumulating too many strikes."
The company added that the removal of the pages was not associated with its continued efforts to address "fake news" being shared on the social media giant.
"While much of the discussion around Infowars has been related to false news, which is a serious issue that we are working to address by demoting links marked wrong by fact checkers and suggesting additional content, none of the violations that spurred today's removals were related to this," the company wrote.
Late last month, Facebook handed Jones a 30-day ban, which stopped him from posting content on any page that he was an administrator of.
Spotify
In early August Spotify, the music streaming app, announced it had removed "specific episodes" of Jones's podcasts because they were reported for "hate content."
Days later, Spotify removed Jones completely.
"We take reports of hate content seriously and review any podcast episode or song that is flagged by our community," Spotify told the Washington Post. "Spotify can confirm it has removed specific episodes of 'The Alex Jones Show' podcast for violating our hate content policy."
The move came just days after the InfoWars host linked to his Spotify channel on Twitter, asking people to "fight against censorship."
Jones's tweet sparked immense backlash online.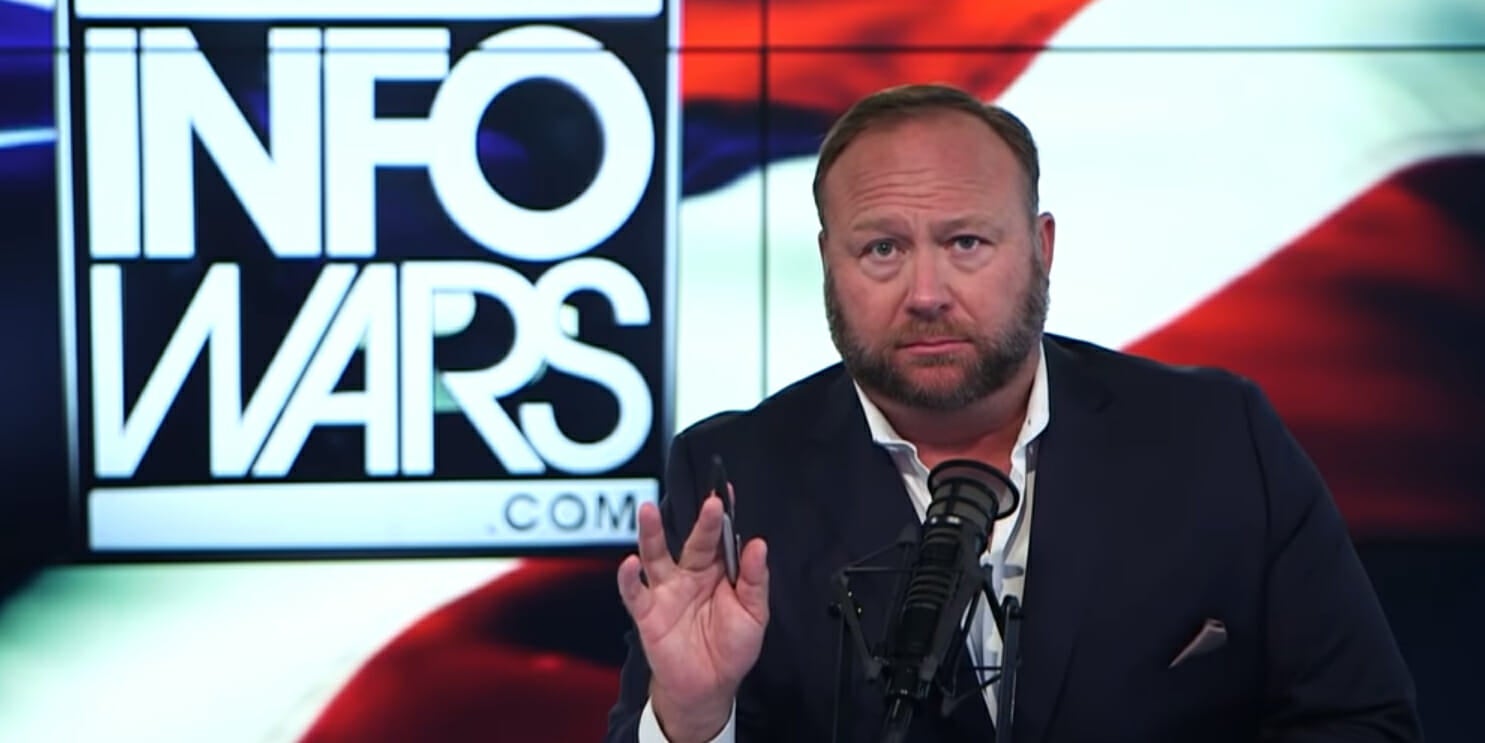 YouTube
One of the largest platforms for Jones was YouTube, who announced in late July that the InfoWars channel would be suspended from broadcasting for 90-days after four videos were found to violate the site's policy against "violent or graphic content."
CNET reports that one of the videos showed a man throwing a kid to the ground and was titled "How To Prevent Liberalism: A Public Service Announcement."
However, on Aug. 6 two pages on YouTube—InfoWars and the Alex Jones Channel—were slapped with notices telling viewers the accounts were "terminated" for violating YouTube and Google's terms of service.
YouTube told the Daily Dot accounts are terminated after users "violate" terms of service "repeatedly."
"All users agree to comply with our Terms of Service and Community Guidelines when they sign up to use YouTube. When users violate these policies repeatedly, like our policies against hate speech and harassment or our terms prohibiting circumvention of our enforcement measures, we terminate their accounts."
It appears YouTube has removed the Alex Jones Channel for violating its guidelines pic.twitter.com/H0Onaac3rJ

— Oliver Darcy (@oliverdarcy) August 6, 2018
Apple / iTunes
Apple removed all of the episodes from five of six podcasts hosted by InfoWars on iTunes, BuzzFeed news reported late Sunday.
Two of the podcasts that were removed from iTunes and the Podcasts apps included the "War Room" show and the "Alex Jones Show."
"Apple does not tolerate hate speech, and we have clear guidelines that creators and developers must follow to ensure we provide a safe environment for all of our users," Apple told the news outlet. "Podcasts that violate these guidelines are removed from our directory making them no longer searchable or available for download or streaming. We believe in representing a wide range of views, so long as people are respectful to those with differing opinions."
READ MORE: 
Pinterest
Pinterest took down InfoWars's page on Aug. 6, CNET reports.
"Consistent with our existing policies, we take action against accounts that repeatedly save content that could lead to harm," the company told CNET. in a statement. "People come to Pinterest to discover ideas for their lives, and we continue to enforce our principles to maintain a safe, useful and inspiring experience for our users."
Mashable reports that the Pinterest page went down after it contacted the company about it. In a statement, the company said "multiple people" reported the page.
YouPorn
In one of the more out-there announcements of the week, YouPorn announced on Monday that it deleted six videos related to Jones that appeared to be "spoof videos," according to The Wrap.
In a statement that circulated online, the website's Vice President Charlie Hughes said it was an "inclusive platform" and that "hate has no place on YouPorn."
so i got an unsolicited statement just now that the adult site YouPorn is banning Alex Jones and Infowars content from its platform (what? ok.) pic.twitter.com/U4IwkGf4FO

— Charlie Warzel (@cwarzel) August 6, 2018
The Wrap pointed out that no official InfoWars content had been uploaded on the site.
LinkedIn
Finding new employees in a mainstream way may become harder for Jones, as the InfoWars company page has been taken off LinkedIn, according to CNET.
In a statement, the company told the news outlet that it violated its terms of service and encouraged people to report "inappropriate content or behavior."
"We value the professional community on LinkedIn and strive to create a platform where the exchange of ideas by professionals can happen without harmful misinformation, bullying, harassment or hate," the company said.
Stitcher
iTunes isn't the only podcast platform removing Alex Jones-related content.
Stitcher, a podcast app, removed all of the episodes from Jones's podcast, Billboard reports.
The company said it found that on "multiple occasions" that Jones "harassed or allowed harassment of private individuals and organizations, and that harassment has led listeners of the show to engage in similar harassment and other damaging activity."
MailChimp
On Aug. 7, Media Matters for America spotted that Jones displayed a piece of paper on his live stream which showed MailChimp, the email marketing service, had removed him from their platform "effective immediately.
When asked about it, the company said it does not allow "people to use our platform to disseminate hateful content."
While numerous websites have taken Jones off their platforms, others have not yet taken action.
Twitter told USA Today on Monday that Jones had not violated its terms of service.
As of Aug. 7, the official InfoWars app was also available on Apple's App Store and Google Play.
READ MORE: