Alex Jones and InfoWars, his conspiracy-peddling news network, are at the heart of a debate this past week over censorship on the internet. Jones was given a 30-day suspension from Facebook last week. YouTube also took down four of his videos for violating its terms of service and handed him his "first strike," which means his channel can't livestream for 90 days.
Now people have been demanding that other services remove Jones from their platforms. The latest tech giant to come under fire? Spotify.
And Alex Jones only has himself to blame.
Earlier today, Jones tweeted about big tech giants censoring him, with a link to his content on Spotify.
https://twitter.com/RealAlexJones/status/1023943025108627457
Jared Holt, a writer with Right Wing Watch, then tweeted out a screenshot of Jones' presence on the platform this morning, noting how difficult it is to get a podcast on Spotify.
https://twitter.com/jaredlholt/status/1023944316794941440
This is nothing new. Jones and InfoWars have had a presence on Spotify for years, with episodes of "Freedom Nuggets" from InfoWars available as early as 2015.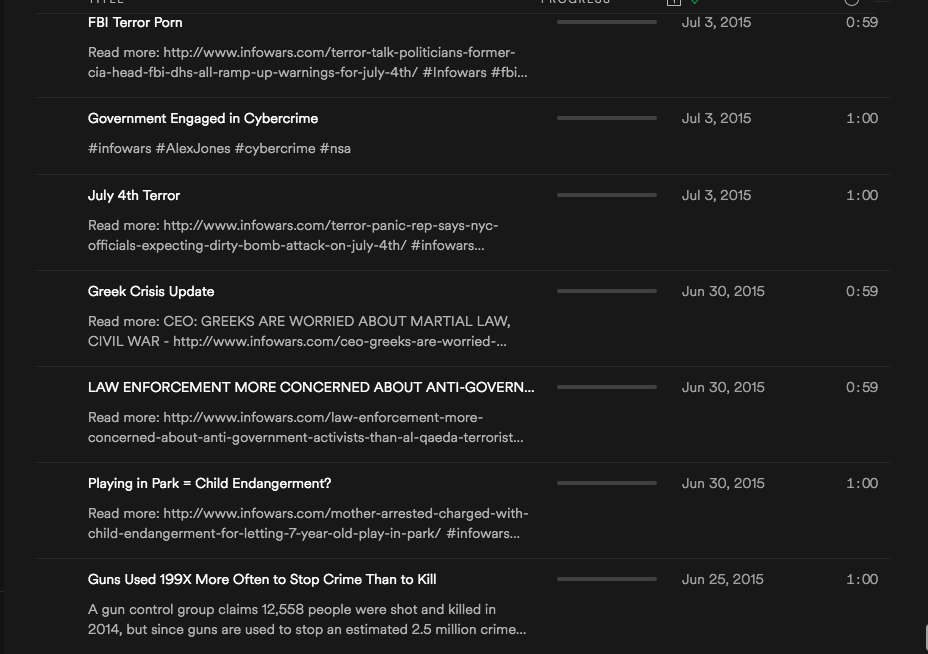 But in today's climate, with many on the left furious at platforms for giving voice to what they deem "hate speech," seeing a tweet about InfoWars being on Spotify was enough to incite a call for a ban.
Holy shit. Really, @Spotify?

Alex Jones has been responsible for harassing parents of Sandy Hook children, Vegas shooting victims and threatening to kill the Special Counsel. And you're now hosting his podcasts?? https://t.co/dAIYiNKdXP

— Sleeping Giants (@slpng_giants) July 30, 2018
This is not a good look, @Spotify. Take this hateful garbage off your service. @SpotifyUSA @SpotifyCares https://t.co/VrXQdwmFAf

— Ian Valentine (@ianvalentine) July 30, 2018
Well, @Spotify , this is a stupid as shit move. I don't pay for the service, but I'm deleting my app and wont listen to your service until this Snake Oil and its Bastard Salesman is removed. https://t.co/hNPfk9BWfU

— Heather is always tired (@katana_angel) July 30, 2018
https://twitter.com/sangio_davese/status/1023962968420057088
#DeleteSpotify @Spotify https://t.co/VYm3gC3KDZ

— SuzyQ L (Not *that* Q) (@SuzyQL) July 30, 2018
@Spotify, this is unbelievable. Please reconsider hosting Infowars! https://t.co/05FbeZGrhI

— Chick, playwright (@loladiana) July 30, 2018
Looks like I'm cancelling my Spotify premium account today. If you have one I encourage you to do so as well and tell them why. https://t.co/JrT6FSwzJ8

— This mouse lives in my heart. (@Wrecking_Thief) July 30, 2018
So Alex Jones' tweet highlighting censorship may just get him censored.
READ MORE:
Spotify did not respond to a request for comment as of press time.