Whether big or small, deeply personal or communal, when tragedy strikes, people turn to GoFundMe. The crowdfunding platform allows individuals to pass a digital tip jar and collect money from strangers and supporters in times of need. And, unlike other crowdfunding platforms, GoFundMe fees are low and do not include a portion of the money raised. So how does GoFundMe work? If you're thinking about launching a GoFundMe campaign, here's everything you need to know. 
What is GoFundMe?
GoFundMe is a personal crowdfunding site designed to help ease the financial stresses of life for families and businesses. While Kickstarter and IndieGoGo are ideal places to birth an idea, GoFundMe is where you go to get back on your feet. Families use it to raise funds for school trips or medical expenses. Small businesses use it to help cover the cost of robbery or fire. Some people use it to fund their honeymoon. And, yes, others use it to raise money for a business idea. 
The site was launched in 2010, and to date, it's raised over $5 billion from 50 million donors spread across 2 million individual campaigns. GoFundMe claims 10,000 people start new campaigns on the site daily. Those are staggering numbers that speak to the GoFundMe's popularity and ease of use.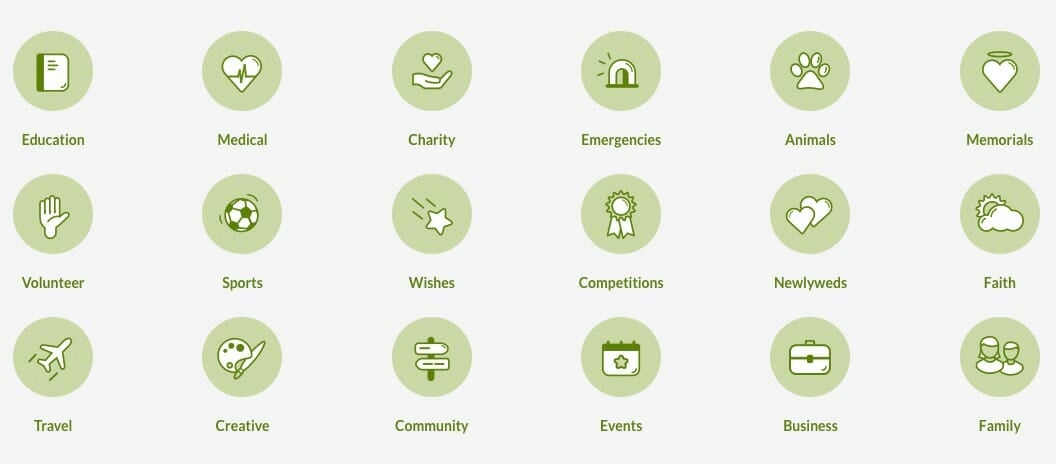 READ MORE:
How does GoFundMe work?
Unlike Kickstarter, GoFundMe is not an all-or-nothing crowdfunding site, and that's part of what makes it so appealing. Whereas on Kickstarter and some other crowdfunding sites you have to reach your goal in order to unlock the funding, on GoFundMe, you'll receive whatever money is donated regardless. It's nice to know that even if a campaign falls short, the person running it will still get some help. That knowledge is doubly true when supporting medical campaigns, which have become a major crutch across the U.S.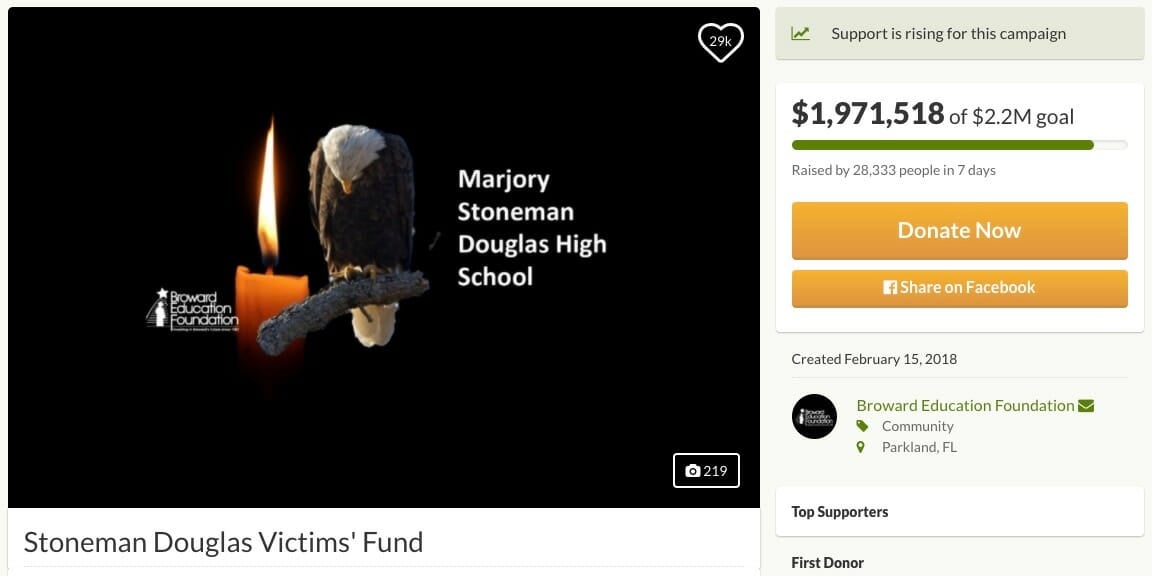 A GoFundMe campaign is relatively easy to create. After you sign up for an account either using your Facebook account or an email address, you'll set a goal and then start filling in details about the campaign—why it's needed, what category it falls into, how you'll use the money—and add whatever multimedia you have to support your cause and help improve engagement on the page. From there, it's only a matter of promoting your cause and following up with your backers. When your campaign has concluded, you can request to receive your funds from GoFundMe via bank order or check.
GoFundMe fees
When it comes to personal campaigns, GoFundMe has the lowest fees in the industry. The platform doesn't take anything from individual campaigns, instead charging a 2.9 percent payment processing fee and $0.30 per donation. Charitable campaigns are a different matter. Registered non-profits that use the GoFundMe platform are charged 7.9 percent plus $0.30 fee for each donation. The tradeoff is donors get a receipt that makes their contribution tax deductible.
GoFundMe rules
GoFundMe can be used to fund almost anything. Medical expenses, trips, educational costs, funerals, medical bills—if it's hanging over your head, GoFundMe is almost always there. We say almost because there are some exceptions. You can't use GoFundMe to pay anything that actively violates the law or to intimidate people. Funding illegal drugs is also a no-no, even if they're legal in your area. That means no weed projects.
GoFundMe also says no to vices, so you can't fund gambling or the purchase of weapons on the site. Money management services are also banned, including investments or lottery contracts. GoFundMe will also shut down projects that promote bigotry towards any race, sexual orientation, or individual.
Sexual projects are also on the blacklist, along with anything the company views as perverse or offensive. (Sadly, the company views legal expenses for sex workers as a sexual project, which is a black eye on its humanitarian reputation.) Beyond those simple moral boundaries, GoFundMe just asks that you use common sense. Don't try to use their platform to sell stolen goods, bootleg CDs, or otherwise violate someone's intellectual property. If you find yourself asking if something is a moral grey area, assume GoFundMe doesn't want you doing it.
There is one exception. In 2014, the site canceled a woman's fundraiser to pay for an abortion. Understandably, this caused a great deal of controversy, but in the years since GoFundMe has changed its position Abortion is now considered a medical procedure on the site, meaning you can currently crowdfund support for one.
GoFundMe scams
Ultimately, the only danger of using GoFundMe is the possibility that you'll get scammed. GoFundMe doesn't initially vet the campaigns hosted on its site. Instead, it relies on an honor system, which means the burden of validating the legitimacy of campaigns falls on its users. There have been dozens of instances where people have tried to raise money for a cause they actually have no relation to.
In fact, one of GoFundMe's most heartwarming success stories devolved into an embarrassing scam. In November 2017, Kate McClure of Florence, New Jersey, allegedly ran out of gas while driving into Philadelphia. She pulled onto the side of the road and started walking to a gas station until she met 34-year-old Johnny Babbit Jr. Babbit, a homeless veteran, who warned her the area wasn't safe for her to walk through alone. The veteran walked to the gas station for McClure and used his last $20 to buy her gas. Upon returning home, the woman started a GoFundMe for Babbit, eventually raising $402,811 for the humble hero when her story went viral.
Unfortunately, it turned out the entire story was an elaborate scam. In November 2018, the Burlington County Prosecutor's Office in New Jersey charged McClure, her partner Mark D'Amico, and Babbit with second-degree theft by deception and conspiracy to commit theft by deception. The following month, GoFundMe issued refunds to 14,000 donors who contributed.
Suffice to say, before you donate to a GoFundMe campaign, you should do what you can to verify the relationship between the campaign host and the subject of the campaign. If you believe a campaign has been created in bad faith, you can report it to GoFundMe here.
In a statement provided to Daily Dot, GoFundMe emphasized its dedication to stopping scams in the first place and making sure money gets to the right people even when they happen.
"Misuse is very rare on our platform. Campaigns with misuse make up less than one tenth of one percent of all campaigns. Additionally, it's important to remember that our platform is backed by the GoFundMe Guarantee, which means that in the rare case that GoFundMe, law enforcement or a user finds campaigns are misused, donors are fully protected and will get refunded. And if a campaign organizer does not deliver funds to the intended recipient, GoFundMe will donate the undelivered amount to the right person. We also have technical tools and a team in place monitoring the platform to prevent misuse."
GoFundMe success stories
On June 12, 2016, a terrorist gunman walked into the Pulse Nightclub in Orlando, Florida, and opened fired. When the shooting stopped, 49 people lay dead, and another 58 were wounded. It was the deadliest terror attack on U.S. soil since 9/11, and in the aftermath, people around the world rose up to take care of the families. A GoFundMe was started to provide for the families of the attack's victims, eventually raising $7,853,140. This terrible moment in Amerian history became a rallying cry for people outraged by these brutal murders. The founders of this particular GoFundMe are still working today to fight homophobia and keep the memory of the Pulse shooting alive.
In November 2016, 2,000 U.S. military veterans traveled to North Dakota to form a human shield around protestors at the Standing Rock Sioux Reservation. The group behind the shield, Veterans Stand for Standing Rock, funded their efforts via GoFundMe, raising $1,155,660. While protestors lost the battle over the North Dakota Access Pipeline, GoFundMe helped many people raise money for protestors and to protest themselves.
READ MORE:
GoFundMe has a clear advantage over Kickstarter in that it lets people fund personal projects. Need cash for a last minute car repair? Unless you want to make a documentary about it, GoFundMe is your best option. Kickstarter, after all, requires you make something you can share to fund a project. GoFundMe also doesn't have a stated max number of reward tiers, while Kickstarter is limited to 50.
Another important distinction is that GoFundMe pays you even if you don't meet your goal. That's great for charity projects, but it's obviously a problem when kickstarting a business idea. If 100 people buy your $40 board game idea, but you needed 500 to make the game you promised, it's up to you to return the money or finance the rest.  
The other main difference between the services is GoFundMe's unlimited project length and fees. Both Kickstarter and Indiegogo have a 60-day limit on the length of campaigns. For charity campaigns to cover medical fees or funeral costs, GoFundMe's unlimited length is invaluable, and its slightly lower fees can really add up. 
For personal funding, I'd recommend GoFundMe, but if you need to fund a project, Kickstarter has a better reputation. 
GoFundMe vs. Indiegogo
GoFundMe and Indiegogo are both crowdfunding platforms that will give you the money you've raised, even if you don't hit your total funding goal. It takes two to five business days to withdraw your money from GoFundMe, while Indiegogo has a three-week wait to withdraw. GoFundMe doesn't have a stated maximum level of reward tiers, while Indiegogo limits you to 20.
One important difference between GoFundMe and Indiegogo—the ability to do personal fundraising—has recently changed. Indiegogo's Generosity allows people to crowdfund for charity and private finances. Generosity charges a 3 percent fee to GoFundMe's 2.9 percent processing fee. The service is being folded into YouCaring effective March 29, 2018.
Each service lets you post videos via YouTube, instead of using a proprietary video player like Kickstarter. Indiegogo's interface is better organized to handle the needs of large projects, and it gives you insights for promoting your project. If you want to fund a project and it's between these two services, Indiegogo is probably your better bet for new ventures. GoFundMe is best for personal fundraisers. 
Think you're ready to get started? Here's a step-by-step guide on how to set up a GoFundMe. 
Editor's note: This story has been updated to reflect the latest news about Kate McClure's GoFundMe.