Siblings are known to disagree from time to time. Even if you are a member of Congress that's apparently no different.
Rep. Matt Gaetz (R-Fla.) has drawn fire from both sides of the aisle for his dogged support of President Donald Trump, particularly the latter's attempt to thwart voters' will and overturn his election loss. Many were disappointed, though not particularly surprised, that Gaetz's support didn't waiver in the slightest even after Trump supporters' rioted at the Capitol yesterday. Among them: Gaetz's sister Erin.
On Twitter yesterday, where Erin Gaetz has an unverified account but has interacted with her brother many times over the years, and he with her as recently as November, she wrote, "A lot of Republicans—and a lot of Trump supporters, specifically—don't support this garbage.
"Moreover, they live in reality and know Trump lost. If you are one of those people, now is the time to speak up. Denounce this in the strongest, most unequivocal terms. Don't wait."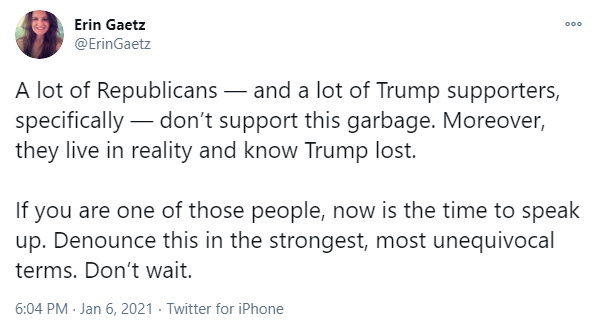 People quickly pointed out that her own brother was among those still supporting Trump, even insisting, falsely that the mob was actually antifascists masquerading as Trump supporters.
Erin Gaetz did not back down.
"I wholly disagree with him on that issue," she responded to someone who noted that her criticism also applied to her brother. "I've made that incredibly clear. But I can only speak for myself."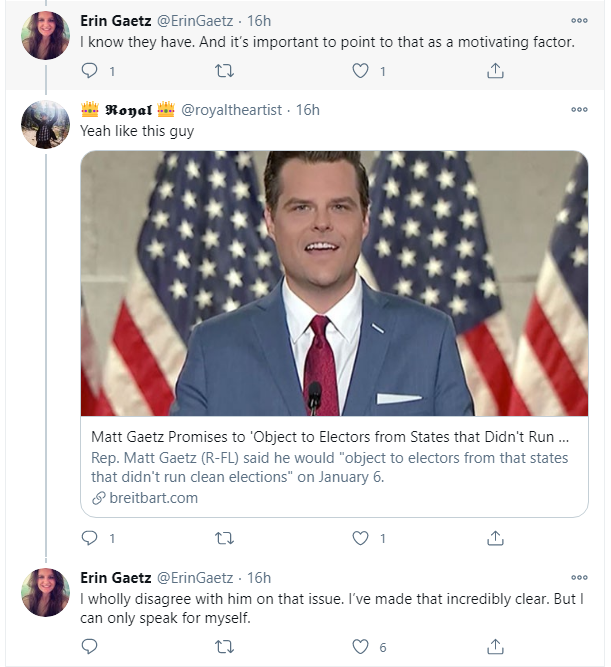 Matt Gaetz is apparently unmoved by his sister's criticism. He's spent part of the day retweeting praise of his speech to Congress, in which he whined about being called a seditious traitor, from both his Twitter accounts.
More election 2020 coverage