With the Massachusetts Democratic Senate primary just a day away, the "Markeyverse" will be doing exactly what it's done for months: Pushing for Sen. Ed Markey (D-Mass.) to win.
The "Markeyverse" is what the growing community of online Markey supporters has coined themselves as the longtime member of Congress tries to fend off a primary challenge from Rep. Joe Kennedy (D-Mass.).
The young activists have been doing a lot of the online legwork to promote Markey, and the campaign says they are working to turn the sudden amount of online traction into votes.
The explosion of support for Markey seemingly came out of nowhere. The Massachusetts senator has championed causes like the Green New Deal, net neutrality, and telecommunications policy—but until recently, he seemed to be in the shadow of more well-known lawmakers.
But now it's almost impossible to be in political circles online without seeing some sort of Markey support tweeting or posting about what has become one of the most-watched Senate primary races of this election cycle.
The preference in the race seems to be clear among younger voters: A recent Emerson College poll found that Markey had overwhelming support over Kennedy from voters between 18 and 29.
Paul Bologna, the creative and digital communications director for Markey's campaign, told the Daily Dot the "Markeyverse" is calling voters, posting memes, rallying on Zoom, and meeting Markey at socially distant events on his bus tour prior to election day.
"[The Markeyverse] is a diverse coalition of Millennials and Zoomers who believe that they can affect positive change through the political system," Bologna said.
Stan accounts on Twitter and TikTok—like "Ed's Reply Guys" and "Students for Ed Markey"—are using memes and viral trends to campaign for the 74-year-old senator.
Bologna recalled the community coming to fruition around six weeks ago when students began Zoom calls to meet each other and share meme content.
One of their meetings was featured in the most recent Ed Game video created by student fellow Anish Mohanty.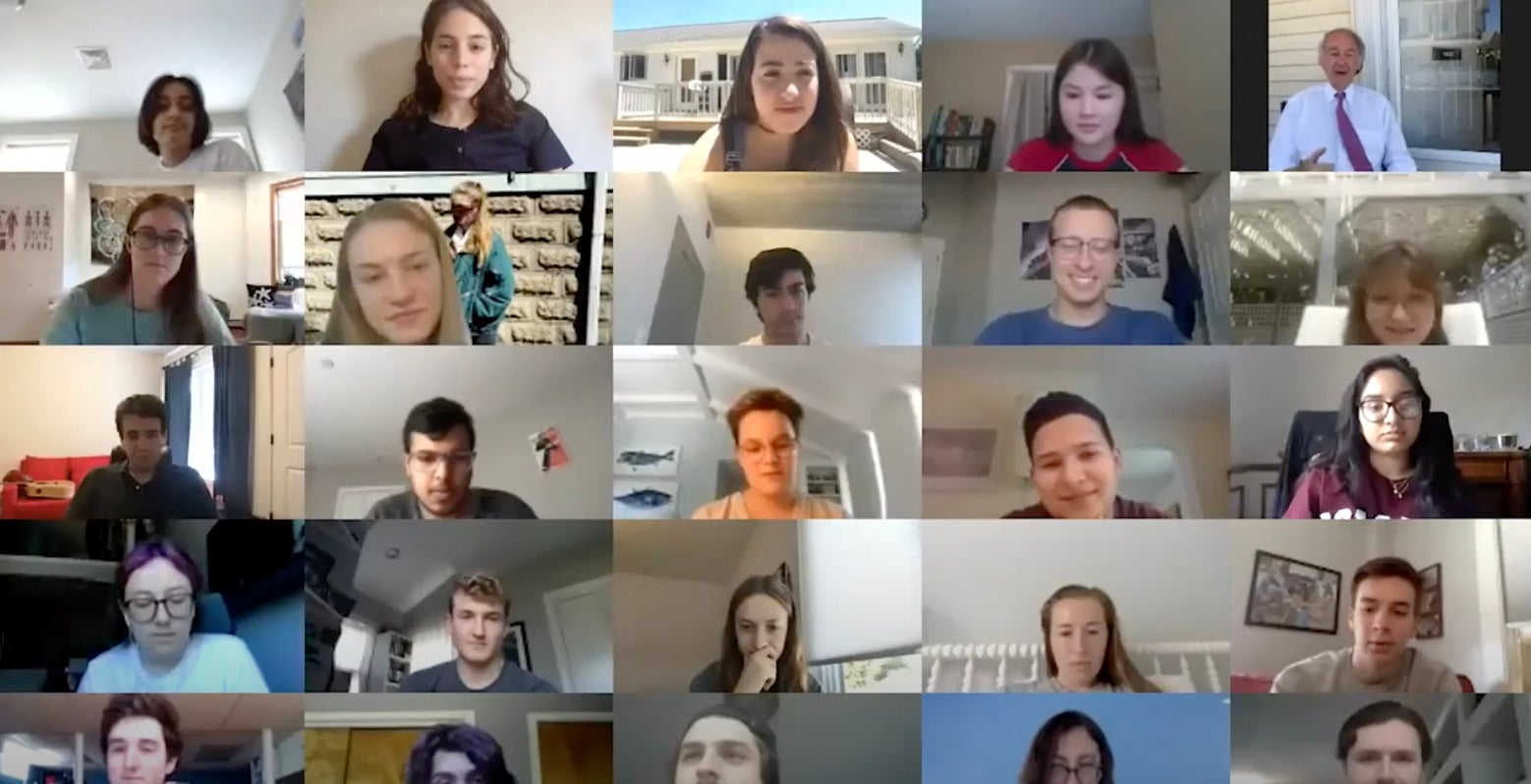 The 'Markeyverse' spans Twitter, TikTok, and more
A popular, unofficial Markey account is "Ed's Reply Guys," which is run by a group of Massachusetts college students. They said they support Markey for his policy first—but also for the way the campaign listens and supports them.
"We support Ed as a baseline because of his policies and his record—that's what he's running on, after all—but he's also got a campaign digital team (led by @pawlbologna and @nicole_bardasz) who have actually taken accounts like this seriously in a way that I think campaigns struggled to in the past," reply guy Joshua Rush, 18, wrote to the Daily Dot.
The "reply guys" post their own content and retweet others' memes as well as organize Zoom meetings.
But they are not the only ones posting Markey-related memes. There are also accounts for "Harries for Markey," a Harry Styles-centric meme account, and gingers, hot girls, Shrek, poets, and indie girls supporting the senator's re-election.
And all of them are memeing for Markey. Here's just a few recent examples:
"Thinking about ed markey winning on september 1st," Harries For Markey tweeted.
"Tired: watching people suffer while politicians make their backroom deals wired: @EdMarkey running for congress to fight for the principles he believes in," one account tweeted.
"Many people want to know what stems the incredible community that is the #Markeyverse. First and foremost, we need to realize that this is happening because Ed is not just a cool wholesome guy, but he FIGHTS for youth issues. That's what youth excitement #markeymentum is about," Students for Markey tweeted of the Markeyverse.
But it's not just Twitter that has become a popular platform for pro-Markey content. The fandom is all over TikTok as well.
One Markey stan account on TikTok is run by Orlee Lauren. The 15-year-old TikToker started posting about Markey to educate her followers about Markey's track record including his notable part in the Green New Deal.
"I wanted to display that info in a TikTok because I figured people would be more likely to watch it than read an article," Lauren told the Daily Dot.
Ed Markey's official account reposts videos from the "Markeyverse" and even used the platform to make a dig at Kennedy.
The sheer amount of Markey chatter online has also recently been made into a campaign issue.
Last week, the Kennedy campaign called on Markey to denounce some tweets that were vitriolic. The campaign compiled examples of tweets—some of which were clearly in bad taste—but it also included the "Reply Guys" retweeting a cartoon of a dinosaur saying "Fuck Joe Kennedy."
The inclusion of the fairly innocuous dinosaur amid much more vitriolic content only sparked more mockery from supporters of Markey.
Passionate supporters also asked Broadway stars to back out of a Kennedy fundraiser, eventually leading to it being canceled. The band the Dropkick Murphys also faced a torrent of criticism for having a campaign event for Markey's opponent.
Kennedy twice has brought up in debate one tweet where a Markey supporter said "bullying works."
The congressman's attention to some particularly egregious tweets from Markey supporters has been compared to how Sen. Bernie Sanders (I-Vt.) was asked to denounce "Bernie Bros."
But for Bologna, the creative and digital communications director for Markey's campaign, the real thing to take away from the "Markeyverse's" expansive growth is that they are a positive group of students who are particularly motivated by their future.
"The Markeyverse is positive, the Markeyverse doesn't talk about Joe Kennedy, the Markeyverse talks about the future of our planet and Ed's track record of leading and delivering," Bologna said.
Late last week, Bologna said the "Markeyverse" made around 96,000 calls to voters as the number of days approaching the election dwindled.
On Tuesday, it'll be evident whether the enormous push of online support will translate into another Senate term for Markey.