Rep. Joe Kennedy's (D-Mass.) Senate campaign is calling on Sen. Ed Markey (D-Mass.) to denounce some of the more vitriolic posts made by his massive hive of online supporters he's amassed during the Massachusetts Senate primary.
However, Kennedy's team noting one meme in particular among some of the more offensive tweets in an email sent to the media and the Markey campaign is causing even more mockery.
Kennedy's attempt to unseat Markey in the Senate has become one of the most-closely watched primary races. It has seen lines drawn between progressives like Rep. Alexandria Ocasio-Cortez (D-N.Y.), who supports Markey, and more moderate Democrats like House Speaker Nancy Pelosi (D-Calif.), who has endorsed Kennedy.
During the campaign, Markey has attracted support from users on TikTok and Twitter who have eagerly pushed for him to win.
Earlier this summer, Twitter users pled with Broadway stars to back out of a "Broadway Sings for Joe Kennedy III" campaign event. The event was ultimately canceled.
More recently, the band the Dropkick Murphys was dragged online for being a part of a Kennedy campaign event.
However, according to Kennedy's campaign, the rhetoric from some of Markey's online supporters has gone too far. The campaign also said Markey supporters have destroyed Kennedy door hangers and vandalized posters.
Some of the tweets flagged by Kennedy's campaign included references to the assassination of former President John F. Kennedy Jr. and other family members.
However, one of the tweets the campaign flagged in its email was from a "Dinosaurs Saying Fuck" account. The account tweets pictures of dinosaurs, captioning them with "fuck."
The campaign noted that an "Ed Markey Reply Guys" account, a popular account supporting Markey that is unaffiliated with the campaign, retweeted a "Dinosaurs Saying Fuck" picture that has a cartoon drawing of a dinosaur saying "Fuck Joe Kennedy."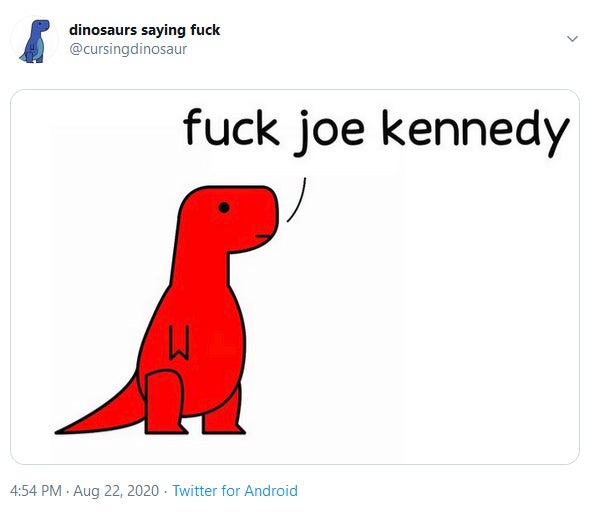 The campaign flagging that tweet in particular sparked even more mockery of Kennedy.
"Some of the tweets in this email are genuinely inappropriate, but if Kennedy is really this offended by a cartoon dinosaur saying 'fuck Joe Kennedy' then he's going to have a tough time in the national spotlight," one Twitter user wrote.
Others joined in.
This isn't the first time Kennedy has brought up the rhetoric of some of Markey's supporters online.
During a debate in late-July, Kennedy criticized his opponent's supporters, complaining that one of them tweeted that "bullying works."
More recently, during a debate last week, Kennedy again brought up Markey's online supporters, saying the senator was "elevating voices of supporters that have targeted my supporters" and mentioned the "bullying works" line again.
Kennedy also brought up the tweets about his family.
Markey agreed that vitriolic comments shouldn't be part of the discourse.
"I don't think the congressman wants any of his supporters—I certainly don't want any of my supporters—to be engaging in any of that negative conduct, and I think that's the message we want to send to anyone whose out there as this race becomes contentious: we don't want those kinds of messages that are being sent."