A Twitter account that recently tweeted a cartoon of a dinosaur saying "Fuck Joe Kennedy" that was highlighted by the congressman's Senate campaign has been suspended by Twitter for violating the company's "platform manipulation and spam" policy.
The @cursingdinosaur account's cartoon was put in an email by Rep. Joe Kennedy's (D-Mass.) Senate campaign where it asked incumbent Sen. Ed Markey (D-Mass.) to denounce vitriolic tweets directed at the congressman and the campaign.
However, the inclusion of the innocuous "Fuck Joe Kennedy" cartoon dinosaur amid much more vitriolic tweets—including ones referencing assassinations of Kennedy family members—sparked a wave of mockery from people online. During the campaign, Markey has amassed a large amount of support on Twitter and TikTok.
The @cursingdinosaur cartoon has been shared on Twitter hundreds of times since being included in the Kennedy campaign's email. It has also been made into merch by the creator.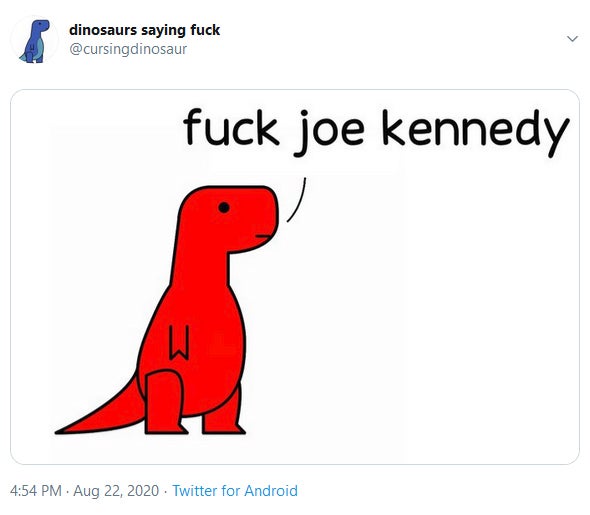 On Wednesday, Twitter users started to notice that the @cursingdinosaur account was suspended. The account's page currently says that the account is suspended and that "Twitter suspends accounts which violate the Twitter rules."
However, the suspension does not appear to be related to the cartoon.
A Twitter spokesperson told the Daily Dot the account was suspended for violating the company's "platform manipulation and spam policy," but declined to say what exactly triggered the suspension.
Since the cartoon itself likely would not constitute a violation of that policy, it appears that the post being highlighted by the campaign just days before the suspension is a coincidence.
The account owner of @cursingdinosaur told the Daily Dot that he also runs the @accidental_left account, which is also suspended.
James, the owner of the account, who declined to give his last name, said he was not told why the accounts were suspended and that he filed an appeal with Twitter over the suspensions. Other accounts related to Hey Buddy Comics, which James is a part of, also were suspended and did interact with the other accounts.
"I think Twitter's moderation policy is laughable," James said in an email. "Nazi accounts hang around for years and harmless accounts that create popular content for their platform get banned regularly."
He added, specifically about the policy violation: "That's so broad I don't know what they are accusing me of."
The Daily Dot reached out to the Kennedy campaign asking whether it reported any tweets to Twitter mentioned in its email and, if so, if the one from the @cursingdinosaur account was one of them.
The campaign did not immediately return a request for comment, we'll update this story if we hear back.
---
This week's top technology stories