We crawl the web so you don't have to.
Sign up for the Daily Dot newsletter to get the best and worst of the internet in your inbox every day.
Hello fellow citizens of the internet! Andrew here. Welcome to today's edition of web_crawlr.

Happy Friday! Our top stories today are about: A worker using the ChatGPT bot to write a resignation letter to her boss, a new bill aimed at preventing AI from launching a nuke, a viral video of a Popeye's worker destroying their store after allegedly not getting paid, and a review of comedian John Mulaney's latest Netflix special.
After that, our Culture Editor Tiffany has her "This Week on the Internet" column. And, because it's Friday that means it is time for our weekly news quiz! If you answer the question correctly, you'll be entered to win our new "Blogs in Bloom" shirt.
See you tomorrow!
— A.W.
---
⚡ Today's top stories
In a viral video, a worker uses ChatGPT to professionally let her boss know she couldn't work past her two-week notice because she didn't want to continue being "sad and poor."
Lawmakers introduced legislation aimed at preventing artificial intelligence (AI) from launching a nuclear weapon. But is such an effort the result of unrealistic paranoia, a necessary safeguard, or an exercise in futility?
A Popeyes employee and her co-worker went viral on TikTok after she posted a video of him destroying their Chicago, Illinois, store.
This 80-minute special is about John Mulaney and addiction, but the way it's framed makes it clear it's also about people's perception of him.
---
We crawl the web so you don't have to. Sign up to receive web_crawlr, a daily newsletter from the Daily Dot, in your inbox each day.
---
🌐 Are you extremely online?
Are you the most online reader of web_crawlr?
Prove it by answering our question of the week! The answer can be found somewhere in one of our newsletters from this week.
Next week, we'll shout out people who answered correctly, and of those who do, you'll be entered to win a Daily Dot 'Blogs in Bloom' t-shirt!
A recent video went viral where an Airbnb customer said they allegedly found a hidden camera in their rental. Which room did they say they found the camera in?
Think you know the answer? Sign up for web_crawlr so you can answer next week's question!
---
🗣️ This Week on the Internet
The internet comes for Sydney Sweeney amid cheating allegations with co-star
In each edition of web_crawlr we have exclusive original content every day. On Fridays our Senior Culture Editor Tiffany Kelly recaps the most pressing online discourse of the week in her "This Week On The Internet" column. If you want to read columns like this before everyone else, subscribe to web_crawlr to get your daily scoop of internet culture delivered straight to you inbox.
---
🕸️ Crawling the web
Here is what else is happening across the 'net.
👰 Almost nothing gets the internet riled up more around a wedding than the reveal that someone other than the bride wore white.
🍩 One TikToker's boyfriend thought he was getting a steal of a deal when he found a certain Krispy Kreme promotion. Sadly, he ended up learning a lesson we too often find out the hard way: Don't forget to read the terms and conditions.
💼 A woman took to TikTok to share that she got fired for the third time in a year … and this time, it was for oversharing about that job on TikTok.
💡 From our friends at Passionfruit, the Daily Dot's creator economy newsletter: "The best TikTok LED lights for every creator."
🥤 No one online can seem to figure out how many calories are in a McDonald's sweet tea.
☁️ This anti-gravity float chair is exactly what you need to ease your anxiety and stress.*
🧃 How would you feel if you found mold inside bottles of Minute Maid apple juice?
☕ A Starbucks employee has sparked discussion after claiming he was the only person working at his store.
📺 From the Daily Dot archive: Here's why you can't take a screenshot of a TV show or movie on your computer.
*The Daily Dot may receive a commission in connection with purchases of products or services featured here.
---
📅 Meme of the Week
It was quite the week for memes mocking Tucker Carlson.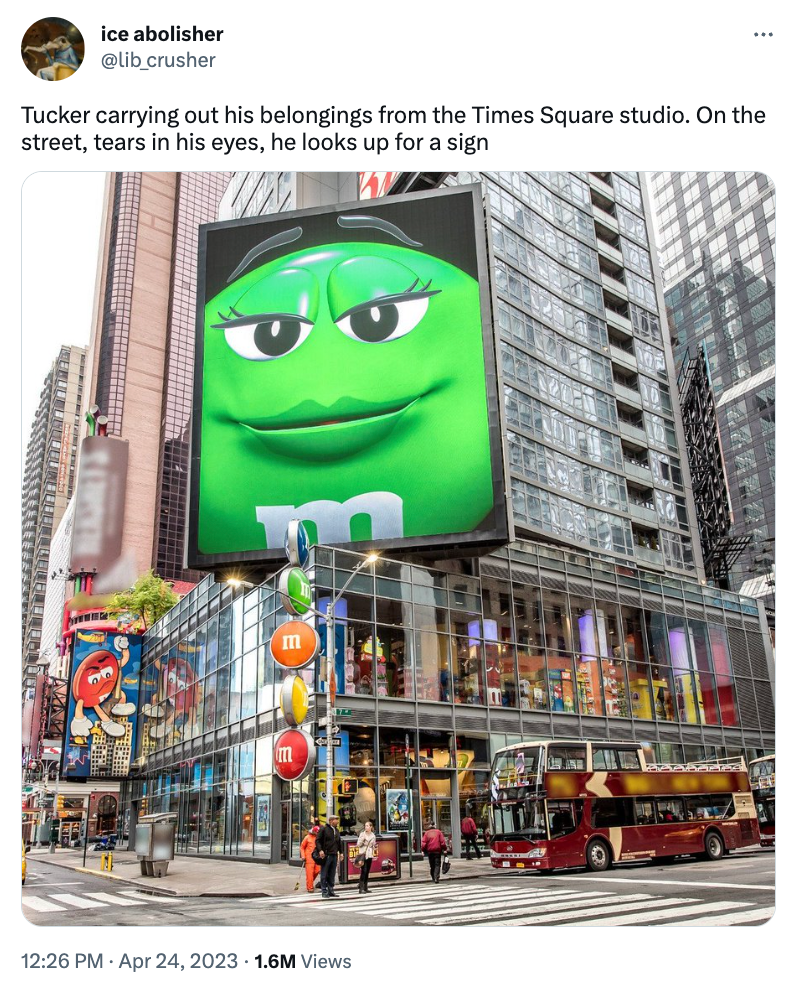 ---
🎶 Now Playing: "Run the World (Girls)" by Beyoncé 🎶