After two years of cryptic tweets, photo teasers, and bizarre merchandise sales, Elon Musk has finally unearthed his ambitious plans for the Boring Company.
Speaking at a community info session in the Leo Baeck Temple in Los Angeles, the business magnate detailed the Boring Company's plans to revolutionize urban transportation and remedy the country's traffic crisis. He and fellow executive Steve Davis answered the most pressing questions surrounding the company.
One of Musk's latest endeavors, the Boring Company was created to build a futuristic transit system underneath cities. It will use autonomous "electric skates" traveling at high speeds to transport passengers and vehicles through a series of interconnected tunnels. For the past few years, the Boring Company has been experimenting with tunnel building near the SpaceX headquarters in Hawthorne, California.
Now it's ready for prime-time.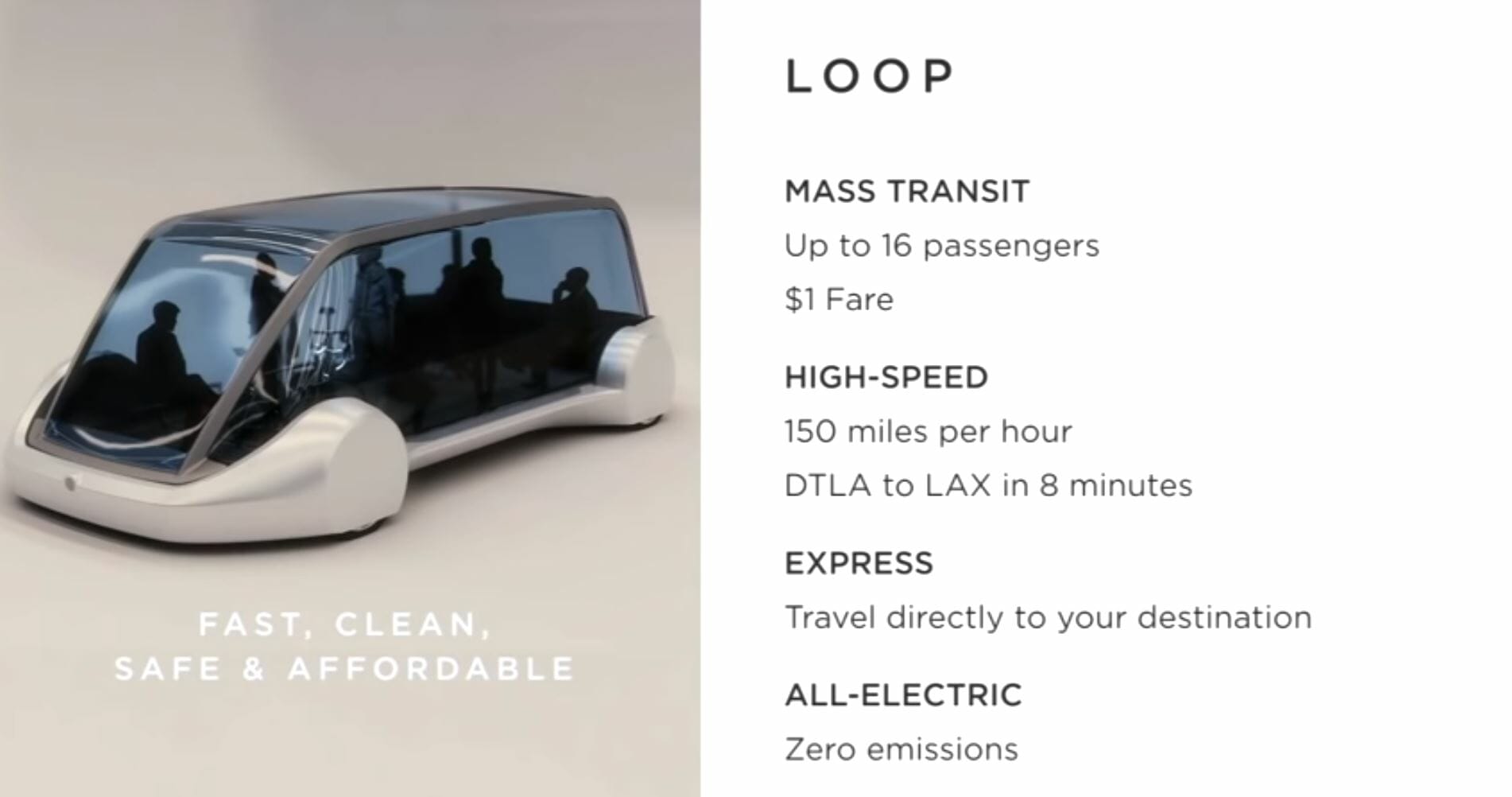 Called the "Loop," the mass transit system will fit 16 passengers per pod and travel at about 150 miles per hour. Musk, attempting to reassure Los Angeles residents about the project, said the underground track could take people from downtown to any terminal in LAX in eight minutes for about $1. The "urban loop system" would include thousands of parking spot-sized stations where passengers could be taken directly to their destination.
But The Boring Company is right behind you at 1/15th your speed & soon will be 1/10th! Start sweating …

— Elon Musk (@elonmusk) May 18, 2018
The most difficult challenge for the company is boring tunnels quickly without digging itself into a financial hole. Sitting between Musk and Davis was a snail named Gary, the company's mascot and a symbol for how long tunneling takes. Davis said Gary is 100 times slower than a human and the fastest boring machine is 10 times slower than it. Musk is now challenging his team to at least beat the snail and achieve a speed of 0.3 miles per hour. To save money, the company is selling Lego-like bricks from the rocks it cuts out of the Earth.
The company is now preparing a privately-funded 2.7-mile test tunnel on private property that will run north to south parallel to Interstate 405 freeway. Musk spoke at length about the difficulties of creating the tunnel but explained there would be no street closures, no tunneling beneath homes or businesses, and no residents will hear any noise. The L.A. city council committee expedited the project by granting the company an exemption to a state environmental review. The move was criticized by some and led two groups to sue the city.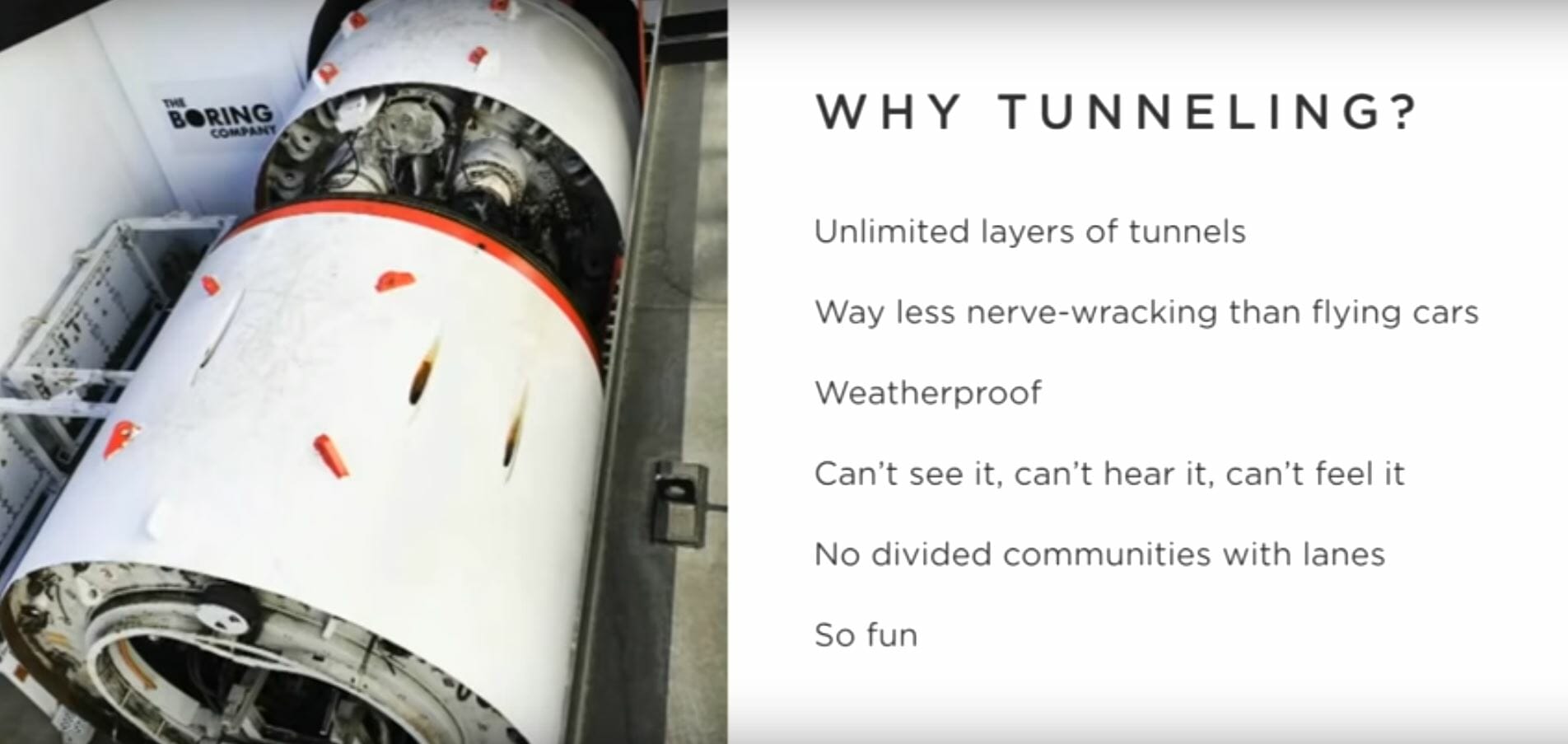 We're also finally getting closure about how the Loop will tie in with the hyperloop. A hyperloop, also proposed by Musk, is an above-ground, high-speed transit system that shoots pods through a vacuum at speeds of up to 750 miles per hour. Musk sees it as a solution for longer city-to-city trips, while the Loop is designed for urban settings. He did, however, say both transportation methods could be connected, like a commuter train and subway system. 
"Once we're done. In order to get public feedback, we're going to offer free rides, like a weird Disney ride in the middle of L.A. I think we can make it really fun… bring your flamethrowers," Musk joked.
Traffic is driving me nuts. Am going to build a tunnel boring machine and just start digging…

— Elon Musk (@elonmusk) December 17, 2016
The eclectic billionaire introduced his new company in 2016 in a Twitter sketch where he reflected on the "soul destroying" traffic he drives through each day. Musk told L.A. residents that in the 16 years he's lived in the area, traffic has fluctuated between the "seventh and eighth levels of hell." He says if the Boring Company is successful in the city, it can be successful anywhere.
The Boring Company has also proposed tunneling projects in Maryland; Washington, D.C.; New York; and Chicago.
READ MORE:
It isn't the only high-profile firm working on a way to reduce traffic by introducing a new mode of transportation. Uber, Airbus, and other companies around the world are trying to bring flying taxis from science fiction to reality. Musk kicked off his talk by criticizing the idea, citing safety concerns and feasibility problems.
Whether miles of interconnected tunnels built under cities is any more achievable is a tough sell. What we know for sure is that what the Boring Company has planned is far more exciting than its name suggests.
You can watch the full session below: