Here's a general rule on promises made by Tesla, SpaceX, and the Boring Company CEO Elon Musk: If it has to do with release dates, take it with a grain of salt. However, if it sounds more like an off-hand joke than a legitimate statement, it's probably the real deal.
First, it was a tunnel digging company born from a road-rage filled tweet; then came a Twitter bet to build the world's largest battery, and finally his promise to put a Tesla Roadster on the inaugural flight of the Falcon Heavy rocket. Not to mention his inconceivable intentions to colonize Mars, build an underground transit system, and create a neural interface.
With that in mind, it's no surprise that Elon Musk is preparing to sell a Boring Company-branded flamethrower. Yes, a flamethrower. The business magnate teased the product on Twitter last December, joking (we thought), "I know it's a little off-brand, but kids love it."
After 50k hats, we will start selling The Boring Company flamethrower

— Elon Musk (@elonmusk) December 11, 2017
There has been no official announcement yet, but a screengrab was recently leaked from the password-protected website boringcompany.com/flamethrower.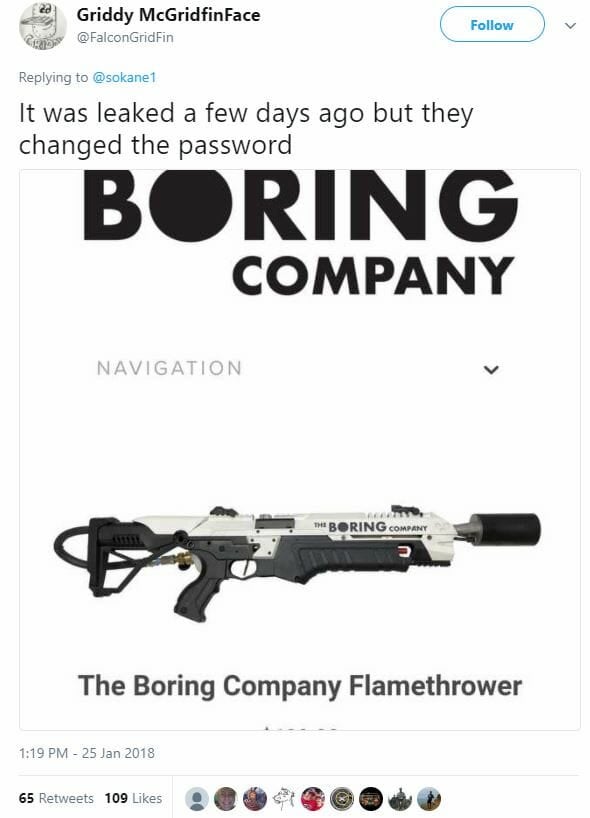 Redditors discovered the website and one user was able to guess the astonishingly awful password: flame. Twitter user FalconGridFin then grabbed a screenshot of the prototype flamethrower and posted it to his account before the password was changed. Behind the password was a product page for a $600 flamethrower that looks like something out of Destiny. The listing notes the product is a prototype and the "Final production flamethrower will be better." Astonishingly, 40 states have no laws against owning flamethrowers, the Fiscal Times reported in 2013.
Earlier this year, musician D.A. Wallach posted a now-deleted clip of him holding and operating the fully-functional flamethrower as he walked through tunnels dug by the Boring Company, Teslarati reports. An Instagram user commented on the post and said it appears to be an airsoft rifle modified to shoot red-hot flames.
One Reddit user who viewed the full listing claims it will go on sale in April. Given Musk's track record for the bizarre, we can almost guarantee it.