Did you know that as an Amazon Prime member, you have access to a digital library of reading material included with your membership? If you're already paying for Prime, then you can use Amazon Prime Reading to borrow books, magazines, comics, and even audiobooks—all at no additional cost.
Here's what you need to know about Amazon Prime Reading, including how it works and how to use it.

What is Amazon Prime Reading?
Amazon Prime Reading is a program that lets you read digital books and other materials without paying to own them. It's included as a benefit for Prime members.
It's similar to having a library membership for e-books. At any given time, you can check out and download up to 10 titles. If you reach your limit and want new titles, you first have to return some.
Is Amazon Prime Reading free?
Amazon Prime Reading isn't free. Rather, it's included with a Prime membership. Prime costs $119 per year or $12.99 per month. Eligible students can get low-cost Prime membership for $6.49 per month or $59 per year.
If someone in your household already pays for Prime, you can share their membership to get access to the collection of books, magazines, and more at no additional cost. Because you maintain your personal login when you share a Prime membership, your reading library is private.
How does Amazon Prime Reading work?
To get started with Amazon Prime Reading, you need an Amazon Prime account. Then, follow these five steps:
1. Search for titles on Amazon
There are two primary ways to find titles you can read through Amazon Prime Reading.
First, you can start at amazon.com/primereading, or click on the Prime Reading tab at the top of your Amazon screen to explore the catalog. When you find a title you want to read, click or tap on it. On the title's page, look for Kindle button with the Prime logo. You should see a price of $0.
Another option is to search on Amazon's Kindle Store as you normally would for whatever you want to read. Once again, look for the Kindle button with Prime logo and price of $0.
This option may turn out to be a bit of a needle-in-a-haystack scenario, though, because Amazon Prime Reading only has around 1,000 titles at the moment.
2. Choose your device
Next, choose the device where you want to read. Your options appear in the dropdown menu when you're ready to check out the title.
You can read anything from Amazon Prime Reading on all Kindle and Fire devices, as well as in the free Kindle app for Android or iOS. And you can get some, but not all, Prime Reading materials on the Kindle app for macOS or Windows, or in Kindle Cloud Reader (the web app). You can only tell where it's available once you see the dropdown menu.
3. Check out or borrow the item
Once you find a title you want to read, check out as if you were purchasing the item. Note that instead of seeing a subtotal, the page says either "borrowing" the item or "read for free."
While browsing, you can also borrow a book by hovering over its cover image until one-click options appear to add it to your library.
4. Download titles
Download the titles you want to read to the devices where they're accessible by tapping on or clicking their cover image. A progress bar shows the download in progress. When the title is fully downloaded, a check mark appears on the cover image, letting you know it's available offline.
5. Return titles when you're finished
To avoid reaching the limit of 10 checked out items at a time, return titles when you finish them. On the Amazon website, you need to reach your library, which isn't as straightforward as it should be. You have a few options.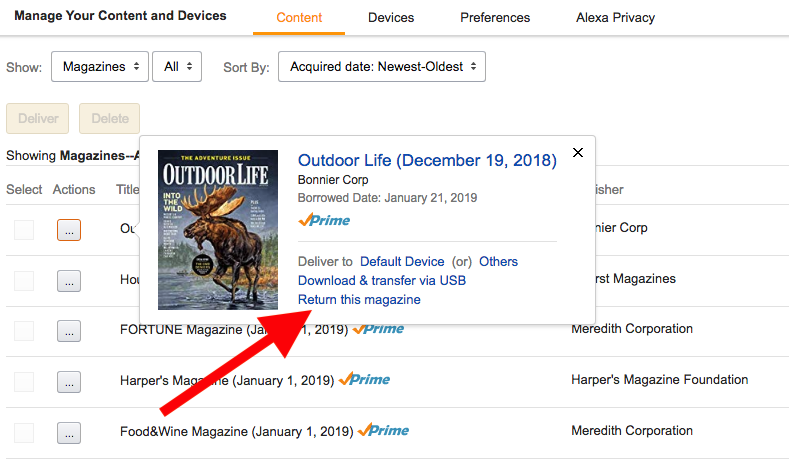 The first option is to go to the main drop down menu for your account and click on Your Content and Devices. It will take you to a list of all your Kindle content.
From here, you can filter to see just Prime Reading. Click the button with the ellipsis next to the title you want to return and choose Return this book/magazine/comic.
Alternatively, go to the main Amazon Prime Reading page and look for the link called View My Library. A list of all the materials you've checked out appears with an easily visible Return button for each one.
What kind of books can I find on Amazon Prime Reading?
You might think Amazon's lending library for Prime users would be lackluster, but it's full of treasure. You'll discover best sellers like Suzanne Redfearn's In an Instant, Stephen R. Covey's The 7 Habits of Highly Effective People, and Matthew R. Kratter's A Beginner's Guide to the Stock Market. But that's just the beginning.
It offers hundreds of sci-fi, fantasy, romance, action, satire, self-help, and fiction titles as well. Whether you'd like to catch up on Harry Potter or read Voltaire, they have you covered. New titles are cycled in regularly, so make sure you read whatever you borrow before it goes.
You can find what titles are currently available here.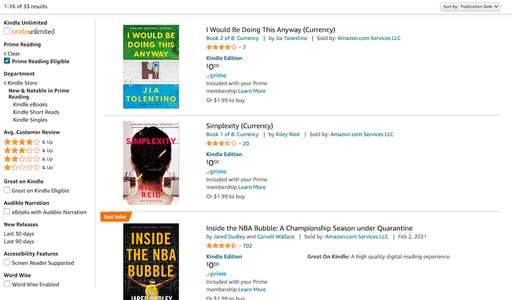 What magazines does Amazon Prime Reading have?
Yes. Amazon Prime Reading has not only books but also magazines and comics. You can get the latest issue of magazines such as:
Allure

American Poetry Review
Best Health

Better Nutrition

Camera
Gun Digest
Golf Magazine
National Geographic
Procycling

Sports Illustrated

Vanity Fair
If you love a particular issue of a magazine, you can keep a copy by long-pressing its icon in your Kindle app and selecting Keep This Issue. However, you'll need to pay for it.
You can find a complete listing of what magazines are available with Prime Reading here. What's available is always changing, so be prepared for your favorites to cycle in and out.
Are audiobooks included with Amazon Prime Reading?
Yes, audiobooks are included with your Prime Reading account. You can find all of the audiobooks accessible through Prime Reading right here.
When the audiobook is available, you'll see a $0 price tag next to an Audible logo. However, you'll only see this information on the product page itself. If you're browsing through normal listings it will just show you the standard price.
Does Amazon Prime Reading really have comic books?
The unsung hero of Amazon's free reading library for Prime users is its comic book section. Whether you've been reading comics for decades or are just trying to get back into the habit, there's something for you.
Prime Reading's graphic novel selection features everything from Marvel hits to classic Manga to newpaper comics page. Looking for Calvin and Hobbes? You're in luck. Always wanted to check out Scott Pilgrim? He's waiting for you.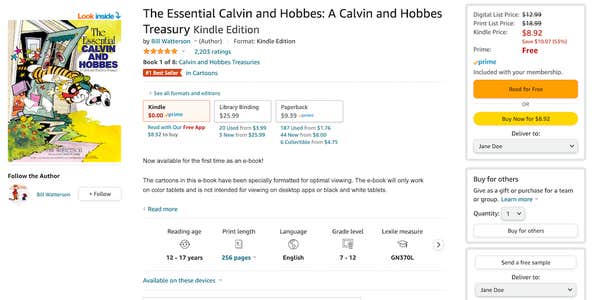 The same is true for titles ranging from Batman: Year One to Attack on Titan. You'll even find beloved indie comics like Noelle Stevenson and Grace Ellis's Lumberjanes.
It wasn't until we read comics on a tablet that we truly appreciated the Kindle app's reading experience. Now experience it for yourself with the power of Prime. You can find all 454 comics offers via Prime Reading here.
Looking for more help? Here's what you need to know about Amazon Alexa and how to use Amazon Alexa as an intercom system, Amazon Prime Pantry, Amazon Lockers, Amazon Prime Wardrobe, how to sell on Amazon, Amazon Prime membership and if it's really worth it.