Daily Dot Hall of Fame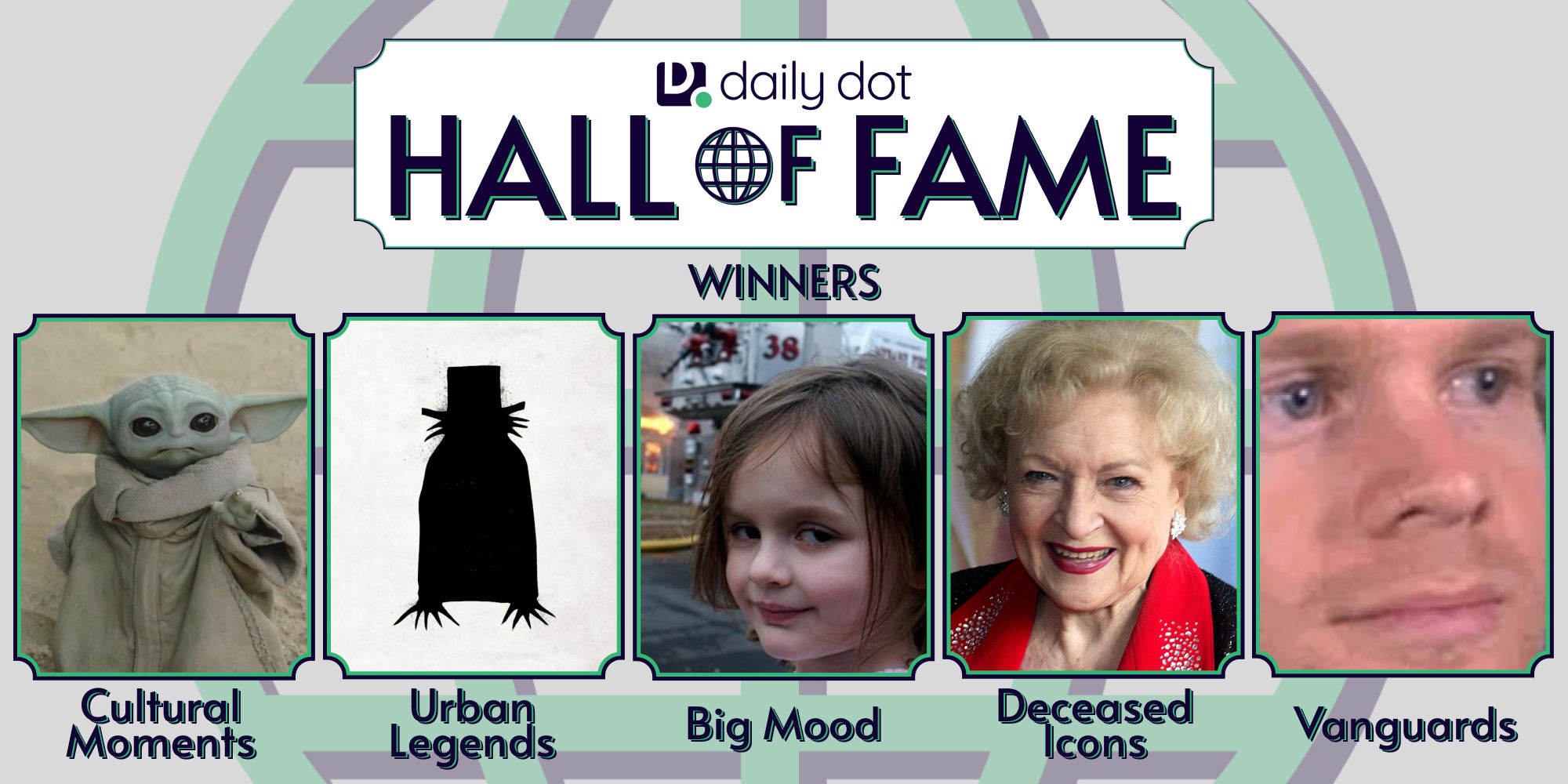 It's like the song goes: The past is a grotesque animal. So after 11 years of diligent internet culture reporting, the Daily Dot needed a hall of fame to properly catalog the icons who changed our online lives for the better.

The internet has turned its longtime residents into bleary-eyed nomads who stay connected via esoteric memes, shared experiences, and a fondness for its heroes. These heroes are vanguards who made us laugh, cry, and escaped getting canceled. Erotic literary masters like Chuck Tingle who make the world a better place with subversive novellas about gay dinosaurs. Anti-heroes like Pepe the Frog. These characters deserve fake internet trophies.

In October, our readers voted on 5 categories—each made up of 5 nominees offered up by the editorial staff—and the 5 winners became the inaugural Daily Dot Hall of Fame inductee class.

Nominees must have appeared online at least a year ago. It's about standout alter egos puppeteered by anonymous geniuses, stock photographs that took on a life of their own—pop singer Lorde is eligible only because she once ran a secret Instagram about her favorite onion rings, for example.

These characters exist in our hearts, and even as tattoos. We're thrilled to finally reward them with fake internet trophies.

Thanks to all who voted in the first year of the Daily Dot Hall of Fame. If you want to see more internet culture news like this, sign up for our daily web_crawlr newsletter where you'll get the best and worst of the internet in your inbox.


We crawl the web so you don't have to.
Sign up for the Daily Dot newsletter to get the best and worst of the internet in your inbox every day.