Animal lovers from 4chan are out to destroy a man from France who captured two videos that appear to show him viciously abusing a cat.
The first horrific video, which you can still find on Facebook (warning: it's extremely disturbing), allegedly features a man named Farid from Marseille, France, hurling an orange cat more than 20 feet into the side of a building. The other shows Farid tossing what looks like the same cat more than 50 feet in the air, toward some bushes. Both videos have been shared more than 5,500 times combined since they were posted Jan. 22.
The videos have gripped 4chan's random imageboard, /b/, where more than three different threads have collected thousands of comments from users seeking justice.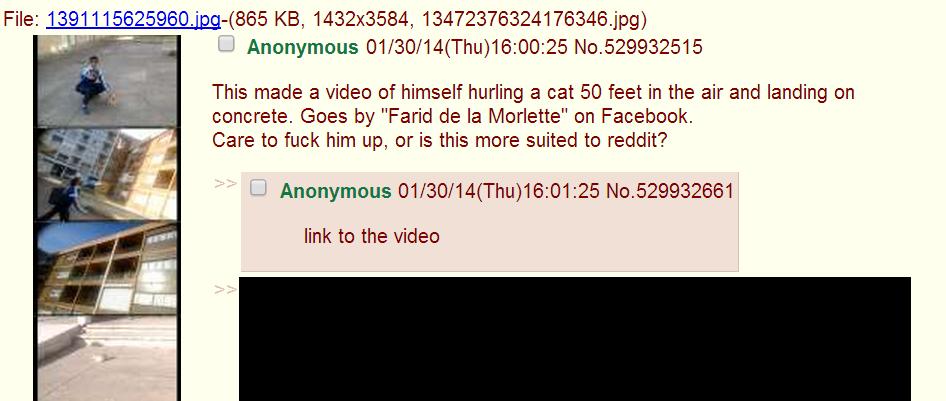 Not only has /b/ tracked down Farid's full name and phone number, they have contacted French police with the videos and information. /b/ has also flagged Farid's videos on Facebook, which has thus far resulted in no action.

The community is also encouraging people to share the following image to help bring Farid down: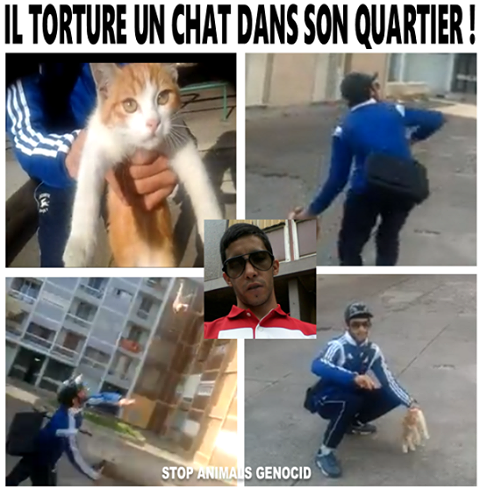 While /b/'s penchant for raids, pornography, and crude humor has earned it the title of the Internet's outhouse, its zeal for taking down animal abusers is unparalleled. 
In August, /b/ raged against a South Carolina teenager for kicking a kitten on Vine. /b/ retaliated against 17-year-old Walter Easley by posting his personal information online, contacting his school and local newspaper, and prank-calling his home. /B/'s tactics ultimately worked.
On Aug. 19, Easley was arrested and charged with cruelty to animals. Easley pled guilty to animal cruelty charges while the cat was confiscated by animal control and is in good health.
In September, /b/ hunted down the information for "Kevin," a senior at Maryland's Tuscarora High School, who uploaded the following photo to his Instagram: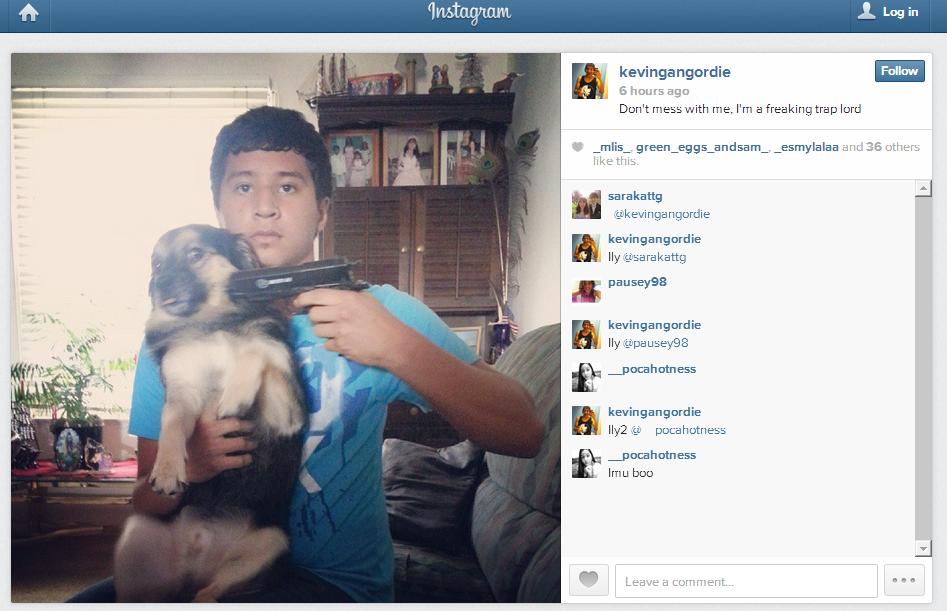 Eventually, Kevin deleted it and the rest of his photos. But it was too late. 
"[T]his bitch needs a good raiding," one anonymous user wrote in a /b/ thread containing his full name and links to his Twitter profile and Facebook page.
With social media marketers, late night talk show hosts, and anyone with a decent set of Photoshop skills able to fool the masses into believing anything, there is a chance Farid's videos aren't 100 percent real. 
In one of the videos, where he's seen tossing the cat toward some bushes, the viewer loses sight of the animal. The sheer distance the cat flies is enough to raise some eyebrows, but it's not definitive proof the video is fake. And in the video where Farid hurls the animal at a building, the camera does not break away from the horrific act, which culminates in a shot of the cat splayed on the concrete, crying loudly. Farid can be heard laughing in the background.
The Daily Dot has messaged Farid on Facebook and has not heard back at time of publishing.
Photo by gangster car driver/Flickr