Warning: This story contains NSFW text and images.
The pranksters over at 4chan are doctoring photos of nude and seemingly underage girls to help make the hashtag #boobs4bieber a Twitter trending topic.
The anarchist Web forum started the hashtag, which has been mentioned on Twitter 423 times in the past three hours, thanks to two different posts on 4chan's random image board, /b/, a forum known for its pornographic and violent images.
The latest post on /b/ features more than five poorly doctored images of nude women with #boobs4bieber written on them. 4chan users have asked the community to tweet these photos in order to convince real women to strip down for the pop star.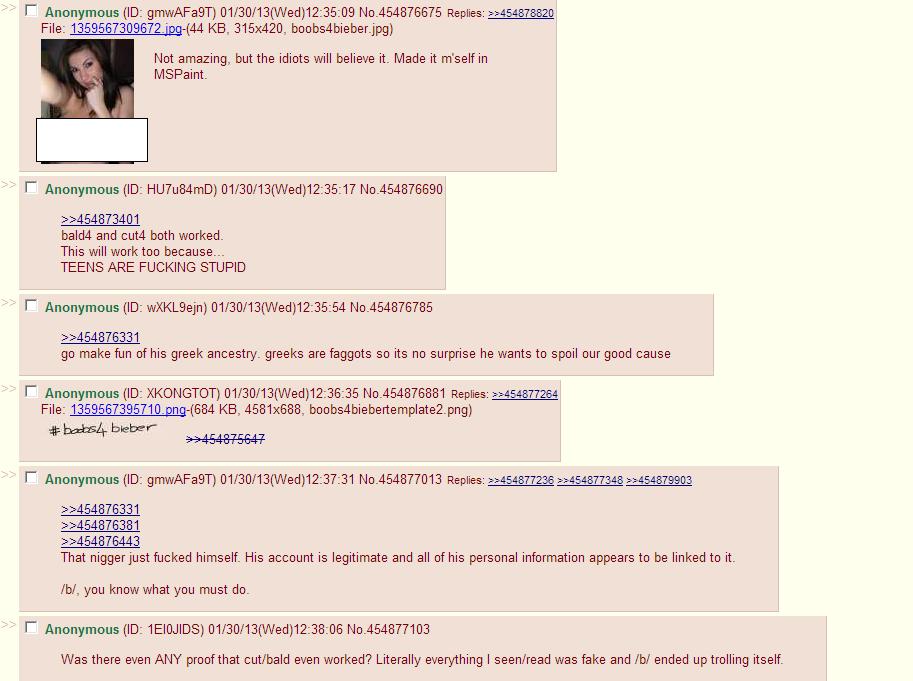 The Justin Bieber–related prank is the second to sprout up from 4chan this month. The first operation, on Jan. 7, attempted to get #cut4bieber trending on Twitter to "see if we can get some little girls to cut themselves" in response to a leaked photo of Bieber smoking marijuana.
Yet while 4chan was successful in getting #cut4bieber trending—it was also picked up on Fox News, the Daily Mail, and Wired—so far #boobs4bieber is falling short of expectations.
"[T]he operation is failing, we need more anons on fake twitter accounts to post," one anonymous user commented."[A]ll your shooped pics haven't been posted yet as far as I can see, let's get to it. ps should've gone with boobs for 1 direction."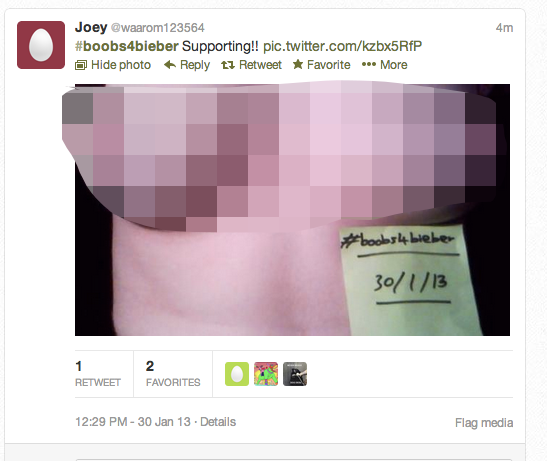 Other 4chan users criticized the direction of the prank.

"This is gonna suck so much," wrote one anonymous user. "Well, if your f****ts insist on doing it, at least use some other celebrity for fucks sake. We've already had #BaldForBieber and #CutForBieber. Do you n****rs lack the vision to see how this will fail? Also, no lulz. Only underage boobs."

At least one Twitter user, John Mallamas (@JinSaotome), has caught on to 4chan's prank and has been tweeting for people to ignore the hashtag.
" Do NOT look for or click on the hashtagged trend 'boobs4bieber,'" Mallamas tweeted. "You'll end up with illegal pics on your harddrive."
As a result, Mallamas has had his contact information posted on Encyclopedia Dramatica, the popular Wikipedia-style site chronicling the seedy underbelly of online culture and events. Doxing like this is a typical response for anyone who writes about, or criticizes, the community.
The last post on the thread:

And on Twitter: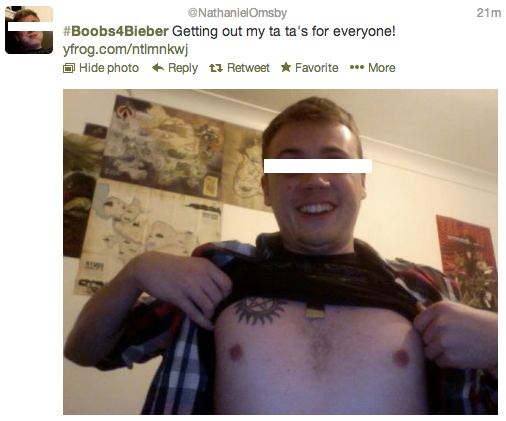 Photo by ElHormiguero/Flickr