No one knows for sure who killed Jimmy Hoffa.
In fact, no one knows for sure that someone actually killed Hoffa. The labor union activist disappeared in 1975, and authorities declared him legally "presumed dead" in 1982. An FBI memo lists 12 possible suspects in the infamous mobster's disappearance, and speculation has run wild over the years. Thanks to the release of Martin Scorsese's The Irishman, which begins streaming on Netflix today, everyone wants to know, for real, who killed Jimmy Hoffa.
According to the film, which is based on Charles Brandt's 2004 book I Heard You Paint Houses, Frank Sheeran did the deed. The book is based on a series of interviews Brandt conducted with Sheeran before his death in 2003. Sheeran—whom Robert De Niro plays in the film—took the blame for the famed Teamster boss's death, but authorities never convicted him. Due to this and several disputing accounts of Hoffa's death, the event remains a mystery.
While no one has proved Sheeran's account to be false, too many questions linger to take his confession at face value. Since Hoffa, portrayed by Al Pacino in The Irishman, was never found, there are dozens of loose ends that will likely never be tied up. Most people assume the dangerous associates Hoffa consorted with were responsible for his disappearance, but not everyone agrees it was Sheeran.
Who really killed Jimmy Hoffa?
There is no definite answer to this question. While Sheeran's admission certainly places him near the top of the list, any one of the 12 suspects listed in the FBI "Hoffex Memo" could have been involved. According to Smithsonian magazine, a number of historians have debunked Sheeran's claim.
Before we can dive into all the theories and claims of who killed Jimmy Hoffa, however, we need to examine the history of this gripping story.
Who was Jimmy Hoffa?
Jimmy Hoffa, born in 1913, started his career at 14 after dropping out of school. He worked a series of manual labor jobs, where his journey in organizing labor unions began. By 1930, Hoffa started organizing strikes while working at a Detroit Kroger grocery store. Hoffa quickly worked his way up the union ranks before ultimately becoming the vice president of the Teamsters' Detroit chapter. In 1957, Hoffa became president of the International Brotherhood of Teamsters.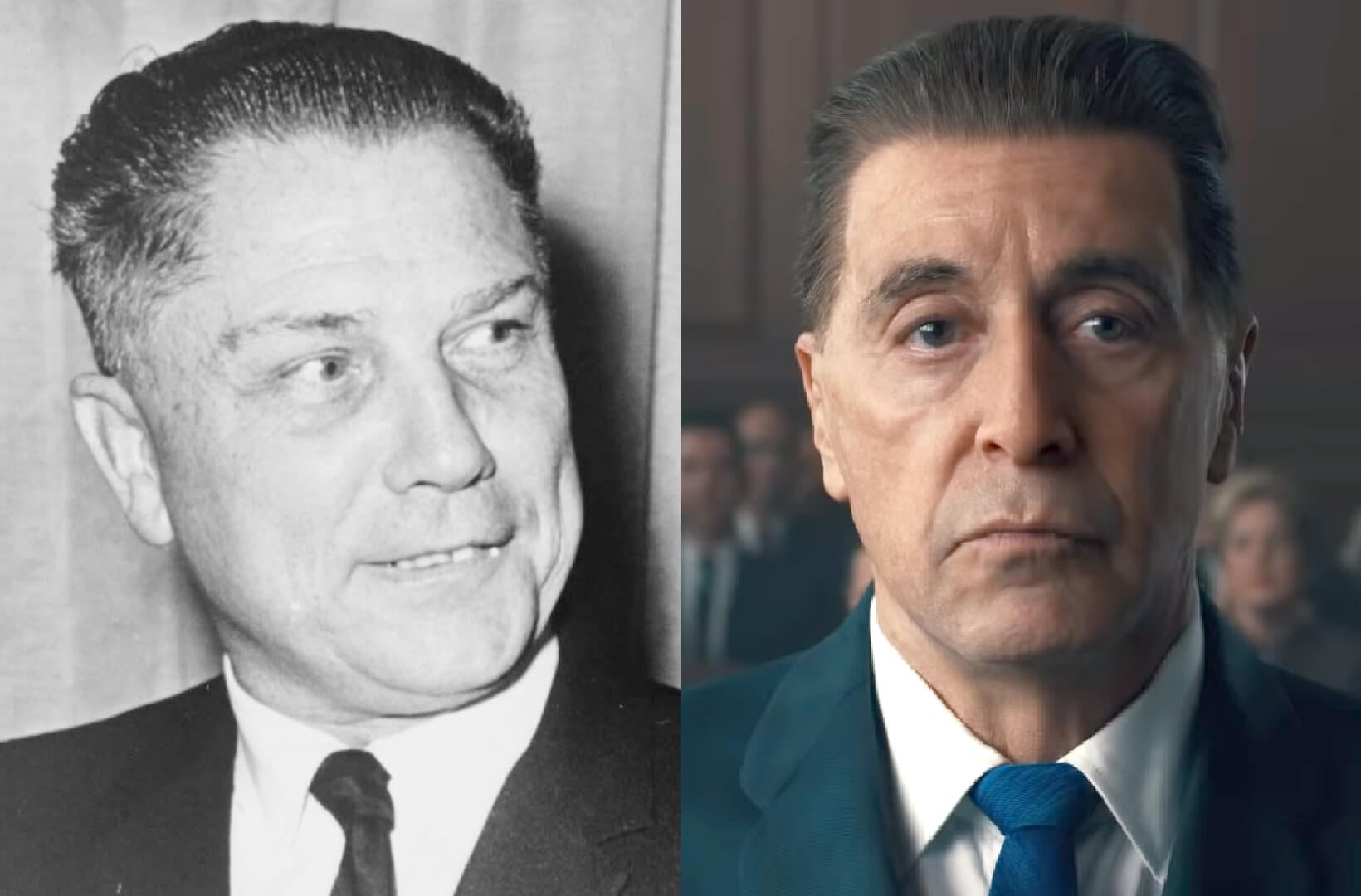 Hoffa's passionate work with the Teamsters elevated the organization to the largest labor union in the U.S. As he was doing this work, however, he was also sinking deeper into the world of organized crime.
Ultimately, Hoffa's association with the mob and subsequent disappearance all came down to the union pension fund. As the Teamsters rose in popularity, the massive pension fund it accrued caught the attention of some less-than-savory people. Attorney General Robert Kennedy, under suspicions that Hoffa was using the pension fund to bribe mob organizations, relentlessly pursued the union boss. Eventually, Kennedy managed to convict him on charges of bribery and fraud in 1964.
Hoffa managed to retain his position as Teamsters president until 1971, despite his imprisonment. Even after President Richard Nixon commuted his sentence under the express caveat that Hoffa cease all union activity, he fought to retain his position. According to both the book and the film, this was Hoffa's great mistake. He became a problem for the mob, and they sought a path to eradicate him.
Who was Frank Sheeran?
Frank Sheeran was a known associate of the mob. The story in The Irishman is based solely on his accounts, and its title refers to his mob nickname. The burly ex–truck driver spent a short period as president of a local Teamsters union and became one of Hoffa's close friends. All the while, he had close connections to the mob, in particular East Coast mafia boss Russell Bufalino, played by Joe Pesci in the film. According to I Heard You Paint Houses, Sheeran ended Hoffa's life on Bufalino's order.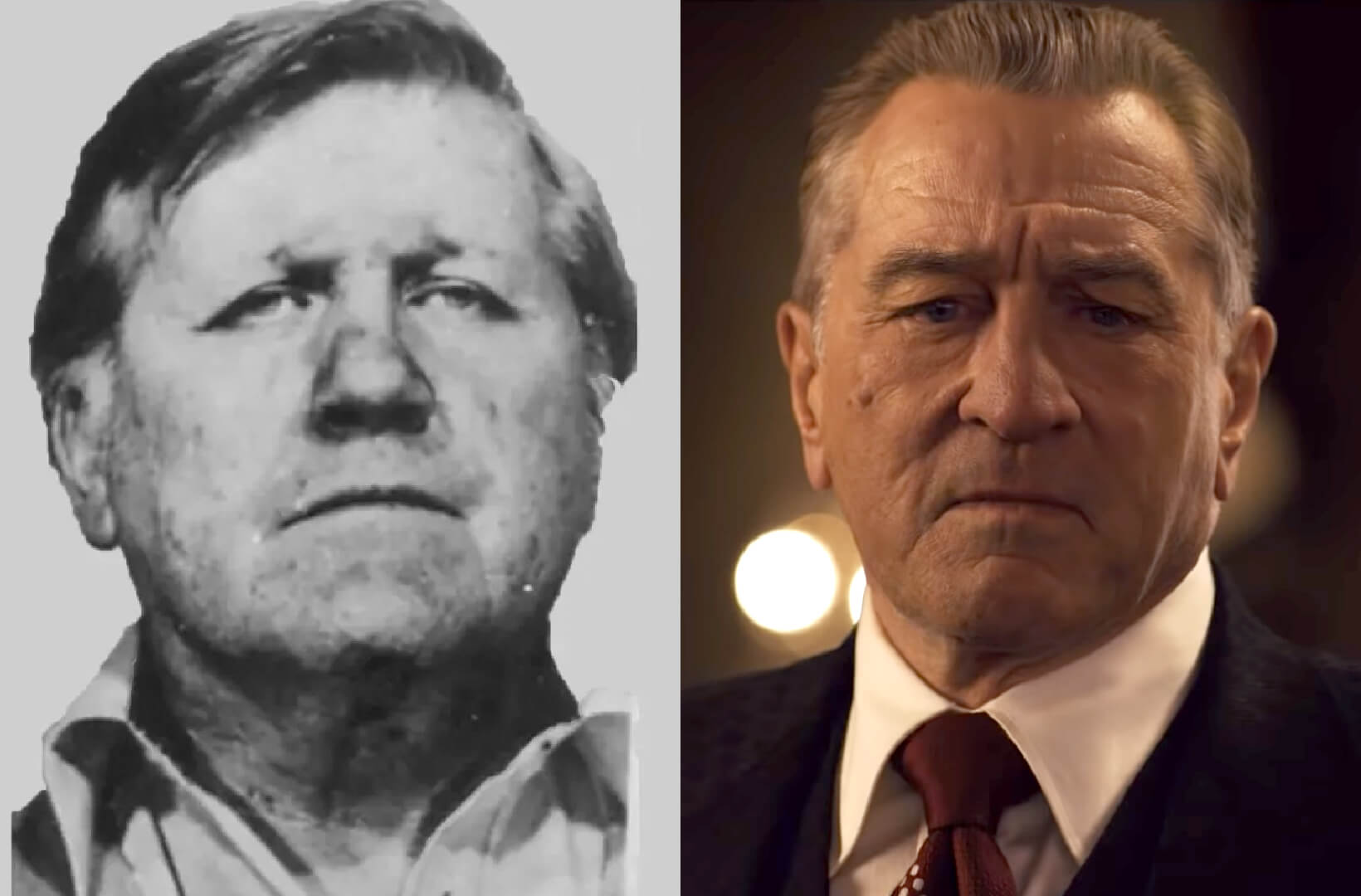 The FBI memo regarding Hoffa's death says of Sheeran: "Resides in Philadelphia and is known associate of Russel (sic) Bufalino, La Cosa Nostra chief, Eastern Pennsylvania. His vehicle seen at meeting of La Cosa Nostra figures in Wilkes Barre, Pennsylvania, Aug. 29, 1975, and also in Detroit Dec. 4, 1975, during FGJ appearance of New Jersey Teamsters. Known to be in Detroit area at the time time of JRH disappearance and considered to be close friend of JRH."
Many people continue to dispute the claim that Sheeran was the culprit behind Hoffa's death. However, his confession cements his guilt in others' minds. Over the past 30-some years, 14 people have confessed to Hoffa's murder. Sheeran's presence in Detroit, where Hoffa was last seen, is one of the primary links connecting him to Hoffa's disappearance.
How did Jimmy Hoffa die?
While no one knows everything for certain, there are several acknowledged facts surrounding Hoffa's disappearance. Hoffa's last confirmed location was his Detroit home. A 2004 Associated Press article said Hoffa vanished "from the parking lot of a Detroit restaurant while on his way to a meeting with Anthony Provenzano, a New Jersey Teamsters boss, and Anthony Giacalone, a Detroit mobster."
In I Heard You Paint Houses, Sheeran claims he was the one to end Hoffa's life. The Detroit Free Press delved into Sheeran's confession, in which he claimed he shot Hoffa "in the back of the head behind his right ear. My friend didn't suffer." He then claimed Hoffa's body was disposed of in a trash incinerator or funeral home, according to Heavy.
Claims arose in 2004 that the FBI discovered blood in the home in which Sheeran claimed he killed Hoffa. However, a 2005 Associated Press article reported that the blood did not belong to Hoffa.
A number of wild claims have arisen over the years speculating about the Teamster boss's death. Some believed Hoffa's body was buried beneath Giants Stadium in New Jersey. These claims were widely proven false when no remains were found when the stadium was demolished in 2010. Others believe his corpse was put in a 50-gallon drum, lit on fire, and buried.
But none of the alternate claims have proved to be any more true than Sheeran's, so Hoffa's death remains a mystery.
H/T The Daily Beast
READ MORE: