Do you have a friend that just can't grasp the concept of "late capitalism?" For those who simply can't read Marx, there's Korean black comedy thriller Parasite. The Golden Globe Winner for Best Foreign Language Film is a fantastic encapsulation of the world it's wrought. Sure, its message may go over the head of the uber-wealthy, but even they can't deny its greatness.
This South Korean tale tells a story of class struggle that's far more Get Out than Downton Abbey. It seems the struggling Kim family finally caught a lucky break after depending on low-wage gigs to eke out a living in a squalid basement apartment. Using some artful subterfuge, they've all managed to find employment working for the wealthy Park family. The relationship between the two clans starts off symbiotic but quickly devolves into a blood-soaked class struggle. It's classic Bong Joon-ho (Okja, Snowpiercer) social commentary at its finest.
Here's everything you need to know to rent or buy Parasite.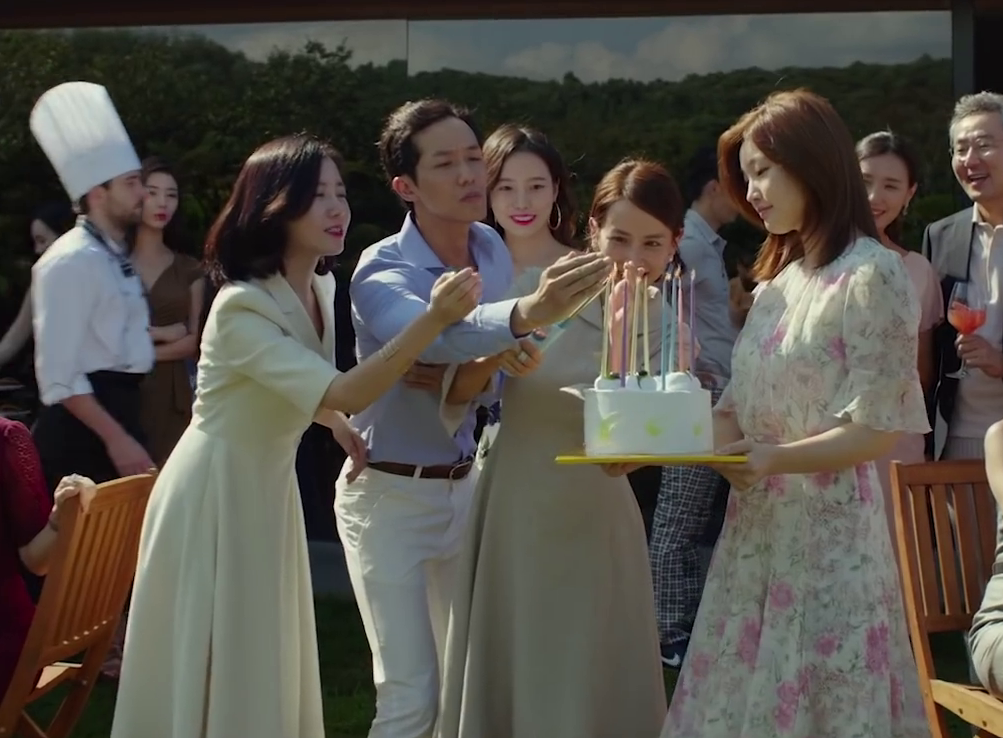 Parasite cast
Song Kang-ho as Kim Ki-taek
Chang Hyae-jin
as Kim Chung-sook
Park So-dam as Kim Ki-jeong
Choi Woo-shik as Kim Ki-woo
Lee Sun-kyun as Park Dong-ik
Cho Yeo-jeong as Park Yeon-gyo
Jeong Ji-so as Park Da-hye
Jung Hyeon-jun as Park Da-song
Lee Jung-eun as Gook Moon-gwang
Park Myung-hoon
as Geun-sae
Park Geun-rok as Yoon, the chauffeur
Jung Yi-seo as the pizzeria manager
Park Seo-joon as Min-hyuk
How to stream Parasite right now
Cost: $5.99 per month (after a 7-day free trial)
Hulu devices: Roku, Apple TV, Google Chromecast, Amazon Fire Stick and Fire TV, Xbox One, Xbox 360, Nintendo Switch, and iOS and Android devices
If you want to watch episodes of your favorite showson the day after they air, there's no better option than Hulu. The streaming service, which just slashed the cost of its ad-supported version to a mere $5.99 per month, offers episodes of showsincluding Seinfeld, Family Guy, Golden Girls and many other hitson-demand, including the first chunk of season 6 episodes. Plus, it's also a destination for hit movies including Parasite. If you subscribe to Hulu with Live TV, you'll get the on-demand portion of Hulu included for free. You can also upgrade to Hulu No Commercials for $11.99 per month.
How to watch Parasite
The following are a few venues where you can rent or buy Parasite.

Cost: $14.99
Devices: Amazon Fire Stick, Fire TV, Fire tablets, and Fire phone; Roku,

Apple TV

,

Google TV, TiVo,

Nvidia Shield TV

, PlayStation 3 and 4, Xbox One, Nintendo Wii
The online retail giant is also one of the premier destinations for online streaming. This is the easiest way to watch Parasite, no question. If you already have an Amazon account, buying in either HD or 4K will take seconds, and you can watch it anywhere you stream Amazon Video, from Amazon Fire Stick to Roku.
---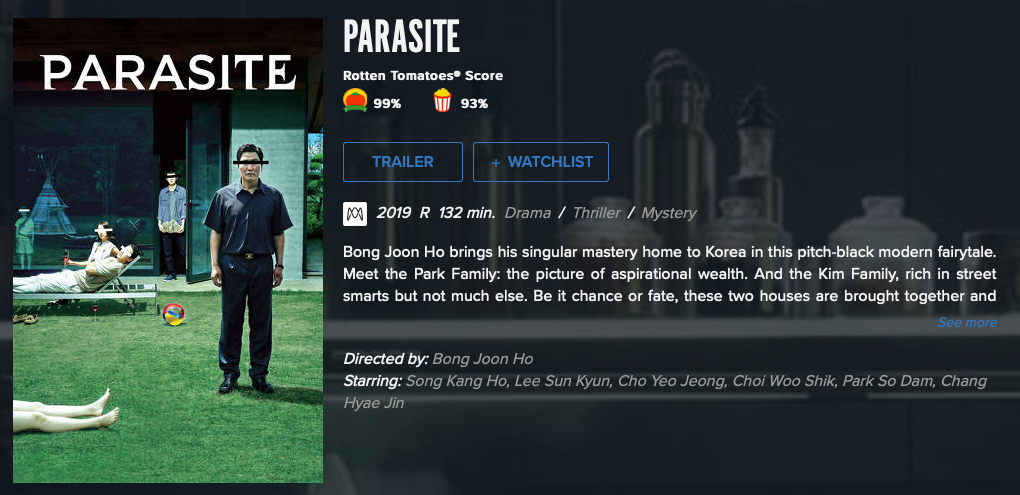 Cost: $14.99
Devices: Samsung Smart TVs, internet browsers, iPad, iOS devices, Roku, Xbox One,

Google Chromecast

, Android, Visio Smart TVs
Fandango and movies go hand in hand, and not just when it comes to buying tickets online. Plenty of hits and classics are available in the FandangoNOW library, along with full seasons of your favorite shows. Parasite is available on FandangoNOW in multiple formats. If you join Fandango VIP, you can rack up points to spend across Fandango and FandangoNOW.
READ MORE:
---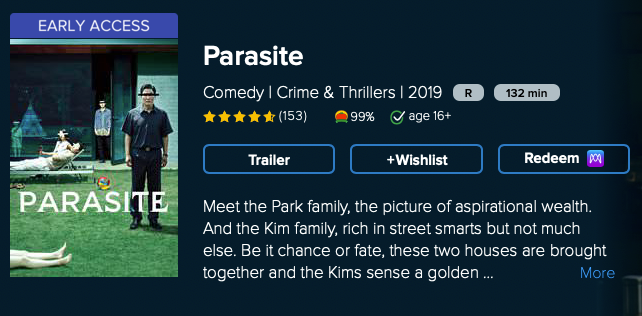 Cost: $14.99
Devices: Samsung Smart TVs, Internet Browsers, iPad, iOS, Roku, Xbox One, Chromecast, Android, Vizio Smart TVs, PlayStation
Vudu is a no-fuss way to rent movies online if you don't want to bother signing up for anything. There's a massive library of high-quality video content, including 4K movies. There are even piles of movies you can watch free as long as you sit through a few ads. Parasite is available to buy right now, in SD, HDX, and UHD. You'll have to wait a little longer if you want to rent it.
---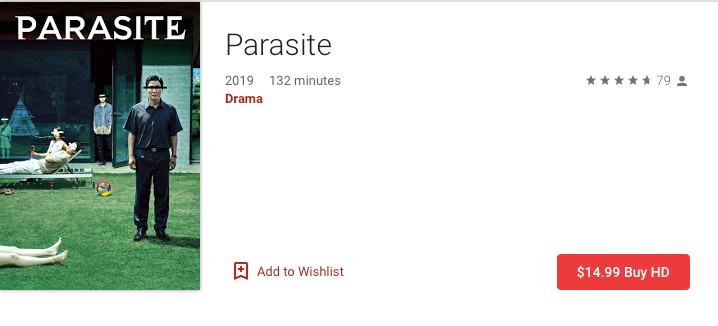 Google Play links to your Google account and media can be accessed from any Google Play-enabled device.
---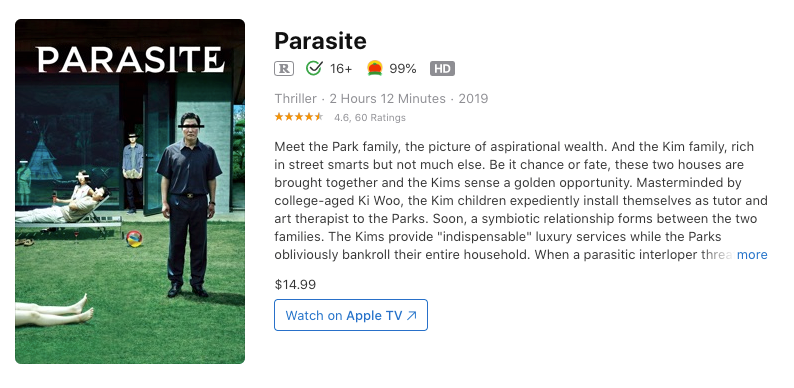 If you happen to prefer streaming on iOS devices, buying Parasite on iTunes is your best bet.
The Daily Dot may receive a payment in connection with purchases of products or services featured in this article. Click here to learn more.