It's safe to say Tristan Thompson has a lot more damage control to do after his latest infidelity scandal.
The NBA player has been working on cleaning up his image after new footage of him cheating on girlfriend Khloe Kardashian leaked just days before she gave birth to their daughter. True, in April. His social posts have been especially family oriented during the basketball offseason, with heart emoji captions, baby pics, and jewelry dedicated to his kids. But he still has a long road ahead of him if he's hoping to get back into the Kardashian fandom's good graces, apparently.
Exhibit A? An Instagram pic Khloe shared Tuesday afternoon. Kardashian posted a snap of a Pinterest-y looking beach, and included the caption, "Take me please."
Thompson replied in the comments with a simple, "Where do you wanna go my love?"—but that show of affection was too much for eagle-eyed Kardashian fans.
https://www.instagram.com/p/Bl51e4SFt6-/?taken-by=khloekardashian
Thompson got reamed in the comments by hundreds of users suggesting he take her to tropical destinations like "fidelity island," "commitment cove," and "st. loyalty."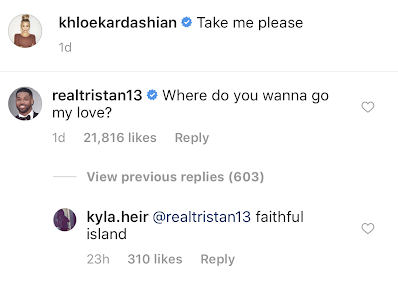 And the roasting didn't stop at Khloe's comments. Gossip sites like the Shade Room picked up on the mess and inspired comment threads of their own making fun of his romantic gesture.
While the celebrity couple is clearly trying to work things out in real life, E!'s televised version of their lives hasn't caught up to the drama yet. So for fans observing this relationship roller coaster via tabloids and social media, Thompson's lovey-dovey commenting comes off as smarmy. While there's still been no public apology from the athlete, he's certainly still doling out plenty of public affection.
For Kardashian's part, though, she's apparently still open to seeing where the relationship takes her.