When recommending The Expanse, I often highlight its rare ability to improve with every season. The show is now five for five, with the new season delivering more nail-biting action and a shift in the balance between Earth (the old political superpower), Mars (the upstart military colony), and the asteroid belt, which is home to a hardscrabble diaspora of miners, criminals, and spacefaring separatists. While the stakes were always high, they were high in the way of a blockbuster apocalypse: we don't necessarily care about the body count or the size of the explosion. In season 5, those stakes finally feel earned. Without going into spoilers, the introductory episodes pack a serious punch, tying a massive interplanetary event into some deeply personal storylines.
The Expanse
RELEASE DATE:
Dec. 16, 2020
SHOWRUNNER:
Naren Shankar
STREAMING:
Amazon Prime
The main crew splits up into solo storylines and new team-ups this season, offering a thrilling balance between action, political scheming and tense personal conflicts.
The Expanse is known for its enormous—some might say unwieldy—cast of characters. Each year adds a few more, but fortunately it doesn't seem to matter if you forget half their names between seasons. That's what Google is for, right? Anyway, in addition to our latest flotilla of supporting players, these are the current heavy-hitters: The ragtag crew of the Rocinante (James Holden, Naomi Nagata, Amos Burton, and Alex Kamal), Earth politician Chrisjen Avasarala, and Martian hero Bobbie Draper. Plus the perpetually-snarling spaceship captain Camina Drummer, who recently joined some kind of asteroid belter polycule. Love that for her!
Season 5's big villain is the belter terrorist Marco Inaros (Keon Alexander), who debuted in season 4 but makes more of an impact now. He combines startling good looks with a repulsive personality and alarming mood swings. In the grand tradition of fictional terrorists, he's a charismatic leader whose horrifying actions are motivated by wholly understandable injustice. (The belters are oppressed by Earth and Mars, after all!) He's also Naomi Nagata's ex-lover, and father to her long-lost son Filip (Jasai Chase Owens), who is now a teenager.
Up until now, all we knew was that Naomi once had (and lost) a child. Now we discover that Marco Inaros has been raising their son in secret. This sets the scene for a gut-wrenching emotional conflict, in a show where plot and action usually reign supreme. Naomi has always had more coherent ethics and political ideals than the other main characters, and this arc helps us understand why. It's also a fantastic showcase for actress Dominique Tipper, who is front-and-center this season while James Holden (Steven Strait) remains on the backburner. A welcome reprieve because despite his protagonist status, Holden is often the least interesting character in the show.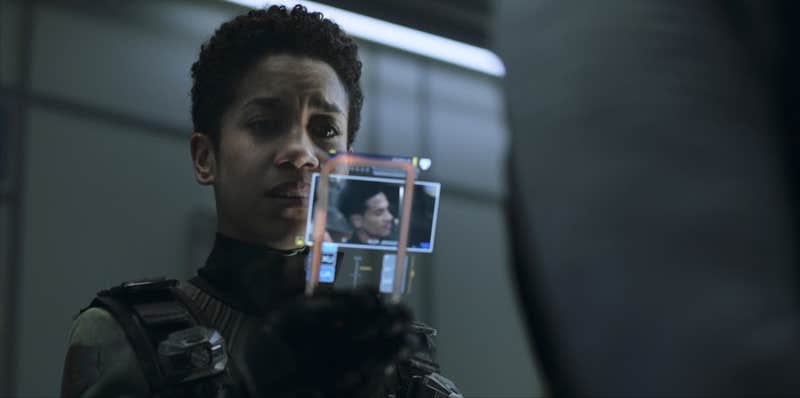 After last season's space colony adventure, the crew of the Rocinante split up to star in diverging subplots of their own. Amazon's new release strategy (a three-episode premiere, followed by seven weekly episodes) is much better than a Netflix-style dump, but it restricts what I can discuss in this review. No spoilers, folks! Suffice it to say that each subplot is an excellent fit for the characters at hand, with Naomi, Amos, and the marvelously compelling Chrisjen Avasarala (Shohreh Aghdashloo) as the headliners. The production values seem even better than before, with several memorably intense action scenes in deep space. To its credit, The Expanse emphasizes logistics over pure action, creating more meaningful and character-focused thrills than the flashy fight scenes of modern Star Trek.
Amos Burton (Wes Chatham) gets my favorite arc this season, continuing to build on his deceptively simple premise. In a team that loosely follows the skill-based characterization of a roleplaying game, Amos is the muscle. He's good at violence, following orders, and extreme shows of loyalty. His moral code is malleable, often tied to whichever person he's currently imprinted upon like a baby duckling. Since The Expanse isn't an overly violent show, his moments of cruelty have a particular impact. As does Wes Chatham's brilliant comedy timing, which shines through both in Amos' twisted sense of humor, and his blithe inability (or unwillingness?) to engage with subtle social cues.
Amos' storyline explores his mysterious origins on Earth, highlighting the way each main character is basically operating in their own genre: Amos in an action thriller, Avasarala in a political drama, Naomi in a psychological thriller, and Bobbie and Alex bumbling their way through a criminal investigation. (They're not exactly top-tier strategists.) James Holden is off doing something-or-other with the protomolecule, the alien MacGuffin from earlier seasons. But unless someone turns into a psychic space crystal again, I ain't interested.
With one more season left to go, The Expanse is truly firing on all cylindars. Season 5 is a hell of a lot of fun, with plenty of interesting material for all the ongoing characters. And in 2020, it's a weird relief to see a smart, narratively complex drama that isn't laden down with emotional torment. Tense and exciting, without being stressful to watch.
---

---
More essential culture reads
---