Netflix's Selena: The Series details the life of the late Selena Quintanilla-Pérez, the Queen of Tejano music and Cumbia, and her family's journey of sacrifice to create a multi-lingual, multi-cultural music empire.
This review contains spoilers for Selena: The Series.
The show, which releases its first part of nine episodes on Friday, Dec. 4, stars Walking Dead and Twilight actress Christian Serratos as a bubbly and personable Selena. The first part follows the Quintanilla family from their early days as the band "Selena y Los Dinos" playing at the family restaurant PapaGayos through Selena's several years of Tejano Music Award wins.
The first part ends with Selena's tumultuous breakup with her bandmate boyfriend and future husband Chris Pérez (Jesse Posey) forced by her father, Abraham Quintanilla Jr. (Ricardo Antonio Chavira), a sure cliffhanger for audiences new to the Selena story.
But for those even vaguely familiar with her life, and her tragic death in 1995 at the age of 23, Selena: The Series squanders most of its potential to project a legacy popularized by her family for longer than the singer was alive. The series feels less like a fictionalized, autobiographical "star is born" narrative a la Bohemian Rhapsody or Rocketman, and more like a primetime cable pilot, filled with conflicting moments of pratfall-ish comedy and grave seriousness as if the work itself doesn't know what it wants to be.
Selena: The Series
RELEASE DATE:
Dec. 4, 2020
CREATOR:
Moises Zamora
STREAMING:
Netflix
Netflix's 'Selena: The Series' delivers audiences a two-dimensional understanding of the early life of the Queen of Tejano music, the late Selena Quintanilla-Pérez.
The series is also unnecessarily repetitive, rehashing the same career highlights and appearances, along with the struggles of touring and making an album. These scenes don't advance the plot as much as they fill the time.
At best, Selena: The Series is a playful, fun introduction to the career of the Quintanilla family. But perhaps more concerning, its portrayal of Selena left me questioning the concept of legacy, who gets to shape it, and what parts of someone's personhood get left behind.
Much of my disillusionment with the series, and with Selena's life story, came as a result of Serratos. Her enthusiasm, charm, and personality were vibrant, but her interpretation of Selena seemed more like a tribute to Jennifer Lopez's character in the 1997 Selena movie. Her performance seemed to advance the version of Selena that the arbiters of her legacy have projected for decades—less of a person who existed, and more of a character instead.
Her appearance, too, became a distraction. Serratos, thinner and lighter-complexioned than Selena, was made to wear bulging thigh and butt padding. And while her costuming looked similar enough to Selena's style, her wigs were poorly applied and styled. She was not Selena, but a version of Selena that the Quintanillas—such as Selena's sister and Los Dinos bandmate Suzette Quintanilla, a producer on the series—wanted to emulate.
Despite my criticisms, this is the version of Selena that I know best. I was 5 years old when I first saw the Selena movie, which was rushed into production after her death. Near the end of the film, a symbolic white rose falls at her feet during a performance, and the film cuts to chaos. Being so young, I couldn't process these metaphors, but I understood that she was murdered. Selena's on-screen death became my earliest understanding of what it meant to be killed, to die a violent death.
For years after, the film moved me to tears through its joys and pains. Selena had been imprinted in my brain as a star dimmed far too soon. Even then, I consider my experience within the Selena fandom to be nothing compared to the people who loved her the most, who saw themselves in her, and who continue to cherish her in death. I grew up in Texas, where Selena continues to reign supreme.
Selena was a queen, and her story is heartbreaking — these are indisputable truths. But the more I watched Selena: The Series, and felt a dissonance growing between my expectations for falling in love with Selena all over again, and the semi-hollow, repetitive narrative on screen, the more I questioned the Selena imprinted on me, and how much of my understanding of her had been informed by this overwhelming, larger-than-life idea of her, nurtured and exploited by her family and fans in her death (another aspect of Selena's legacy brilliantly explored by Vice's Alex Zaragoza).
In the series, Selena's father Abraham comes across just as controlling as the reputation he has garnered in real life, dictating all band decisions as their manager and a former musician who longed for the success that his children came to bring him. It's a reputation he founded even more after Selena's death. In a 1997 review of the Selena film, the Florida Sun-Sentinel detailed various aspects of Selena's life that journalists corroborated in the years following her death which the film downplayed or glossed over, as well as Quintanilla Jr.'s stubborn will to dictate the narrative of Selena's life story, both in the movie and with journalists who wrote about her life—as well as those who covered the trial of Yolanda Saldívar, the close family friend who killed Selena.
In 2016, he sued Selena's husband Pérez for attempting to make a TV series on Selena based on a 2012 book he had written about their romance. The suit stemmed from an estate agreement that Pérez entered with Quintanilla Jr. in the months after her death that gave her father total control over her entertainment properties, including the use of her likeness. The suit was dismissed last year, and Pérez said he wasn't consulted for the Netflix series.
Last year, Quintanilla Jr. disparaged a Telemundo series adapted from one of the books published after Selena's death. The journalist who wrote the book, Maria Celeste Arrarás, insisted that the work was based upon evidence, documents, and witness testimony, and had even published an interview with Quintanilla Jr. in the original book.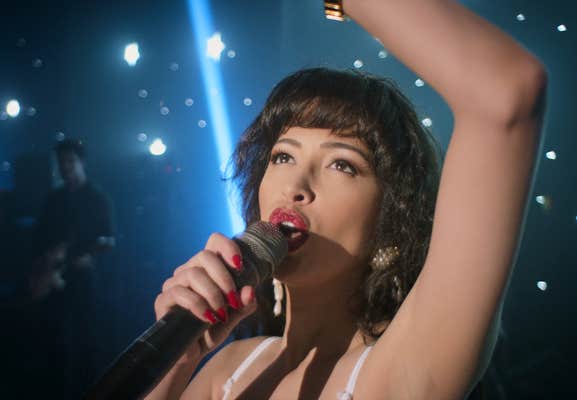 Ultimately, I'm left thinking about the Selena whose voice remains lost forever, if not additionally buried under the stories that the tellers of her truth have repeated for 25 years. According to these biographers, Arrarás and former Texas Monthly writer Joe Nick Patoski, there was a Selena who grew up in a family of Jehovah's Witnesses, who was a child star before she was a queen, who rebelled against her controlling father for love but who didn't get to make it part of her story in life, who wanted to focus on her fashion empire, and who had few close friends despite everyone wanting something from her. She was a person, full of life, with the dimension that the mythos around her generally lacks.
This is the picture of Selena that emerges as I look to sources of her life history that aren't controlled by people with a financial interest in sustaining her uncontroversial image. Perhaps this will be the Selena we may get to know in the second part of Selena: The Series. But after this first part, I have my doubts.
Still not sure what to watch on Netflix? Here are our guides for the absolute best movies on Netflix, must-see Netflix original series and movies, and the comedy specials guaranteed to make you laugh.