Friends from College may be the most annoying show that I can't stop watching.
I've hate-watched it from the beginning, and I jumped at the chance to review the second season because I knew I would eventually watch it anyway—and if it gets renewed, I'll probably watch the third. The series has a weirdly magnetic pull, despite being so off-putting in so many ways. As director and series co-creator Nicholas Stoller told Indiewire back in October: "One of my favorite tweets I saw was, 'Just finished Friends from College. I hated it.' But you watched the whole thing!"
That's me.
Friends from College: Season 2

RELEASE DATE:
1/11/2019
CREATORS:
Nicholas Stoller, Francesca Delbanco
STREAMING:
Netflix
'Friends from College' remains grating in season 2, even though the excellent cast goes a long way toward saving it.
Season 2 of the Netflix comedy picks up a year after the events of season 1, with the secrets tearing the central friend group apart having all come to light. Ethan (Keegan-Michael Key) and Lisa (Cobie Smulders) are getting divorced now that she's found out about his long-running affair with Sam (Annie Parisse). Lisa has a new boyfriend, Charlie (Zack Robidas). Sam, meanwhile, is trying to make it work with her husband, Jon (Greg Germann). Max (Fred Savage) is getting married to his longtime partner, Felix (Billy Eichner). Nick (Nat Faxon) is embarking on a new relationship with a lifestyle guru named Meryl Morgan (Sarah Chalke, the queen of playing doomed love interests), even as he continues to have feelings for Lisa. And Marianne (Jae Suh Park) isn't up to much of anything, though she remains one of the best parts of the show.
Stoller and his wife and co-creator Francesca Delbanco (who also made Forgetting Sarah Marshall, The Five-Year Engagement, The Muppets, the Neighbors movies) said the negative reaction to Friends from College season 1 made them question who they were as people. They loosely based the show off their own Harvard friend group, and the fact that those closest to them apparently were "either positive or silent" speaks volumes. The idea that anyone would want to spend time with people resembling these characters is baffling. Even in their darkest moments, they seem to breeze through life so easily, to always have the world as their oyster, that it's hard to come close to feeling sorry for them. To see yourself reflected in these characters and be happy would either show blind narcissism or sheer denial.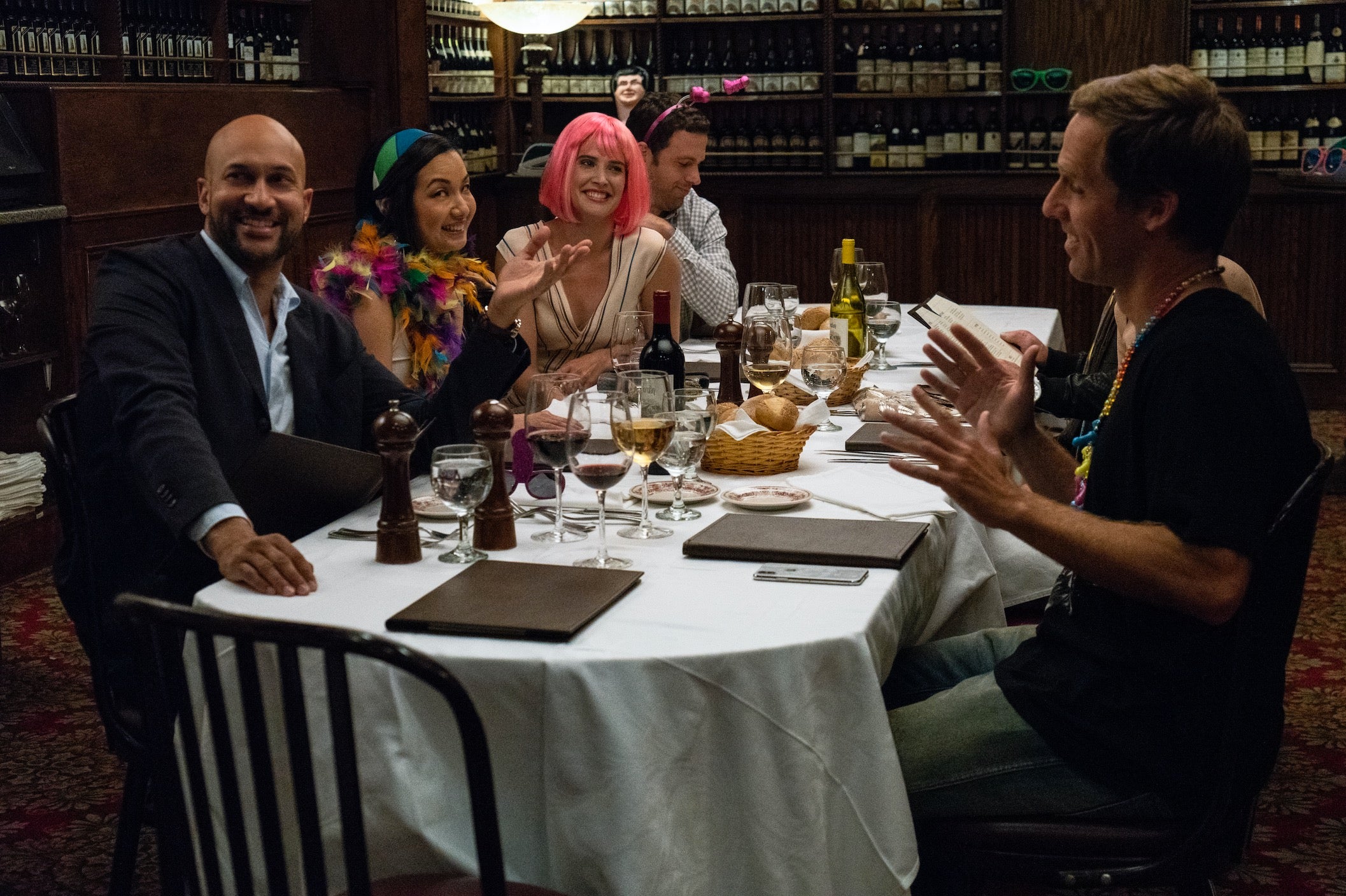 Granted, as an avowed Girls fan, I am not one to immediately dismiss shows just because they have "unlikable characters." But the issue with Friends from College is that the characters never feel like anything more than approximations of real people. There are versions of people buried in there, but the show's moments of real emotion and catharsis are so rare, you could count them on one hand, if not one finger. That's why the characters are actually unlikable: there's nothing real about them.
Still, the cast is great, even if their talents are wasted on the material. I can't for the life of me figure out why the show doesn't give Park more to do. Smulders has at least one affecting moment this season, and Faxon gets a few scenes with surprising depth. I still believe that the best thing on this show may be Eichner in a rare serious turn. Felix and Max's relationship does not necessarily feel authentic, but Eichner and Savage do have impressive chemistry.
I've said before that I could watch Key in anything, though Friends from College certainly tests that theory. In some ways, Ethan does work as a central character, a rallying point for the other friends. But much of his dialog and storylines continue to grate. This season, the creators addressed the fact that people got tired of Ethan and Sam's affair. But I'm not sure it was their affair that was ever the problem. It was that the show told viewers over and over again about the connection these characters had, about this pull that couldn't keep them away from each other—yet they're just so "meh" together. This isn't a knock on Key or Parisse; it's just another way in which the show's writing fails to pop. Their relationship changes in season 2, it's not any more interesting.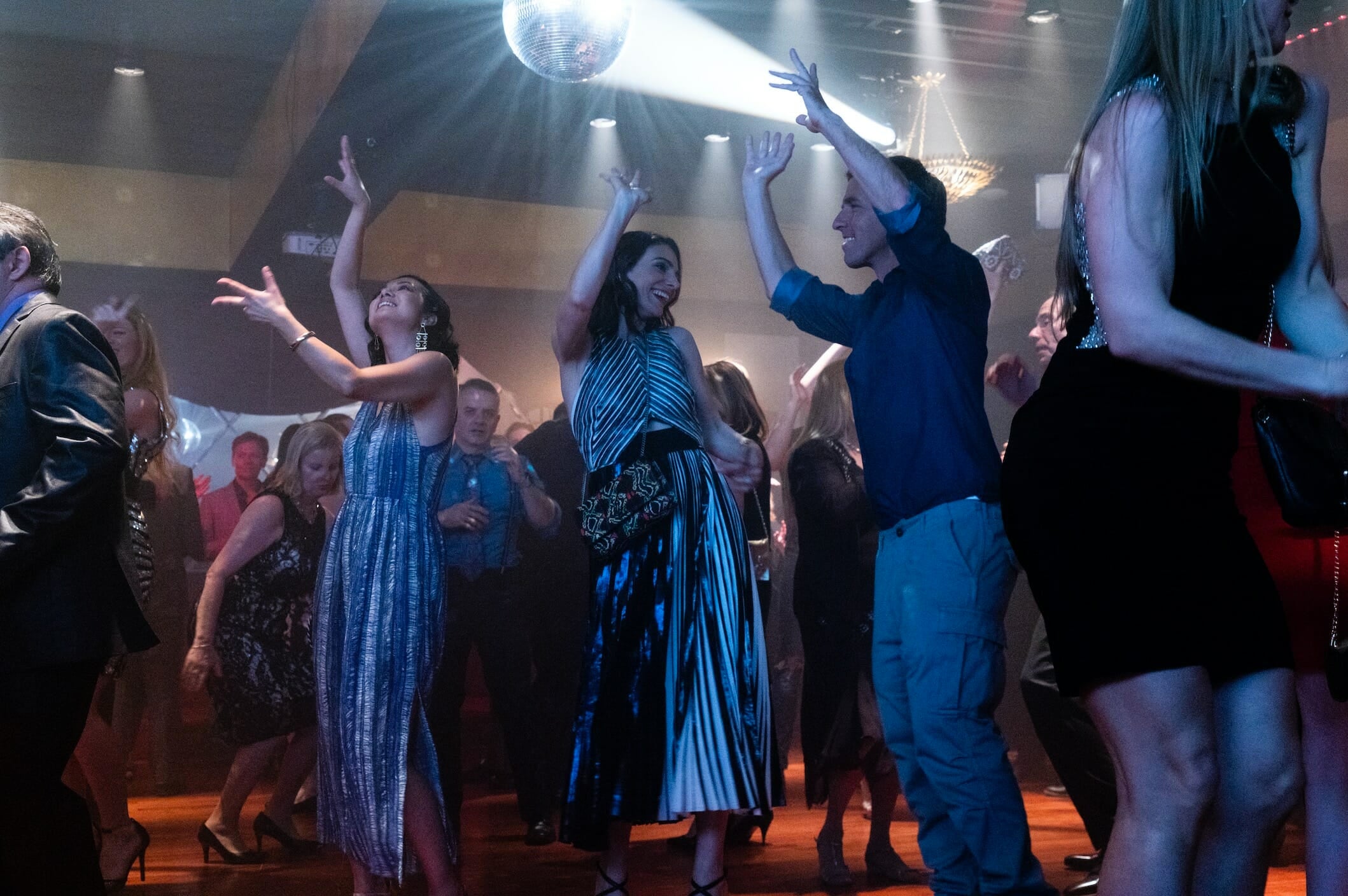 I can't help but fixate on the fact that so much of what worked in Stoller's past films now looks flawed through Friends from College: the mix of genuine emotion and outsize comedy, the righteously ridiculous characters, the completely unrealistic set pieces that are sold with a straight face. There's not a plot-line on this show that seemingly can't move forward by the characters getting drunk and embarrassing themselves. These instincts are natural for a two-hour movie, but stretched over eight episodes, they start to feel tired.
Clearly, something about the show works because I'm still watching. Maybe it's that, like the titular friend group itself, there's a lot of wasted potential here. I don't mind watching adults behaving badly; crisis is always a reliable story generator. But I wish Friends from College would offer something deeper about the difficulty of staying friends with people as you age, and the power of nostalgia in maintaining old relationships.
Or maybe I'm just too lazy to stop watching, and Netflix has hooked me once again. 
https://www.youtube.com/watch?v=jubZte-PZUE
Still not sure what to watch on Netflix? Here are our guides for the absolute best movies on Netflix, must-see Netflix original series and movies, and the comedy specials guaranteed to make you laugh.