As K-pop superstars BTS wrap up five sold-out U.S. dates on their Wings tour, the international fandom is sprawling.
Die-hards of the Asian boy band, called ARMY ("Adorable Representative M.C for Youth"), express love for the boys in many ways: jaw-dropping art, YouTube covers, and even massive fan-coordinated gatherings like the Rainbow Ocean light stick event. But a fan-made video game, released this week, takes the idols into the digital realm with meticulous attention to detail.
The demo, which is free to download, is a visual novel called To the Edge of the Sky. It takes place in the year 2077, and puts the player in the role of Seven, a secret agent joining a mysterious faction called Phantom Alpha. You'll soon meet Zero, who looks a whole lot like BTS' youngest member, Jeon Jungkook. Hang around and you also might meet some guys who look a lot like BTS leader Kim Namjoon and gravelly rapper Min Yoongi.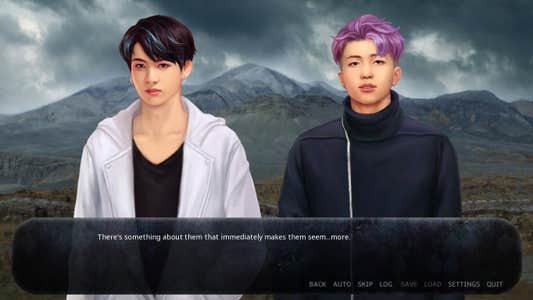 The short demo was created by Aeon Dream Studios, an indie collective that publishes its own original English-language visual novels. Its 2016 game Mystic Destinies: Serendipity of Aeons has garnered very positive reviews on Steam.
Within five minutes of my phone interview with Ajané J.K. Celestin, the CEO of Aeon Dream, we're laughing. It's because we speak the same language: the joyful, bubbling excitement of K-pop fandom.
"We decided to put the next chapter of Mystic Destinies on hold to do this demo," Celestin tells the Daily Dot. "We actually pulled it together in about two weeks. We knew that BTS were coming in concert and we thought it'd be a great way to tell fans about the game."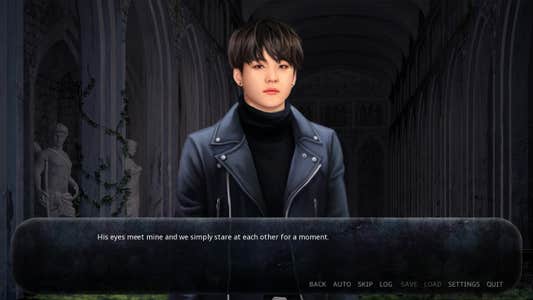 Celestin, along with art director Chieu Nguyen and scriptwriter Eglé Dilyte, have been fans of BTS since early last year. But when the band released its award-winning Wings album in 2016, the three became enthralled in a completely new way.
"We were so inspired by the aesthetics of Wings and Herman Hesse's novel Demian [which Wings quotes at length in the concept videos], we read the book and started dreaming about working with Big Hit to do a game," Celestin said.
To research what fans would enjoy most, Celestin and her team went to Twitter to talk to BTS' burgeoning followers. What they got back was intense, rabid enthusiasm for the project.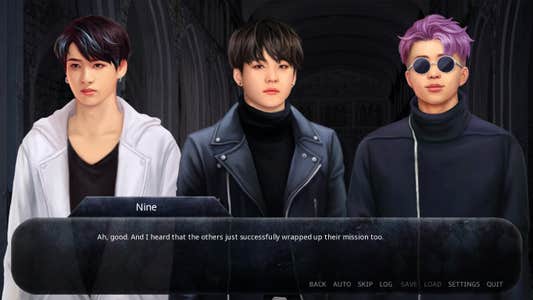 Celestin stresses that there's a noticeable gap in how much international fans can relate to BTS, and she hopes her studio's game can change that.
"BTS don't have fan meets here in the U.S. like they do in Korea," she says about the band's inherent language barrier. (Only one member of BTS is fluent in English.) "We hope that this game might be able to help English-speaking fans feel closer to BTS, 'spend time with them' in a way."
Celestin coyly mentioned a second version of the game, but remained quiet on the details. As far as a full game, though, fans can't count on that unless Aeon Dream gets unexpected licensing permissions, Celestin notes.
"We won't make a full game without Big Hit's consent," she says respectfully. "We want them to be a part of it. We're working on getting in touch with them. We're willing to do all the work, so all we need is their seal of approval."
Then again don't be surprised if, somewhere, a superfan comes down with the BTS bug and makes it.
You can download the demo here (for both Windows and Mac) and get updates on the project via its official Twitter.