What is cringe? These days, it can be just about anything. 
Cringe is ultimately an emotional and physical response: A secondhand embarrassment to a situation or experience, and you know it when you feel it. It can be used as a verb, an expression we wore on our face or made with our body.
But now, you know it when you see it, because it's everywhere and anything. On the internet, it's a noun ("posting cringe") and adjective ("That's so cringe.") It's a whole genre now, and a profitable one at that.
What is cringe?
Cringe has gotten so popular because it's hard to discern what's genuine and what's satire these days, and platforms like Twitter have made it harder to do so. But then, we are living at a time when the current owner of Twitter is himself posting cringe, unironically.
Cringe can be a collective act: You likely remember the ill-advised "Imagine" video from March 2020, filled with clueless celebrities singing the John Lennon song as the pandemic began. Cringe can also be a minor infraction by one person that could follow you forever—like the "Ruthkanda forever" tweet from September 2020, in response to Ruth Bader Ginsburg's death.
In fact, 2020 seems to be a turning point for cringe.
How cringe evolved on social media
Cringe started evolving from a verb to a noun and adjective in the early aughts, and YouTube was one of the first big platforms where it happened, with regular people becoming associated with names like Star Wars kid and Numa Numa. YouTube culture has gone through several iterations since then, but eventually, there was enough content for countless "cringe compilations" to exist.
One of YouTube's first big stars, Colleen Ballinger, created a massively popular persona known as Miranda Sings, who is purposely cringe. In late June, Ballinger posted a baffling ukulele non-apology in response to serious accusations from former fans, and every aspect of it, from the title ("hi.") to the tone (defensive, flippant) to the lyrics, was immediately labeled cringe—even "millennial cringe," a term associated with 2010s internet humor. ("What Does the Fox Say?" Lip Sync Battle? Saying "I did a thing"? Cringe.)
The 2010s might have been the biggest decade for cringe, in entertainment and online. The r/cringe subreddit, which debuted in 2009, is still massively popular, but as cringe went from a feeling to something one documents, the community had issues with bullying and harassment.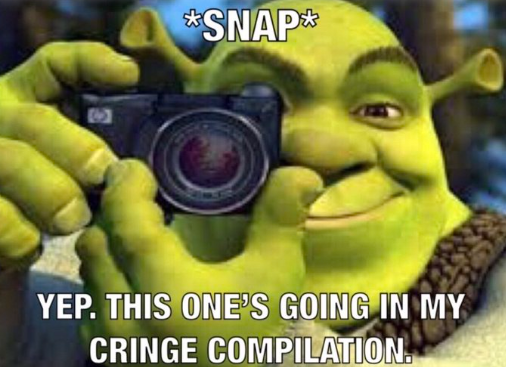 Around 2018, more cringe meme content started to circulate, like the Shrek "This one's going in my cringe compilation" meme and the "Bro! You just posted cringe!" meme, which were used to shame people for bad opinions or posts.
CringeTok
The biggest platform for cringe now is TikTok, where Gen Z made it more of a lifestyle, and related terms like "the ick" and "cheugy" circulate. A lot of people on TikTok point to 2020 as the year when cringe went into overdrive on the app, possibly because everyone was stuck at home, but there are now compilations looking back at 2020 in hindsight.
TikTok is populated by people who often don't know they're being cringe, but a newer development is that it can be profitable for creators to purposely cringe, and lead to brand deals and more followers.
Delaney Rowe, a creator with more than 2 million followers, is one of the more popular in the space, where she parodies the "insufferable female lead" in indie movies with such precision that her comments are filled with people saying how hard it was to watch.
"Painful watch as always" and "Absolutely insufferable watch" are just two comments she's received.
That's another evolution of cringe: "Another tough watch, thanks" or some variation is now considered a positive reaction on TikTok. This can apply to people doing purposely weird lip-sync content or bad jokes or a character. Embracing cringe is now a directive on TikTok.


We crawl the web so you don't have to.
Sign up for the Daily Dot newsletter to get the best and worst of the internet in your inbox every day.