You only need to watch a few minutes of WandaVision, Marvel Studios' first foray into television that used two of its most underutilized superheroes to tell a story of grief through the medium of television, to appreciate the amount of thought and care was put into making it. The 57-minute special, which can be found under the first episode of Marvel Studios ASSEMBLED on Disney+, is a fascinating and in-depth exploration of how a show as weird and ambitious as WandaVision came into being. And it has a bit of everything for casual viewers and Marvel diehards alike: Characters, technical aspects, story, and…a blue Vision?!
No, you don't need to adjust your TV settings—and it's not even a third iteration of Vision after the show introduced White Vision. Paul Bettany really is blue, which brings to mind the visual of watching Dan Stevens filming the Beauty and the Beast remake.
As Marvel Studios ASSEMBLED revealed, the visual effects and makeup teams had to get creative when filming Paul Bettany as the synthezoid iteration of Vision for the first two black-and-white episodes. Any shot with synthezoid Vision required VFX on principal, but VFX and makeup artists relied on an old camera trick to make sure we knew that Vision's features matched the spirit of what we recognized in color.
"During the '50s and '60s, actresses would actually use blue makeup, blue lipstick so their lips would appear red," Jen Underdahl, Marvel Studios VP of visual effects, explained. "And lo and behold, we did the same with Paul, found the right shade of blue during some camera tests, did a little tweaking in the DI [digital intermediate] and found a really good target."
Hence, blue Vision.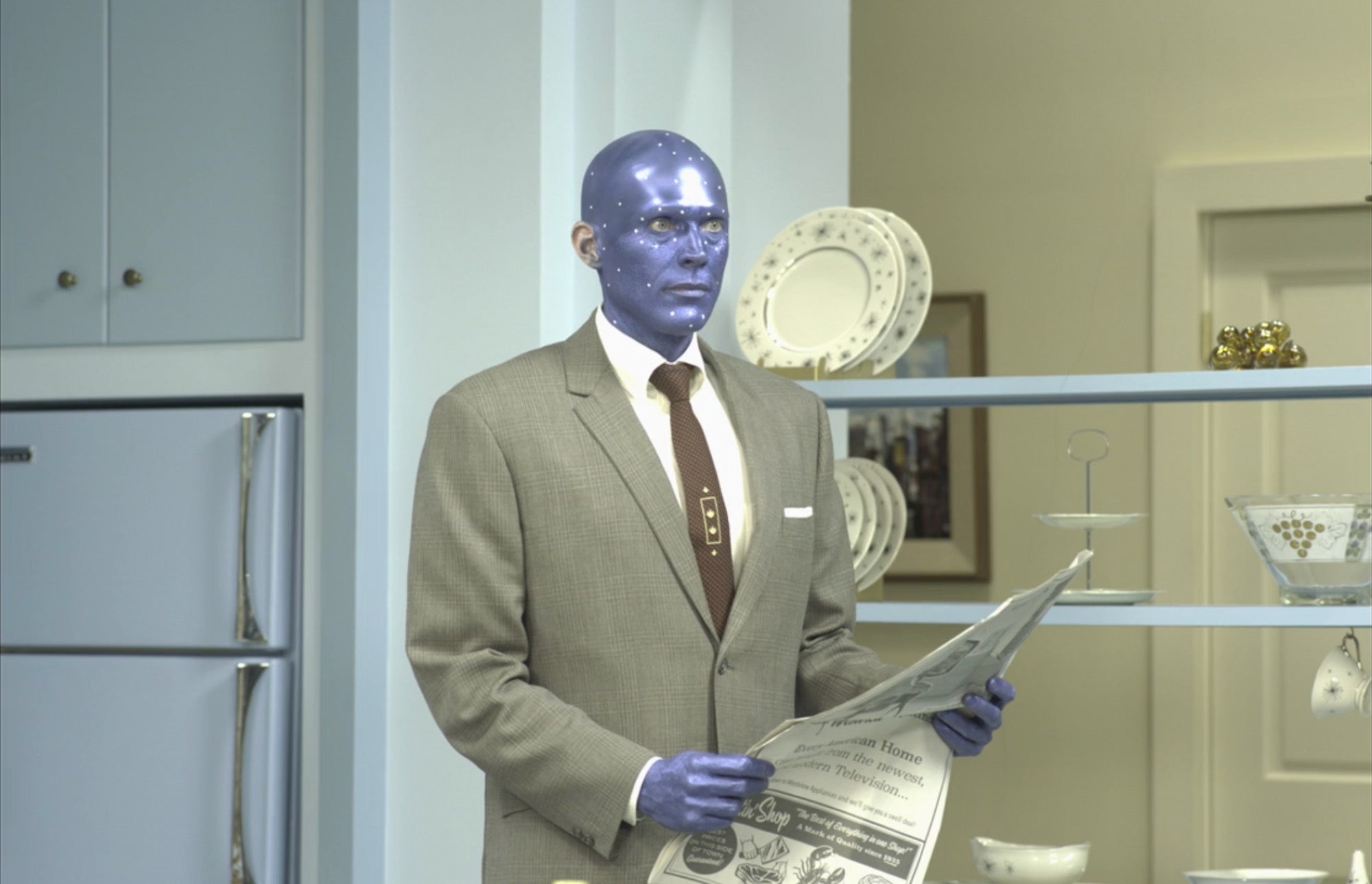 It's far from the only trick that made WandaVision pop on-screen.
WandaVision went to great lengths to shoot the first episode how they would an actual '50s sitcom
Just about every aspect of "Filmed Before a Live Studio Audience," which was actually filmed in front of a live studio audience, took its cues from '50s sitcoms like The Dick Van Dyke Show. The sets included colors that viewers wouldn't see but would pop when filmed in black-and-white. The camera lenses and lighting were '50s-accurate. The show even relied on old-school effects to create Wanda Maximoff's magic, which was aided by the fact that Dan Sudick, WandaVision's special effects coordinator, was mentored by people who worked on Bewitched.
"We wanted to make sure we approached it with authenticity and not parody, and to that end, we wanted to shoot it the way they shot it," director Matt Shakman said. "That means visual effects that would have been done as special effects."
And the outfits also lent themselves to that. Everything from the undergarments (which Debra Jo Rupp noted were uncomfortable) to the dresses worn by Elizabeth Olsen and even a fake butt donned by Bettany helped provide that authenticity—and improve their posture.
We can all agree that "Agatha All Along" is a banger, but there's a certain magic to the other theme songs created by songwriters Bobby Lopez (who went to college with Shakman) and Kristen Anderson-Lopez. After being sold on the idea, they found a way to tie the songs all together.
"We decided, since everything was going to be so disparate, there was gonna be a '50s song and a '60s song, and they all would have the world 'WandaVision' in them, we decided to make a WandaVision motif that would be able to be used in a different way," Lopez said. "…The fun became finding a way to hide that musical signature somewhere in each song."
From there, the influences that followed weren't just in the lyrics or the genre; for "Let's Keep It Going," the theme song for episode 6, they recruited Kathleen Hanna, the original lead singer of Bikini Kill, to sing the theme. It also meant looking at what other things, such as popular instruments, were big at that particular time.
For showrunner Jac Schaeffer, the '80s theme, "Making It Up As We Go Along," was her favorite, noting that she sings it all the time.
The Twilight Zone vibes were intentional
As much as WandaVision leaned on its sitcom homages and eventually its MCU roots, there was always something much weirder going on underneath Wanda's sitcom Hex.
And for that, as Olsen put it, it meant leaning on yet another TV classic, one that was far from the traditional family sitcom.
"Instead of it being moments of today's horror, we take camera tricks from Twilight Zone to make you feel off-kilter," she said. "So, in order to get to that cinematic feeling or sense of something being off in each—'cause something has to go wrong in order to advance to the next decade or else why are you changing the scenario or the given circumstances? And we so we used Twilight Zone tropes for that."
The first episode of Marvel Studios ASSEMBLED, "The Making of WandaVision," is now streaming on Disney+.