A civil complaint has been submitted against live streaming service Twitch.
The Twitch viewer behind the complaint is seeking $25 million in damages, accusing the site of exposing him to "overly suggestive and sexual content from various female streamers."
The complaint lists many female streamers in the plaintiff's stated case. According to court documents obtained by Dexerto, Alinity, Pokimane, Pink_Sparkles, and QTCinderella are just a few of the streamers specifically called out in the court filing. The plaintiff in the case, Erik Estavillo, has previously sued Microsoft, Sony, Nintendo, and Blizzard.
The official complaint was submitted to the court on June 15, and Twitch received its official summons on June 19. Due to Estavillo's litigious history, it is uncertain how far the case will proceed. Twitch's official summons will require some level of response from the company regardless.
The complaint, filed in the Superior Court of California, lists several medical conditions Estavillo allegedly suffers from. Included on the list are OCD and sex addiction, along with Crohn's disease. These conditions require Estavillo, according to court documents, to rely "on the internet for all his entertainment purposes."
Estavillo claims that Twitch, and its female partners, are making his conditions worse.
"Twitch has extremely exacerbated his condition by displaying many sexually suggestive women streamers through Twitch's twisted programming net code," part of the complaint reads. "Making it nearly impossible for the plaintiff to use Twitch without being exposed to such sexual content."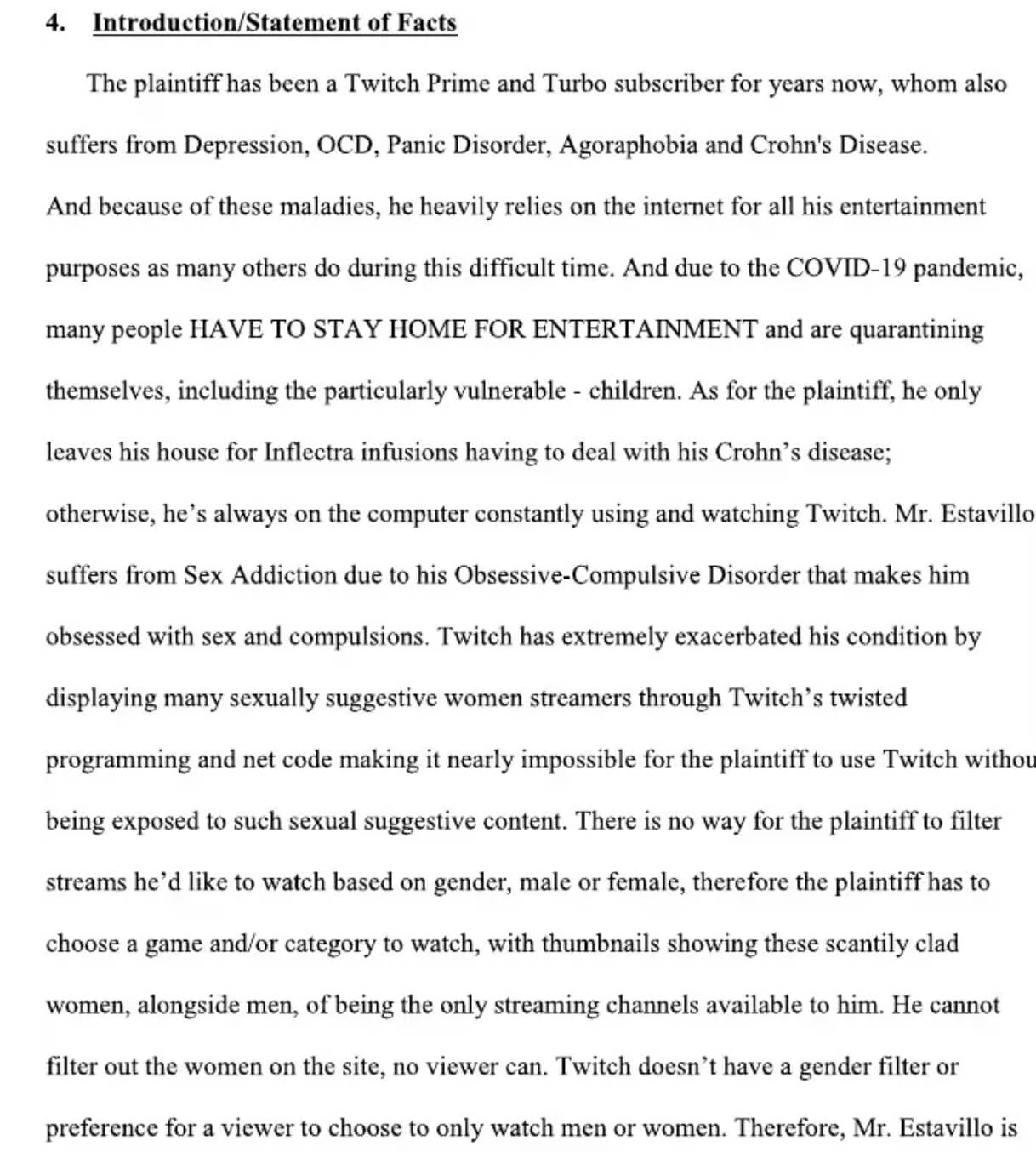 The lack of filtering options, Estavillo's complaint alleges, makes avoiding these sexual streamers more difficult. Estavillo currently follows 786 female streamers and 0 male streamers.
The complaint goes on to accuse Twitch of "taking advantage" of viewers. "Twitch also takes advantage of the plaintiff and many other sexually addicted viewers by allowing them to 'Subscribe, Donate, or Pay Bits' to these women streamers," it states. "Twitch uses this immediate gratification reward system against their sexually addicted viewers no different than how a Casino would."

The list of female streamers Estavillo accuses of producing "sexually addictive material and content" is long.
Included on the list are Amouranth, Quqco, ST Peach, JadeTheJaguar, Pink_Sparkles, Valeria7K, DanielaAzuage_, lilchipmunk, iaaras2, theRaychul, KrystiPryde, SonjaShio, Gavrilka, MizzyRose, KayPikeFashion, Alinity, QTCinderella, Pokimane, Velvet_7, and Loserfruit. The complaint even includes screenshots of each streamer listed, as evidence of their "sexually suggestive" nature.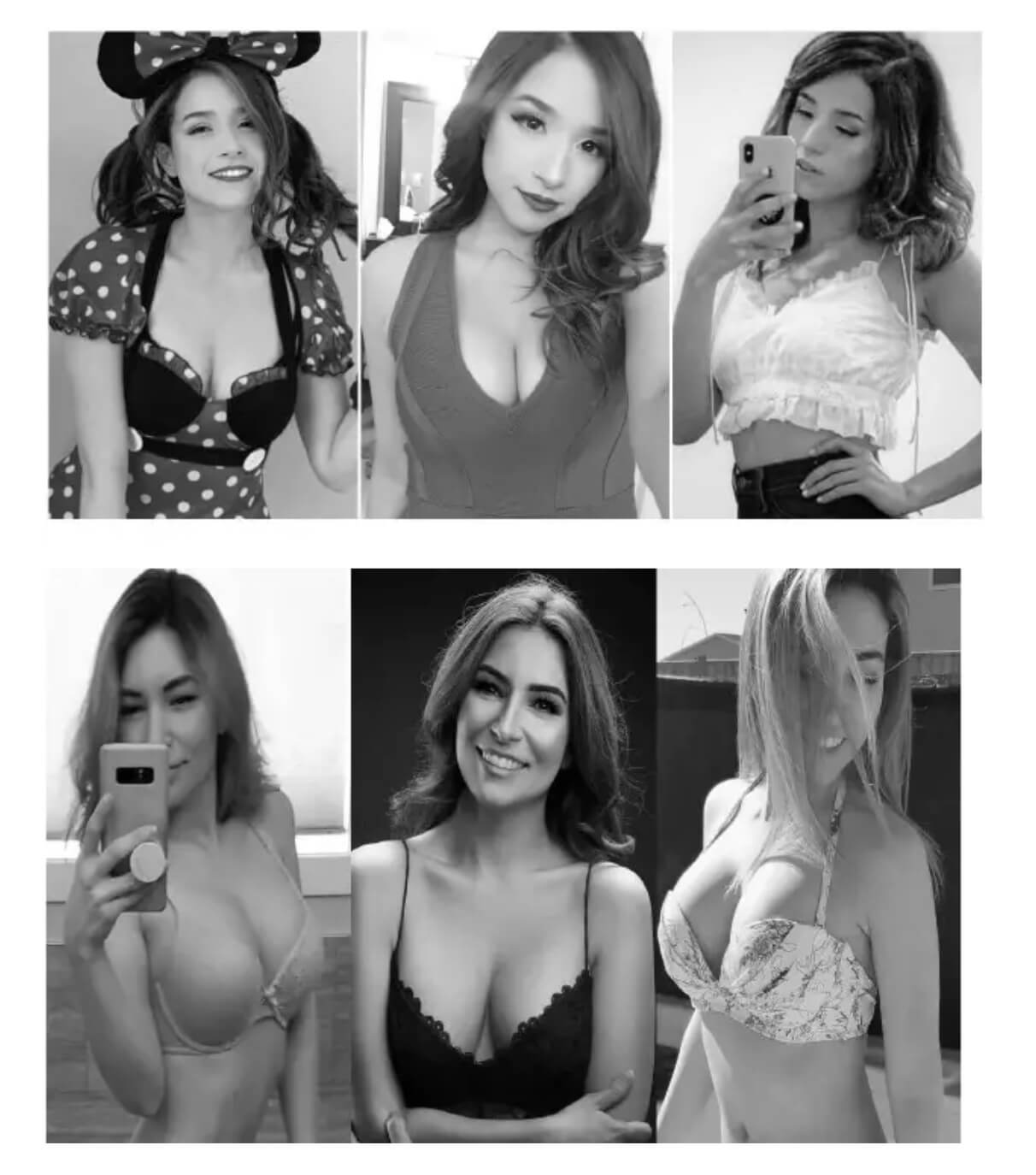 Estavillo is seeking $25 million, which he intends to "be split between the plaintiff and other Twitch Prime Turbo Subscribers." He is also seeking permanent bans for each of the female streamers listed and notes that leftover funds will be "donated to both COVID-19 and Black Lives Matter" charities of the court's choosing.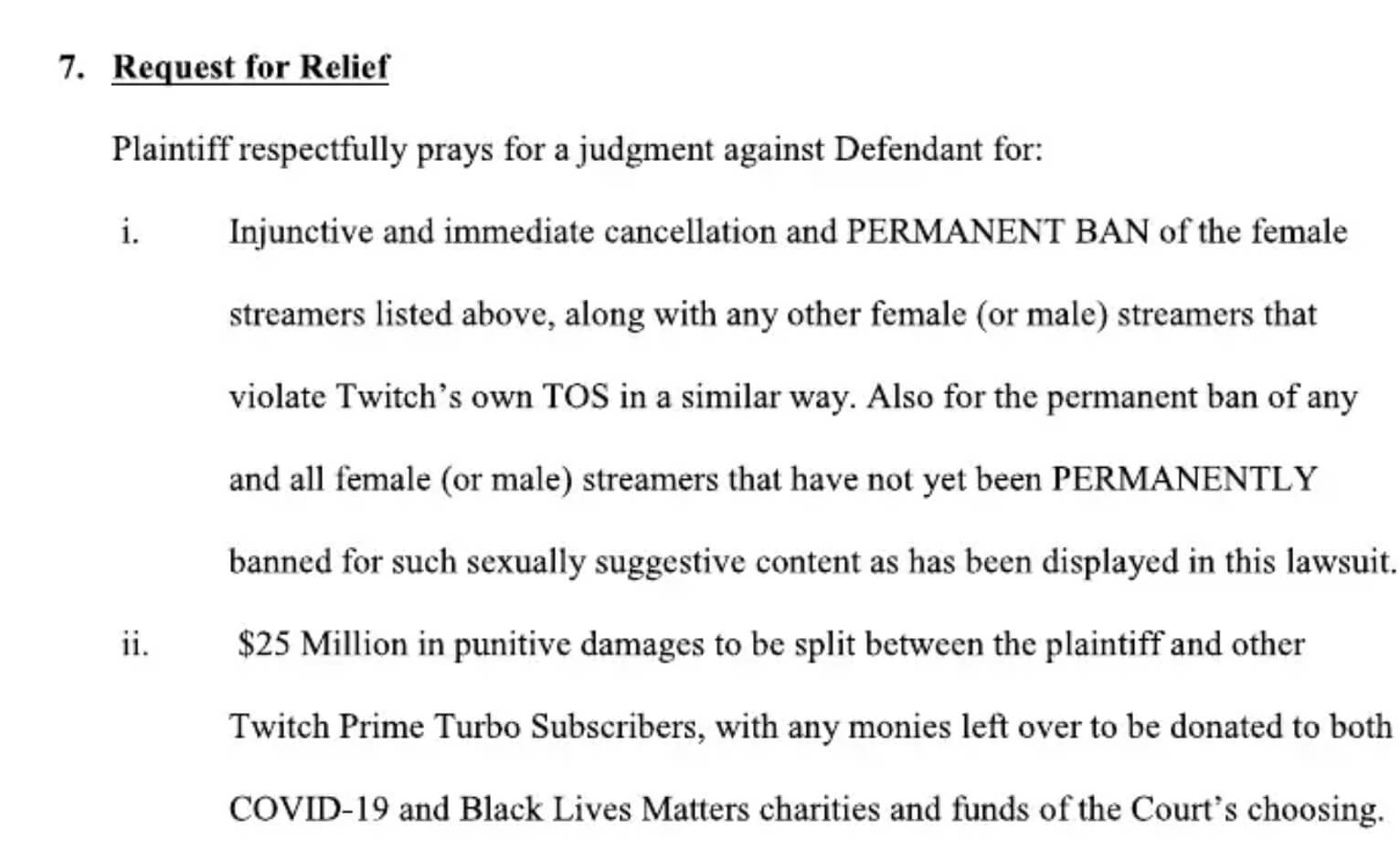 In a statement to the Daily Dot, Twitch said, "These claims are frivolous and have absolutely no merit."
This post has been updated.
READ MORE:
H/T Dexerto