President Donald Trump has had his name branded onto a lot of things—hotels, golf courses, steak, etc.—but now a recently discovered worm-like amphibian will also have his moniker.
EnviroBuild, a sustainable building materials company, won an auction to have the right to name a creature that was discovered in Panama.
It's choice? Dermophis donaldtrumpi, which EnviroBuild said was chosen to reference the president's stance on climate change.
"The amphibians live almost entirely underground, believed to have lost their limbs at least 60 million years ago, as an adaptation to burrowing," the company wrote, announcing the amphibian's new name. "Burrowing its head underground helps Donald Trump when avoiding scientific consensus on anthropogenic climate change and also appointed several energy lobbyists to the Environment Agency, where their job is to regulate the energy industry."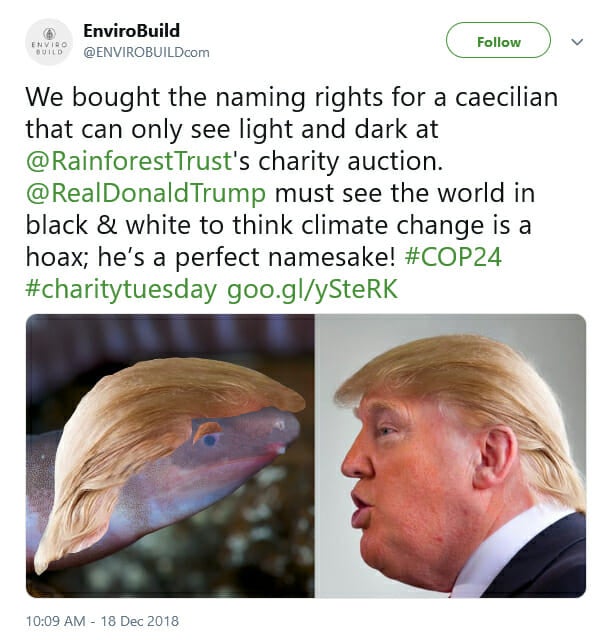 The company said the amphibian is "particularly susceptible to the impacts of climate change," and therefore was in danger of going extinct "as a direct result of its namesake's climate policies."
The company said it bid $25,000 to get the naming rights.
EnviroBuild ended its announcement by adding something more serious:
"While the story itself is lighthearted, EnviroBuild are really aiming to push forward an important message; with climate change only accelerating, legislation still isn't doing enough to apply the brakes. This means the only option is to create new avenues ourselves in which we change the way we buy, build and live our lives."
The president is a skeptic when it comes to climate change—and has said he understands it better than anyone else thanks to his high levels of intelligence.
READ MORE: