Tory Lanez was arrested on concealed weapon charges on July 12, following a house party in Hollywood Hills. Recent photos of he and Megan Thee Stallion, who was found with Lanez, at a party with Kylie Jenner have sparked rumors of a Kardashian-Jenner curse.
When police caught up to the Canadian rapper, he was in a vehicle with Megan Thee Stallion and an unidentified woman. According to reports, the trio had recently departed a house party where Lanez was involved in an argument. TMZ reports that shots were fired into the air around 4:30am before an SUV sped away. The police found the SUV matching witness descriptions. Inside the car, police found Lanez, Megan, and the unidentified woman, along with a gun.
Lanez was arrested for carrying a concealed weapon in a vehicle, which, according to Hollywood Life, is considered a felony in California. Megan, meanwhile, was toted to the hospital for a foot injury. She was listed as a victim of the incident after she injured her foot on glass.
Lanez is currently being held on $35,000 bail. Meanwhile, news of his arrest quickly spread online and sparked rumors of a curse. Curse theories were spurred by a video posted to Megan's Instagram Live over the weekend. It shows she and Lanez hanging out with Kylie Jenner at a pool party.
A portion of the web has believed in a Kardashian-Jenner curse for years now. The idea behind the theory leans on past evidence that connection with the Kardashian clan can lead to future misfortune. Believers in the curse point to Lamar Odom and Kris Humphries as evidence. The two former Kardashian paramours saw their careers and personal lives plummet in the wake of their relationships with Khloe and Kim Kardashian.
Believers in the curse see Lanez's arrest as proof. They've been pointing to the series of events leading up to his arrest as evidence and are warning other celebs away from the famous family.
"That Kardashian curse is real," one commenter wrote. "Tory & Meg was with Kylie ONE night now she's hospitalized and he's in jail."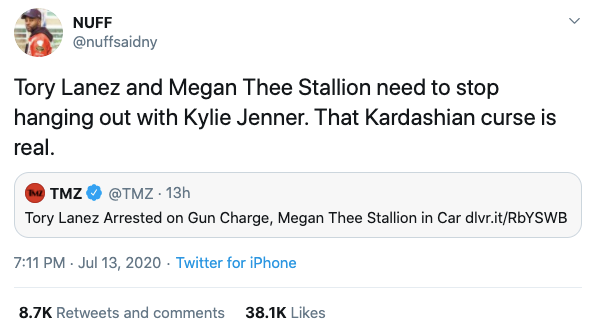 While much of the web was caught up in a discussion over the supposed Kardashian-Jenner curse, some people fixated on something entirely different. Lanez's arrest affidavit revealed several personal details, including his height. At 5'3, Lanez's height quickly became the topic of conversations and memes, as people poked fun at the slightly shorter-than-average rapper.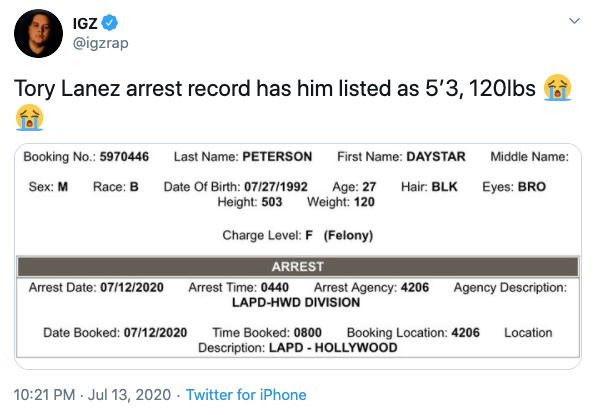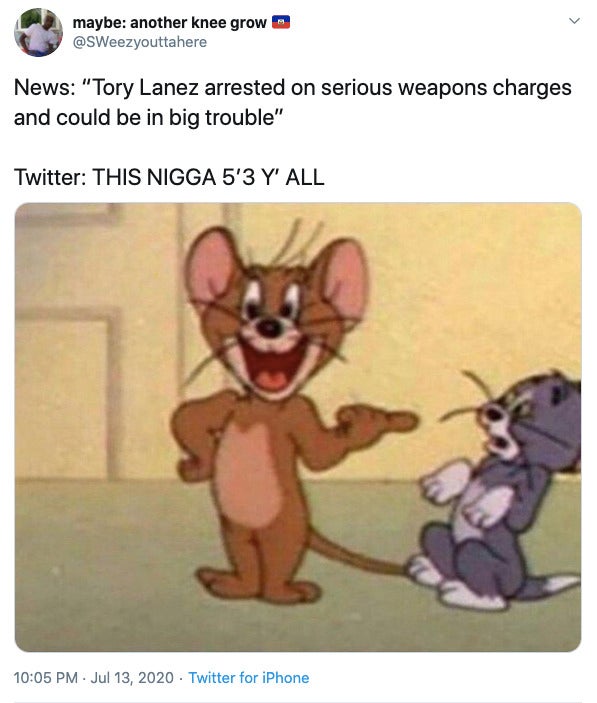 There was no shortage (cough) of jokes. As news spread, the conversation shifted away from any discussion of a curse. Instead, people fixated on Lanez's height, particularly as compared to Megan's reported 5'10.
"Tory Lanez is the height of an average middle schooler but was able to finesse Megan Thee Stallion," one commenter wrote. "Don't ever in yo life tell me that height matters."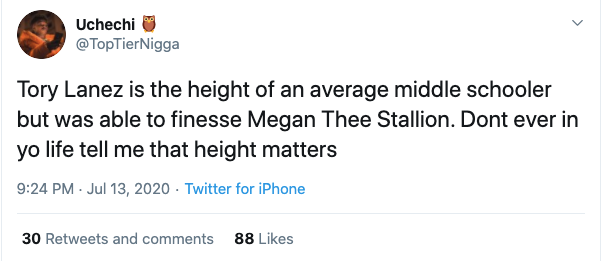 READ MORE:
H/T Hollywood Life