A viral video posted to TikTok showing a live turkey next to one that has been baked in the oven, presumably for Thanksgiving, is sparking a massive debate, with some calling the video upsetting and others claiming it is a joke.
"What you doin' bub?" the woman filming the video, @our10acres, asks the live turkey as it looks at its baked counterpart. "It's okay, you don't know him."
The video garnered 7.6 million views just fourteen hours.
The video has sparked numerous comments, with more than 35,000 people weighing in so far. Some found this video hilarious, clueing into the joke.


However, not everyone was into the kind of humor shown in the video.
"Come on don't do that," one commenter wrote. "It's still kind of sad and mean to be showing him that. I get you wanna be funny but come (on) even for an animal it is mean."

Another user posited that as turkey's are sentient, the turkey in the video must have been upset.
"You do know (they) are sentient right…it literally knows what's going on," they wrote. "Feels pain and even emotion. Scientifically proven sentient. Damn."

Other users also pointed out that some of those who were disgusted by the video may well be eating turkey themselves for the holiday, and that their reactions are hypocritical.
"The same people saying that's wrong and cruel are the same people who gonna be eating turkey and ham later," one commenter wrote.
The creator of the video responded to one commenter criticizing the video, saying that the bird in the oven was store-bought, and did not come from their farm. They added that the turkey, Big Red, was "NOT traumatized."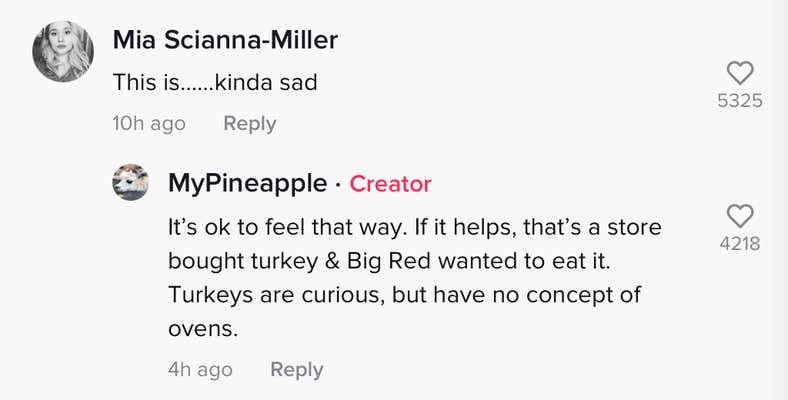 The Daily Dot reached out to the creator, @our10acres, via TikTok DM.