In a bustling world, not everyone has time to create gourmet dinners every night—and for people living in small spaces, getting the equipment to cook even most normal dinners might be impossible. So getting creative is commonplace in modern, everyday cooking, and there are plenty of suggestions for working with what you've got all across social media.
But some corners simply should not be cut.
TikTok users are aghast at a recent video in which @itsmeju1iette demonstrates one potential way to cook steak. Do you not have an oven, a grill, or a stovetop? That's not a problem, according to Juliette. Just cook your steak in the toaster.
If you recoiled in horror at the mere thought, don't worry, you aren't alone. Juliette's monstrous cooking lesson has 9 million views so far, and it doesn't seem that a single one of the nearly 59,000 comments is positive.
"Gordon Ramsey isn't gonna be happy bout this one," writes @adriianwyd.
"I just watched a crime happen," adds @haleymermaid.
Juliette starts by just straight up dumping two whole steaks in her toaster and depressing the lever—a move that also depresses every chef on the planet.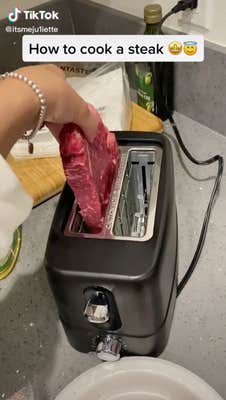 A series of cuts show the steak starting to brown before Juliette eventually lays it on a plate, absolutely slathers it in steak sauce, and takes a bite to prove it actually cooked all the way through.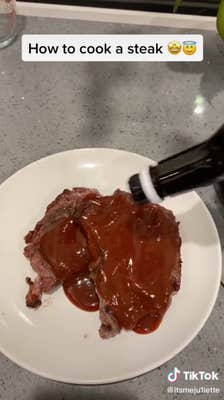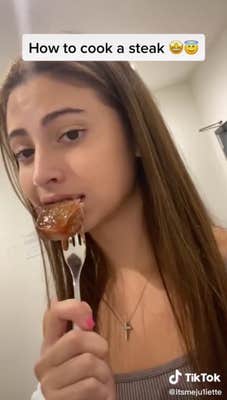 People were outraged at everything from the toasting itself to the lack of seasoning to the way she drowned that meat in sauce.
And one user, @leoscheck, was particularly alarmed about the state of the appliance itself: "HOW DO YOU WASH THE TOASTER AFTER THATS RAW MEAT."
Toasting steak isn't the only cursed cooking video Juliette has made. She's also cooked a burger on an iron, popped popcorn with a hair straightener, and tossed hot dogs into the dryer. The most popular video currently on her TikTok page has her melting ice cubes to create "gourmet water."
One can only hope the obvious comedic aspect of it all means Juliette doesn't actually cook her meals this way, although she seems a little too comfortable with some of these decisions for us to rest at ease.
But we can hold onto the fact that we didn't actually see the steak pop out of the toaster and hope that means it got a little bit of help from a proper cooking appliance at some point. The alternative—someone really, truly cooking steak in a toaster—is too awful to bear.