Two sandwich artists have been fired after news broke that the Columbus, Ohio, natives took pictures of their penises next to loaves of unbaked Subway sandwich bread and posted the photos on Instagram.
The two derelicts are named Cameron Boggs and Ian Jett. Boggs is the one who posted the photos on Instagram. It came in a series of shots, some of which found loaves of Subway bread reshaped to look like penises; others showed what looked to be frozen bottles of their own urine.
Then there was the picture, since deleted, of one of their penises laid upon a loaf of unbaked bread. That picture came with a caption: "My name is @ianjett and I will be your sandwich artist today."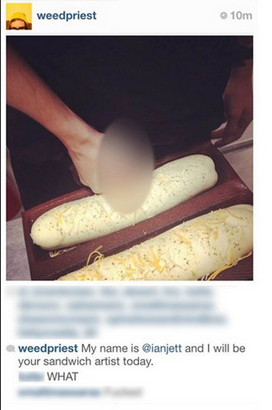 Word about the photos spread around the Internet quite quickly, fast enough for Subway headquarters to catch wind of the prank and fire the two employees on the spot. The company issued a statement shortly after the terminations: "This isolated incident is not representative of Subway Sandwich Artists. These actions are not tolerated and the franchisee took immediate action to terminate the two employees involved."
Meanwhile, Jett and Boggs maintain that they weren't actually in their place of business—the Subway in nearby Dublin's Tuttle Mall—when they snapped the shots. Rather, they were "at home," Jett told HuffPost Weird News. 
"This isn't something I'd ever do at Subway," he added. "It was totally a joke."
The explanation does little to explain why Jett's house holds a Subway baking tray and stainless steel kitchen table, both shown quite clearly in the picture, but at this point, Jett has little reason to tell the whole truth. 
This is hardly the first time that fast food employees have been fired for having a little too much fun in the kitchen and then posting that fun on the Internet. In fact, it's amazing that it took Subway so long to work its way into the mix. 
It was almost exactly one year ago that a Burger King employee in Cleveland was fired after photos showing him standing in a lettuce tray surfaced on the Internet. A few weeks later, A Taco Bell employee in Indiana was fired after his employees learned that he'd taken a video of him peeing on food.  And recently, in February, a KFC employee in Tennessee was lost his job after a picture surfaced that showed him faux-kissing a bowl of boob-shaped mashed potatoes.
No, we don't know what would drive someone to do any of these things, either.
Photos via Instagram/HuffingtonPost