Star Wars: Resistance is the first of a new raft of Star Wars shows. After bidding farewell to Star Wars: Rebels, showrunner Dave Filoni is moving on to the era of the sequel trilogy. Starring a cast of fighter pilots, Star Wars: Resistance takes place shortly before The Force Awakens. And yes, it will involve Poe Dameron.
The show's official poster gives us a look at the main crew and their costumes.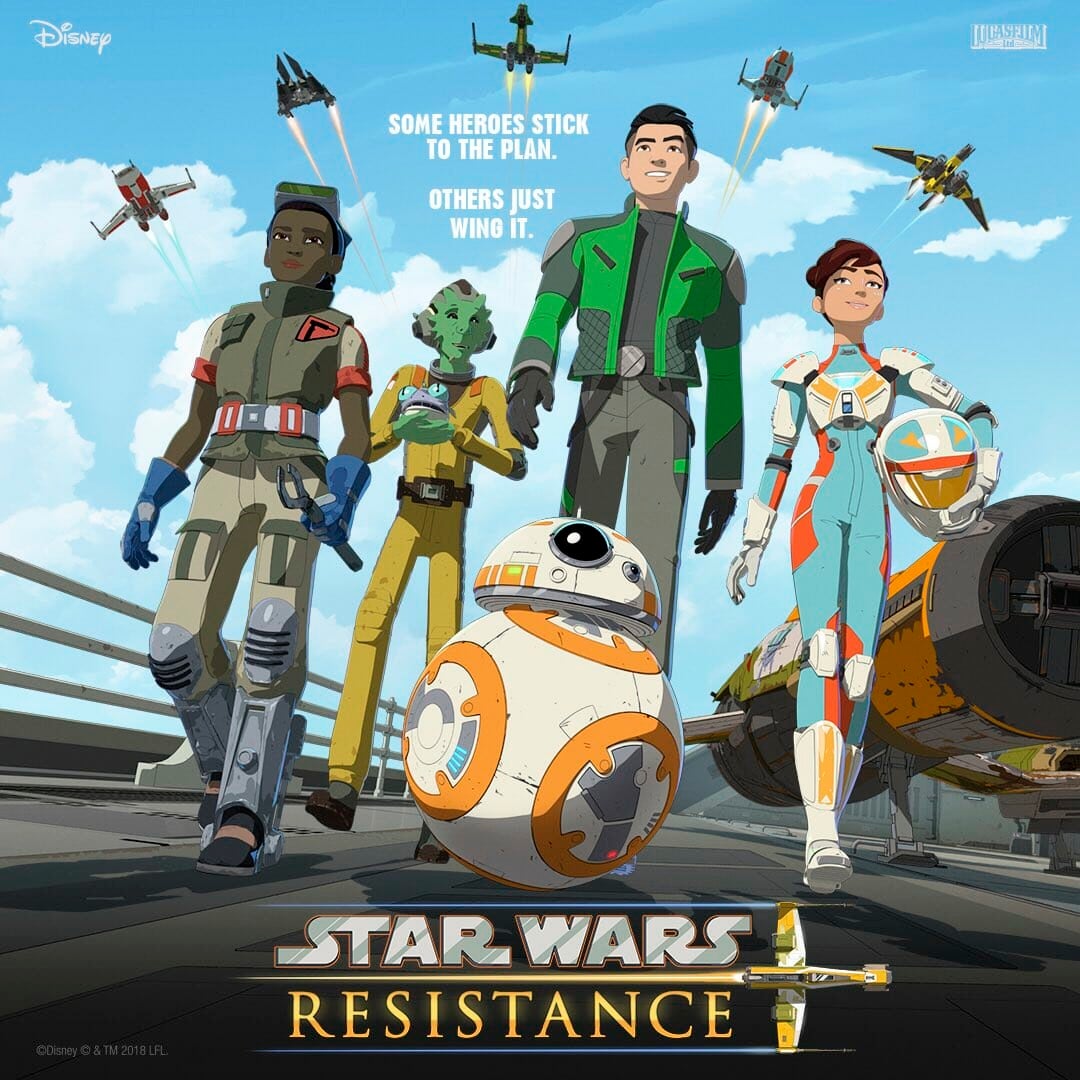 Beginning in fall 2018, Resistance is the first anime-inspired Star Wars show. Here's everything we know so far, from casting news to our first look at Resistance's character designs.
Star Wars: Resistance plot
Like Clone Wars and Rebels, this show will focus on a new character, with a supporting cast including some old favorites. The protagonist is a young pilot called Kazuda Xiono, tasked with a secret mission to spy on the First Order. The story begins before The Force Awakens when the First Order isn't seen as a serious threat by the Republic.
With an anime-influenced aesthetic (think Avatar: The Last Airbender), Resistance was inspired by Dave Filoni's childhood interest in WWII fighter pilots. Here's what he had to say in the show's initial announcement:
"My grandfather was a pilot and my uncle flew and restored planes, so that's been a big influence on me. There's a long history of high-speed racing in Star Wars, and I think we've captured that sense of excitement in an anime-inspired style, which is something the entire team has been wanting to do for a long time."
Translated from German, we now have a plot synopsis for the first episode, "The Recruit":
"In order to fulfill his mission, Kaz travels to the space station Colossus, which is being used by many ships as a port to refuel and do repairs. However, there are also dangerous races taking place there. After Kaz bragged with his piloting skills at his arrival there, he is soon drawn into one of the races…"
READ MORE:
Star Wars: Resistance – Team Fireball
A new behind-the-scenes video first revealed by Entertainment Weekly introduces viewers to Team Fireball, the group of people who makes up Kaz's crew on the Colossus. Fireball is in reference to the ship they work on and race (which, according to EW, is known to "burst into flames or explode") so they're able to make money.
Kaz is working as a pilot while he spies on the First Order, with Sean noting that his character is "good at flying but he's not really good at spying." Jarek Yeager, the only person who knows that Kaz is undercover, is a former Rebellion pilot who gets roped back in by Poe and Leia. But the other crew members aren't as in-tuned to the looming fight between the First Order and the Resistance, which include Tam Ryvora, a reserved former racer-turned-mechanic, and the cheerful and naive alien Neeku.
The video also shows more glimpses of Phasma, Poe, and the show's first look at Leia as the leader of the Resistance as the creative team highlighted the show's unique tone and look that was designed for a younger audience.
Star Wars: Resistance cast
Oscar Isaac and Gwendoline Christie will reprise their roles as Poe Dameron and Captain Phasma. Plus, Leia Organa is likely to appear as well. Leia was voiced by Julie Dolan in Rebels and Shelby Young in Forces of Destiny, but we expect an older actress to take the role this time around.
We got our first glimpse of the show's character designs at a fan event in July, with a photo shared by the fan site Yakface. It shows a group of Resistance heroes including Poe and BB-8, with Kazuda Xiono in the foreground. Meanwhile, the First Order side puts Phasma front-and-center, alongside two stormtroopers and a red-armored officer – possibly Phasma's rival, Cardinal. No one really expects Poe or Oscar Isaac to make regular appearances, but does this mean Phasma will be the lead villain instead of just a cameo role?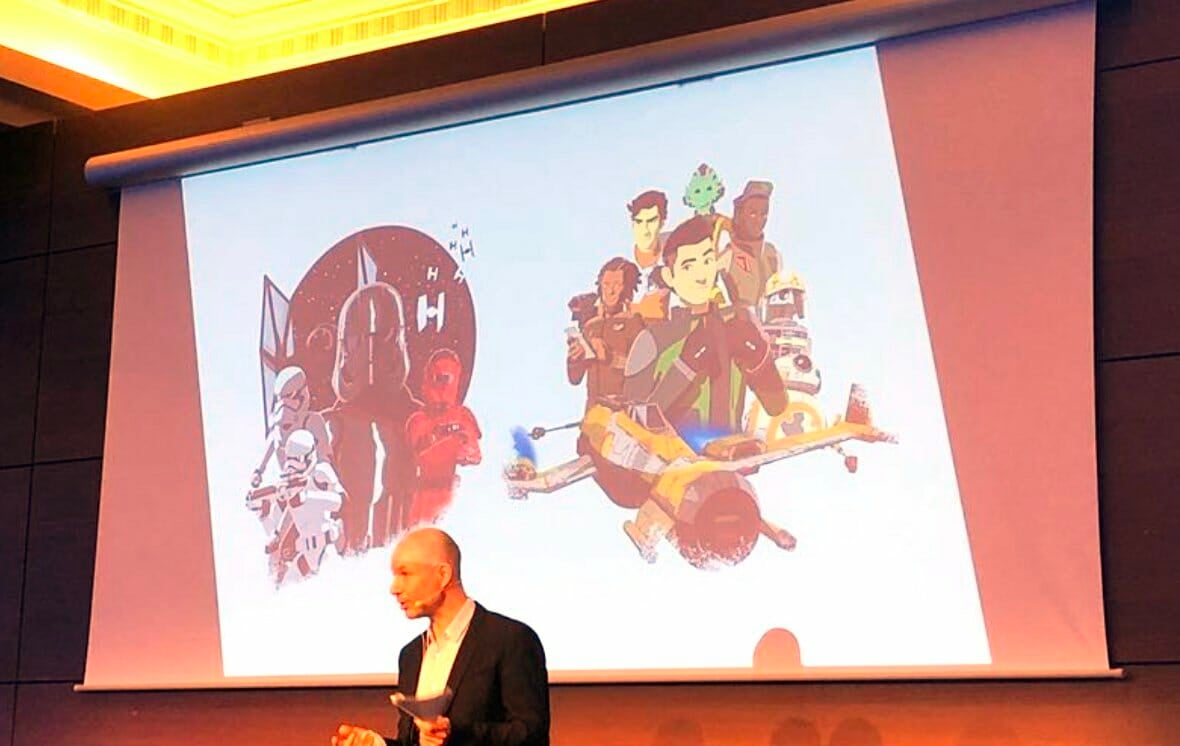 Christopher Sean will voice Kaz, while Rachel Butera will voice General Organa. Scrubs' Donald Faison plays Hype Fazon, Elena of Avalor's Myrna Velasco plays Torra Doza, Community's Jim Rash plays Flix, and SNL's Bobby Moynihan plays Orka, all of whom are new Star Wars characters.
Along with Poe, BB-8, and Leia, there are some other characters who seem like a shoo-in for Resistance. Black Squadron—Poe's team of X-Wing pilots – had a supporting role in The Force Awakens, fleshed out in Marvel's Poe Dameron comics. Will we see animated versions of characters like Snap Wexley and Jessika Pava?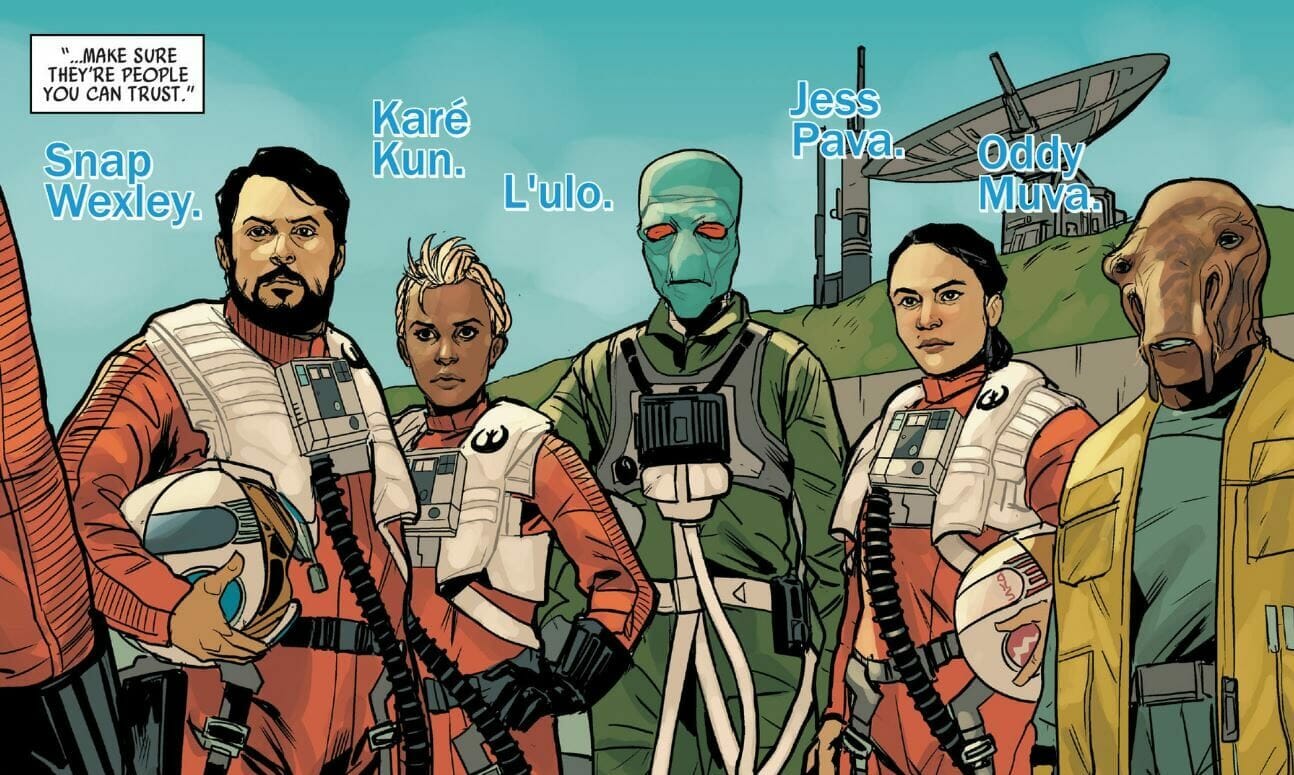 Star Wars: Resistance trailers
The first trailer showcases a very different animation style from previous Star Wars shows, introducing our new cast of characters. And, of course, Poe Dameron and BB-8.
The hour-long first episode will see Kaz go undercover on an aircraft refueling platform called the Colossus, meeting an older pilot named Yeager (voiced by Legion's Scott Lawrence). The main cast – thought to be Kaz's new team – includes characters called Tam Ryvora (Suzie McGrath) and Neeku (Josh Brener, best known for playing Big Head in Silicon Valley), and a droid called Bucket.
READ MORE:
Star Wars: Resistance release date
Star Wars: Resistance will premiere on the Disney Channel on October 7, then air on Disney XD, with international broadcasters to be announced.
Editor's note: This article is regularly updated for relevance.
---
Get more internet in your ears. Introducing 2 GIRLS 1 PODCAST:

Two actors who perform bizarre internet content on stage dive into the deepest web wormholes with fandoms, tech pioneers, and members of fringe online communities.
Alli Goldberg and Jen Jamula have hilarious and humanizing conversations with Bronies, top Reddit moderators, professional ticklers, video game archaeologists, dating app engineers, adult babies, cuddling specialists, vampires, Jedi, living dolls, and more.
Listen: What it takes to be a Jedi in real life:
Or subscribe in your favorite podcast app.
---