Fiction has given us a vast array of ways to imagine humanity as we know it coming to an end. But perhaps nothing is quite as synonymous with "post-apocalyptic desolation" as the idea of a zombie virus sweeping through the world.
Take, for instance, the potential zombie apocalypse conjured by Resident Evil. First a series of games and then a series of movies, Resident Evil is one of the most widely recognizable media franchises. 
So it's a little unnerving that a biotech company in Shanghai has "coincidentally" adopted a logo that's almost identical to that of the Umbrella Corporation, the company that practically wipes out humanity in Resident Evil.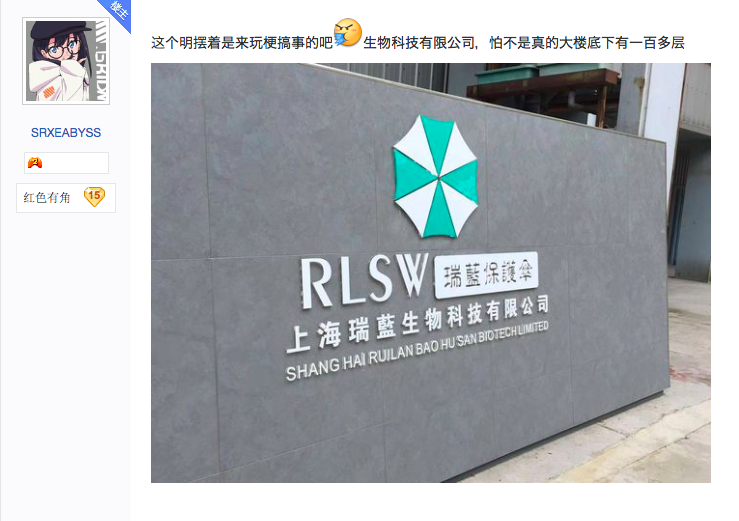 Shanghai Ruilan Bao Hu San Biotech Limited has a turquoise and white umbrella as its logo, in contrast to Umbrella's red and white. But if the color is the only discernible difference… should we be worried?
The similarities were first noticed by fans on Chinese social media sites where a photo of the company's exterior was posted.
"Pay attention to the safety of sewer water quality," one user joked, referencing how the T-virus that started the zombie outbreak reached the outside world in the Resident Evil games.
For now, fans of the game are more interested in whether the person who started the company is a fellow fan of the series, or if it's just a bizarre coincidence.
Maybe the company knows we'll laugh it off because it's just too absurd to be a real danger, and that's how they lull us into a false sense of security… Anyway, does anyone have Milla Jovovich on speed dial?
READ MORE:
Got five minutes? We'd love to hear from you. Help shape our journalism and be entered to win an Amazon gift card by filling out our 2019 reader survey.
H/T Kotaku