Photographer Petra Collins, who recently directed Olivia Rodrigo's videos, says she was asked to direct Euphoria's first season, in an older interview that's now gone viral. And fans are pissed at Sam Levinson once again.
In an interview with the CBC about directing Rodrigo's videos, including the VMA-nominated "Vampire," is a link to an interview from January, with the Hungarian outlet PUNKT. In that interview, Collins says that her photos were Levinson's inspiration for Euphoria, and that he reached out to her agency and asked her to direct—most likely the pilot.
"I created a whole world for it," she said in the PUNKT article, and that included allegedly working on it for five months. Collins said that at the "last minute," HBO walked back the offer because she was "too young." A year later, Collins says she saw a billboard for Euphoria outside her apartment, and it was "a copy of my work. I started crying. I was so shocked." (The interview might have been translated, so there are some typos.)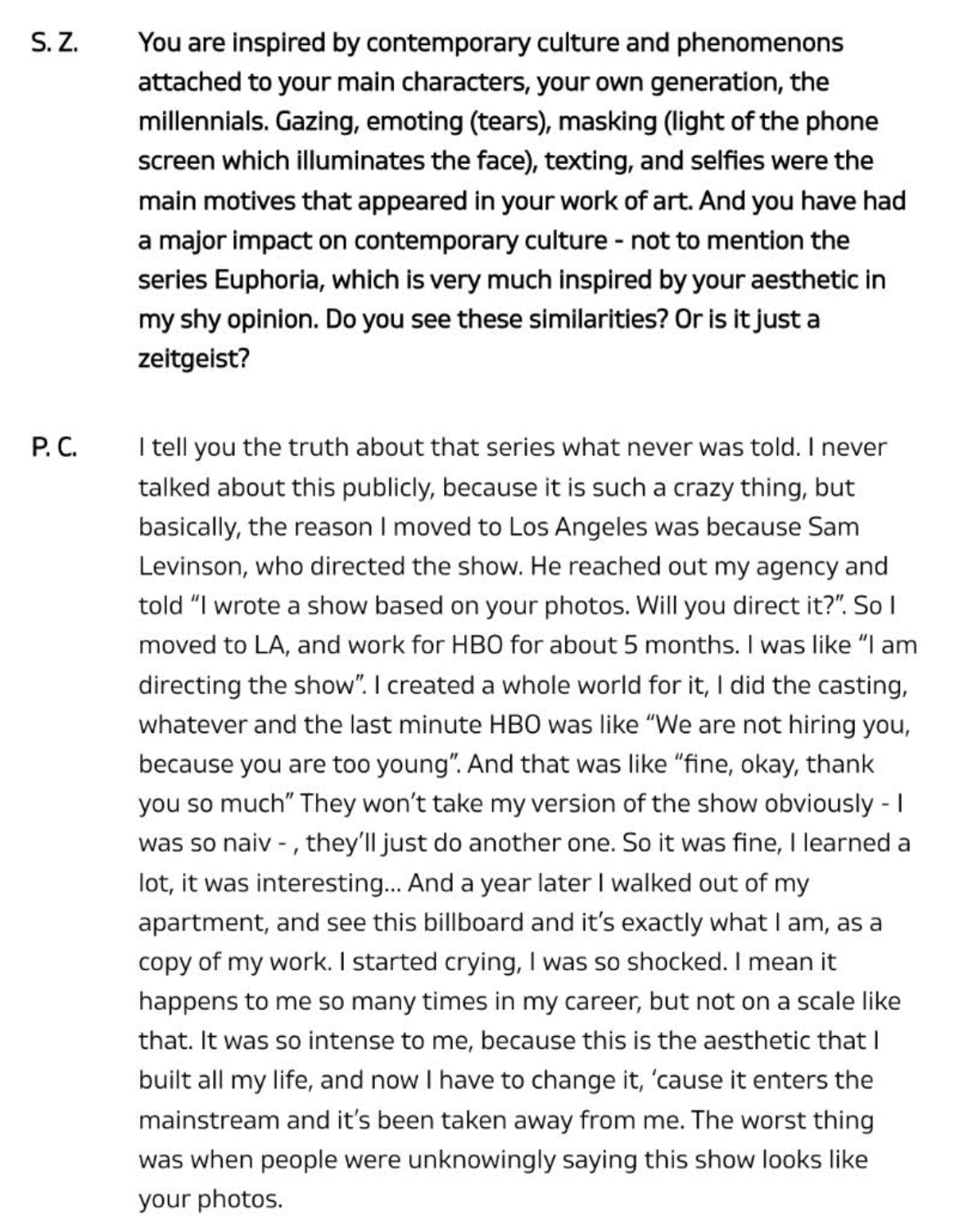 Collins, who has more than 1.2 million followers on Instagram, one of the platforms where her work became popular (and controversial), had also previously photographed Barbie Ferreira and Hunter Schafer, who would go on to be in the Euphoria cast.
"The worst thing was when people were unknowingly saying this show looks like your photos," she said in the interview.
Interestingly, this portion of the interview is now missing from the original article, and there is a huge gap where it once was. A search in the Wayback Machine shows the full quote, and a capture from Sept. 12, the day it started circulating, shows it gone. In the question, the interviewer suggests that Euphoria was inspired by Collins' work, which is when she shares the story. We reached out to PUNKT for comment.
People posted Collins' past photos, specifically her 2016 "24 Hour Psycho" series, to compare her work with the Euphoria aesthetic.
Collins referenced a couple of photos from her series in June 2019, the month Euphoria, which is a remake of an Israeli series, debuted.
The original tweet is referencing a Rolling Stone profile from earlier this year, which revealed director Amy Seimetz exited Levinson's The Idol in 2022 and alleged a toxic work environment. Levinson took more control after her exit; the show was canceled last month.
While Levinson was a fan of Collins' work, she did not have TV directing experience. Director Augustine Frizzell ended up directing the Euphoria pilot, but others were in the running as well.
We reached out to Collins for comment.

We crawl the web so you don't have to.
Sign up for the Daily Dot newsletter to get the best and worst of the internet in your inbox every day.