A day after ViacomCBS fired Nick Cannon over anti-Semitic remarks he made on his Cannon's Class podcast, the Wild 'n Out host is demanding an apology and ownership of his TV series.
The controversy followed Cannon's remarks during a June interview with Professor Griff (born Richard Griffin), a rapper and former Public Enemy member who left the group after making anti-Semitic comments of his own. 
Cannon revisited Griffin's controversial remarks that led to his ousting from Public Enemy in 1989. Per the New York Times, Griffin formerly told the Washington Times that "the Jews are wicked" and blamed Jewish people for "the majority of wickedness that goes on across the globe."
"You're speaking facts," Cannon told Griffin. "There's no reason to be scared of anything when you're speaking the truth."
Cannon also lamented that Louis Farrakhan, the leader of the Nation of Islam—deemed a hate group by the Southern Poverty Law Center—with a history of anti-Semitic rhetoric, was banned from Facebook last year. 
Elsewhere in his podcast, Cannon shared his thoughts on the Rothschild family, who created an international banking empire and are the subject of numerous anti-Semitic conspiracy theories.
"I find myself wanting to debate this idea and it gets real wishy-washy and unclear for me when we give so much power to the 'theys,' and 'theys' then turn into Illuminati, the Zionists, the Rothchilds," Cannon said.
A ViacomCBS spokeswomen denounced Cannon's remarks in a statement.
"We have spoken with Nick Cannon about an episode of his podcast 'Cannon's Class' on YouTube, which promoted hateful speech and spread anti-Semitic conspiracy theories," the statement reads. "While we support ongoing education and dialogue in the fight against bigotry, we are deeply troubled that Nick has failed to acknowledge or apologize for perpetuating anti-Semitism, and we are terminating our relationship with him."
Cannon's firing marks the end of a 15-year partnership with ViacomCBS. The media conglomerate owns MTV, which has aired Wild 'n Out since 2005. It also owns Nickelodeon, for which Cannon served as a creative consultant and TeenNick chairman.
"Anyone who knows me knows that I have no hate in my heart nor malice intentions," Cannon tweeted on Monday. "I do not condone hate speech nor the spread of hateful rhetoric. We are living in a time when it is more important than ever to promote unity and understanding."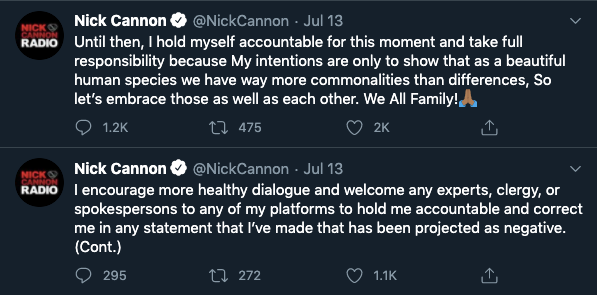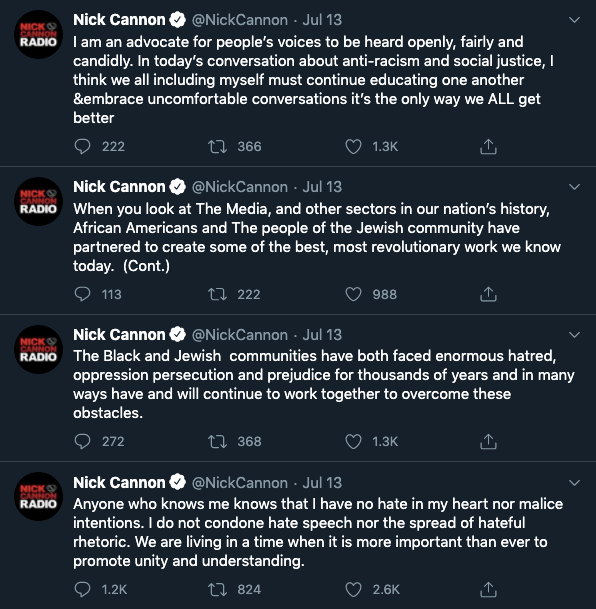 In a series of follow-up tweets, Cannon said he "encourage[s] more healthy dialogue" and would "hold myself accountable for this moment and take full responsibility because my intentions are only to show that as a beautiful human species we have way more commonalities than differences."
But in a Facebook post on Wednesday, Cannon demanded an apology from ViacomCBS and full ownership of Wild 'n Out.
"If I have furthered the hate speech, I wholeheartedly apologize," Cannon wrote. "But now I am the one making demands. I demand full ownership of my billion dollar 'Wild 'N Out' brand that I created, and they will continue to misuse and destroy without my leadership! I demand that the hate and back door bullying cease and while we are at it, now that the truth is out, I demand the Apology!"
In the post, Cannon detailed his achievements in entertainment and said he tried to speak with ViacomCBS chair Shari Redstone about "reconciliation." Variety reports that ViacomCBS denies Cannon reached out to meet with Redstone.
The TV host also retweeted dozens of people who defended him and slammed ViacomCBS for firing him. 
Many of the people Cannon retweeted said that his firing proves that there's a double standard in the media industry, pointing to other personalities who have made racist or anti-Semitic comments but have been excused.
READ MORE: