This week, several of my friends shared this Huffington Post article about surviving Whole Foods. Then suddenly, it was everywhere. And whew! I'll tell you, I sure learned a bunch from that story, because I've never, ever left my house or read anything online about a high-end grocery experience before.
That "Whole Paycheck" knee-slapper! Never gets old.The parking lot is choked with smug Prius drivers with "coexist" bumper stickers? Whoah. Condescending employees on their own planes of existence—even more than at a startup? White people with dubiously-sourced food issues? Sounds like summer camp to me!
None of this is new.
You have the elites snubbing Wal-Mart and the reverse elitists slamming upscale groceries. Who's right? Aren't we all trying to make healthy eating choices?
Well, no.
Lots of points of view exist about what's best to eat, and where's best to buy it. Here is mine: I like Whole Foods and other high-end grocery stores.
Whole Foods doesn't smell like every co-op or health food store. You know that smell: feet mixed with lentils. Also, unlike the supermarket closest to me, Whole Foods also doesn't smell like ammonia in the fish department.
Ah, Whole Foods. Your signage, the width of your aisles. And your samples! I do love me some samples.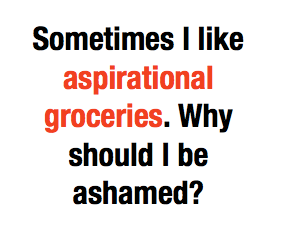 I know all these piles of incremental psychological traps are designed to get me into a store and keep me there. That when I walk into any Whole Foods, I am following the exact pathways and loops that the marketing despots have laid out for me. I don't care. I like it. I like being in the presence of all this…well-tended food.
Ever been to a farmer's market?
You probably don't buy all your groceries at a farmer's market. I mean, sure, maybe if you're a regular, you hit up the vendors of your favorite heirloom tomatoes. Perhaps you've established a special bond with the cheese fellow.
But you're probably also playing the role of Food Tourist. Farmer's markets do better when it's sunny out. For many, it's a fun warm-weather activity. You're there for the goods, but you're also there to be around the goods. It's like…European and stuff!
So when I go into a Whole Foods or any of its brethren, I feel good. I'm supposed to. I enjoy the carrots nestled in a cute little basket, and the fake chalkboard-writing font of the signs—which are supposed to make me feel like I'm at a farmer's market. I get the same feeling that a shoe addict does in a fancy shoe store. That a gun nut finds at a gun show or a film buff at a screening. A feeling that mingles together belonging and want.
I buy in, and I'm unashamed.
Because I like eating healthy.
Can I eat healthy without going to a high-end grocery store? Sure. In fact, I purchase most of my list—especially cleaners, canned goods, bulk items, and frozen fare—at a bigger and cheaper supermarket. I make a writer's salary, after all.
But there are times when I need and want to supplement: if I'm having a dinner party and want to impress; if I need a quick lunch to bring back to my desk; or if I'm traveling in a land of food uncertainty and opt for a supermarket picnic of trusted ingredients over the scary-looking restaurant serving buttered sour cream au gratin. I've often preferred making a salad at Whole Foods versus going out to a fancy restaurant. (Will it cost about the same? Perhaps. But at least at the relatively sanitary salad bar I'm getting the ingredients exactly how I want them. And to address a salad bar hiding past-their-prime items: You ever seen some restaurant kitchens?!) Plus, Whole Foods isn't always that expensive.
Sometimes I like aspirational groceries. Why should I be ashamed?
That's why it's just a bit played out to mock Whole Foods, or any higher-end grocery store for that matter. I know my expectations, but I also like a nice lunch. I know I'm not alone.
I just park a couple of blocks away.
Carin Moonin is a writer living in Portland, Ore. Sometimes she'll even tweet about things she hates at @carinwrites.
Photo by Masahiro Ihara/Flickr