Airline Twitter accounts have a long history of high drama and entertaining social media meltdowns, and the account for 'Mallard Air' seems to be no exception. Or is it?
Mallard Air is supposedly launching as a budget airline to control the skies above the Midwest very soon, however no website exists in their name. Their Twitter account, however, is incredibly active, and has been since the beginning of May. Immediately things began to look a bit fishy.
Mallard Air is prepared for takeoff on Twitter! Come fly the friendly skies with us!

— Mallard Air (@MallardAir) May 2, 2014
Oops. Turns out "come fly the friendly skies" is @united's slogan. Mallard Air apologizes for our previous tweet.

— Mallard Air (@MallardAir) May 2, 2014
Supposedly the account is the daily travails of someone called Doug, who Mallard Air poached from BuzzFeed to become their social media manager.
Ugh, come on guys, interact with the MA account! This never happened at Buzzfeed!

— Mallard Air (@MallardAir) May 8, 2014
Things began to become suspicious when the nascent airline began to have a supposed Twitter fight with Lift, a life coaching app, after Mallard threatened them. "Doug" had actually meant to tweet Lyft, the ride sharing app, but it was too late.
Remember when people yelled at BIG TAXI for trying to squash @liftapp and @Uber, don't look now, but it's happening to us, but by them!

— Mallard Air (@MallardAir) May 14, 2014
What came next was demands from Mallard to Twitter users as well as the Lift account, pleading with them to remove retweets of any of the threats, as Doug might lose his job over it. However, Lift has apparently never interacted with the airline on Twitter at all. The Daily Dot contacted Lift, who confirmed that they have never interacted with the Mallard Air account on Twitter. 
I just found out there's no way to legally can make anyone take down tweets, but can you guys tweet @liftapp and ask please?

— Mallard Air (@MallardAir) May 14, 2014
So who is behind this parodical social media meltdown? Well, all signs point to a serial prankster. Mallard Air's first follower is Danny Jelinek, the director of Funny or Die's infamous hoverboard prank. His latest tweet is a retweet of Mallard Air from May 2nd. The airline's second follower is a writer for Funny or Die, and the account itself follows more than a dozen other assorted Funny or Die writers. The Daily Dot reached out for a response from Funny or Die, although we haven't yet received a reply.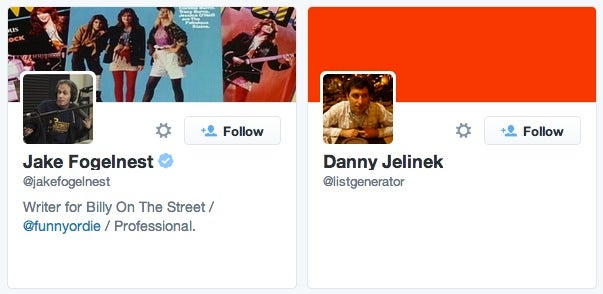 The airline's first two Twitter followers: Funny or Die writers Jake Fogelnest and Danny Jelink.
What's next for Mallard Air? Well, it looks like they're gearing up for a big announcement today. And if Funny or Die is indeed behind the account, then that announcement could be very interesting indeed.
Just got a VERY exciting email from the higher ups about a BIG partnership. Will announce tomorrow!!!!

— Mallard Air (@MallardAir) May 14, 2014
Update: Mallard Airlines emailed the Daily Dot assuring us that they are "a real airline twitter" with "no association" to Funny or Die. They claimed to have blocked both Funny or Die writers, although this hasn't yet taken place.
Funny or Die writer Jake Fogelnest has denied being connected to the Mallard Airlines account, although he continues to follow the account.
Muckraking "journalists" at @dailydot have my name tied to some fake Twitter account thing. I don't do that stuff. https://t.co/7l9XFt9DlM

— Jake Fogelnest (@jakefogelnest) May 14, 2014
Update #2: Funny or Die has finally revealed that Mallard Air is indeed a long-running prank connected to their latest video, a spoof music video by Chromeo.
Photo via Flickr/Pinguino (CC BY 2.0) | remix by Jason Reed