People are canceling pop singer Madison Beer–again–after she said she "definitely" romanticizes the book Lolita, which is about a pedophile who narrates his abuse of his 12-year-old stepdaughter.
After defending herself several times, she apologized late on Monday night. The Lolita comments brought in a storm of criticism, making the hashtag #MadisonBeerIsOverParty trend on Twitter on Tuesday morning.
"I love u guys & I'm sorry. I misspoke and would never condone inappropriate relationships of any kind," she wrote on Twitter. "I'm sincerely sorry for it seeming like I do. Let me make it clear––I do not."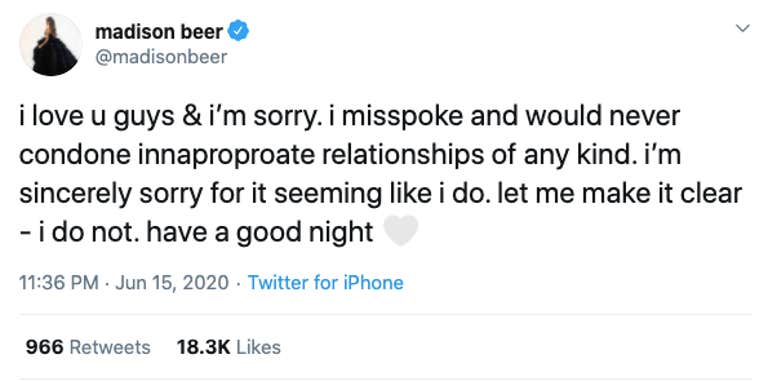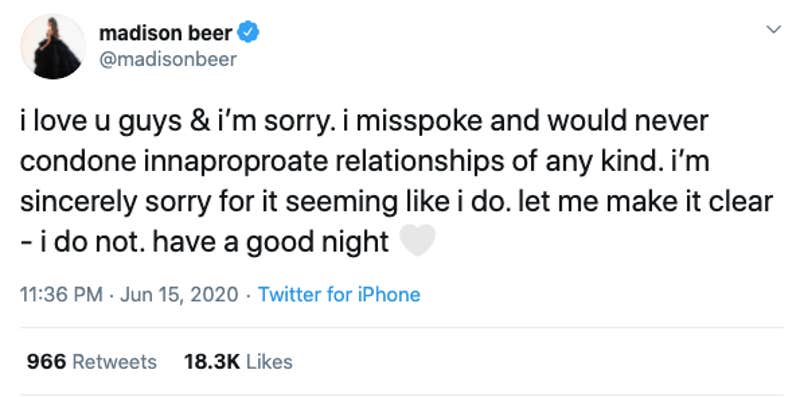 The drama appears to have started with a live-stream video. Someone asked her a question about the book, and she said she "definitely" romanticized the story. Fans and people on Twitter began demanding an explanation.
In a now-deleted tweet responding to one of her fan accounts, Beer said that people "have their own interpretations of the book."
"I didn't write it. I just like it and don't see it in the way others might. I've always known it's a controversial book…but I've always said it's my favorite," she said. "Because I just like the story…I like dark stories…always have."
Twitter users are now sharing the singer's other deleted tweets side by side to show inconsistencies. In one tweet, she says she romanticizes the book because it's more about a "taboo relationship, not about the age." In the second tweet, she said she was "not saying I condone or romanticize a pedophilic relationship."
But Twitter users weren't done with her there. They began pulling out the receipts.
Many pointed out that only about a week ago, she was criticized for insensitivity during Black Lives Matter protests held in memory of George Floyd, the unarmed Black man who died after a police officer knelt on his neck for almost nine minutes.
The first incident came up when she posted a video venting about how it's unfair that she's perceived as the "beauty standard." She posted the video in the middle of worldwide outrage over the killing of Floyd.
The pop star later apologized for the video saying it was "poor timing."
But she was back in hot water before long. A viral TikTok appeared to show Beer staging pictures at a Black Lives Matter protest. In response, people said she was an example of "performative activism," or when people are only denouncing injustices for clout.
She denied those claims saying that she protested "day after day."
"I am out here for one reason only," Beer wrote on Twitter. "I will not allow it to be spun into something it never was."
Many Twitter users weren't buying any of the excuses and began sharing older videos to say that she should have been canceled long ago. In one of the videos, she appears to say the r-word. In another video from 2016, she can be seen lip-syncing the N-word on Snapchat.
READ MORE: