After more than a week solid of protests against police brutality, bath-and-body product maker Lush issued a letter to staff and customers outlining its path forward in supporting employees and launching its "Belonging, Inclusion, and Diversity" program. This program's objective is to foster sensitivity to diversity and encourage anti-racism in the workplace.
However, a post shared by the U.K.'s CEO and co-founder of Lush, Mark Constantine, has people accusing the company of only appearing to care about the Black Lives Matter movement for optics.
"The owner of Lush is giving out f*cking presents to the police. I don't think the police need love, care, and bath bombs right now," Twitter user @GhostlySpells wrote.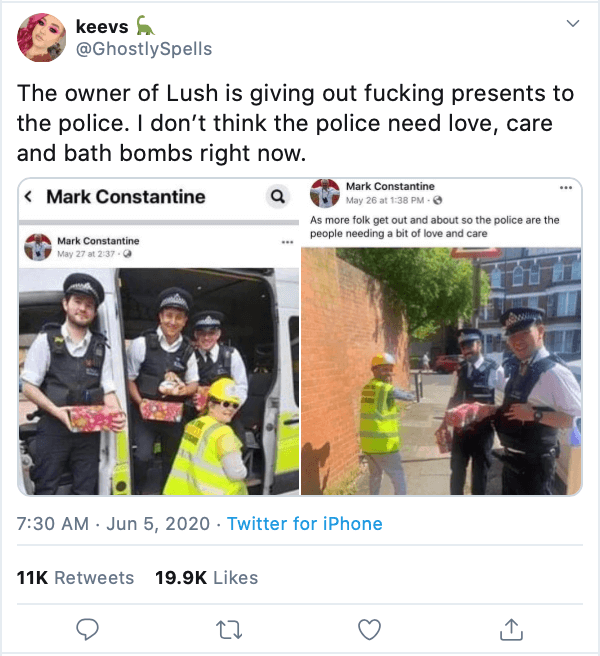 It is worth noting that while Constantine is the co-founder and CEO of Lush U.K., Lush USA was co-founded by CEO Mark Wolverton, effectively making the two branches separate entities. Lush USA sent the letter. Lush U.K. is gifting products to police.
The posts of Constantine passing out products to police have enraged people online, especially because Lush U.K. ran an anti-police ad in 2018.
Constantine's first post, featuring a police vehicle, appears to have been deleted. However, the second is still up on Constantine's Facebook, where upset Lush employees have commented on it.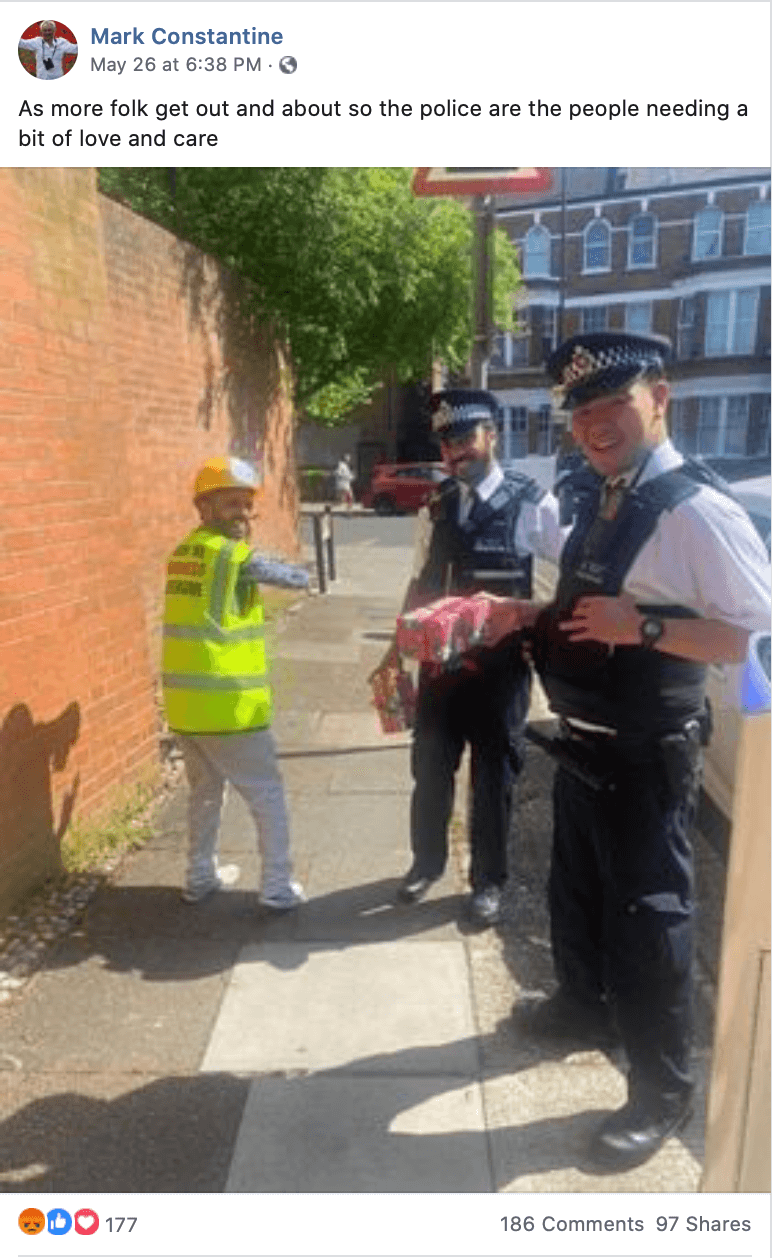 Australian Lush employee Katie Buddle commented on Constantine's post, saying that the actions depicted in the photo appeared to be at odds with the company's donation policy, which says that the company donates products to organizations that provide services for vulnerable groups.
"This seems not only in violations with our donations policy (or at least the policy as I know it in Australia), but a direct contradiction of our company values and the recent social media posts that Lush have made in support of the Black Lives Matter movement," Buddle wrote. "I was hoping you could clarify what your position is on this, and by extension what our companies ethical position is on this issue."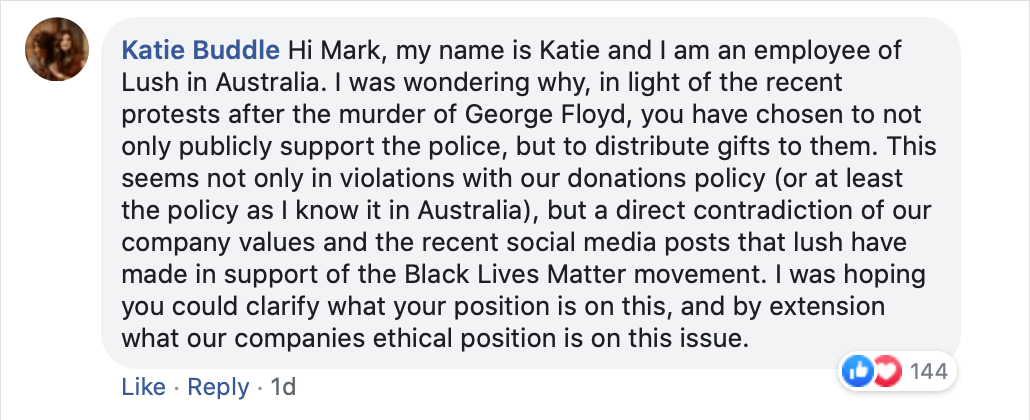 Constantine did not reply to Buddle's comment, or that of any other employee or customer who shared their displeasure with the photo, instead opting for a general reply.
"Appreciate the sentiments," Constantine wrote. "We wont be giving gifts to the police in future. Sorry for any upset."
The CEO's post is from May 26, the day after George Floyd died with Minneapolis Police Officer Derek Chauvin's knee on his neck. This was the same day that the video depicting his death went viral, sparking a night of protests that would stretch into the next week and beyond.
However, because of the time difference, it appears like the video had not yet made headlines in the U.K., making it possible that the CEO did not gift Lush products to police in response to the U.S. news.
Whether or not Constantine did it in response to the U.S. news didn't matter much to Twitter users. That's because, at the end of the day, the CEO donated gifts to the police despite running anti-police ads and the company's supposed ethical position.
In response to the pictures, people on Twitter are calling for Lush customers to choose Black-owned bath and body companies instead.
Twitter user @softneptune created a thread of Black-owned beauty companies.
READ MORE: