You know how some people kind of look like their dogs? Well, what if your dog resembles someone else—like a celebrity? TV critic Margaret Lyons posted a photo of a Maltipoo (a cross between a Maltese and a Poodle) with the caption: "This dog looks like Laura Dern."
This dog looks like Laura Dern https://t.co/3QI7eA41Zx pic.twitter.com/YIqkmJZKc8

— Margaret Lyons (@margeincharge) January 23, 2018
Here's the dog again, next to Laura Dern.
January 24, 2018
The tweet garnered thousands of likes and retweets. Clearly, people agreed with the comparison.
January 23, 2018
https://twitter.com/lenubienne/status/955991171175780352
Idk if I've ever laughed at anything more. And that says a lot about me 😂😂 https://t.co/WJDFUoImZx

— Erica (@ericajo101) January 24, 2018
The Laura Dern Dog will save us all https://t.co/NvboG3rWqg

— jacqueline (@jackiecarbajal) January 24, 2018
This dog just called the cops on me. https://t.co/KEAwklA122

— dejon. (@DejonNoMustard) January 24, 2018
Someone even Photoshopped purple hair on the dog to reflect Dern's role as Vice Admiral Holdo in Star Wars: The Last Jedi.
needs purple hair

— kyle matteson (@solace) January 23, 2018
January 23, 2018
The dog in the photo, in case you were wondering, does have his own Instagram account. His real name (yes, it's a boy) is Kimchee.
What is it about Kimchee that looks so much like Laura Dern? Maybe it's the hair. Or the intense facial expression. Or a little of both. The real, human Laura Dern didn't seem to mind; she shared the image and tweeted, "Should she have played Renata in Big Little Lies?!"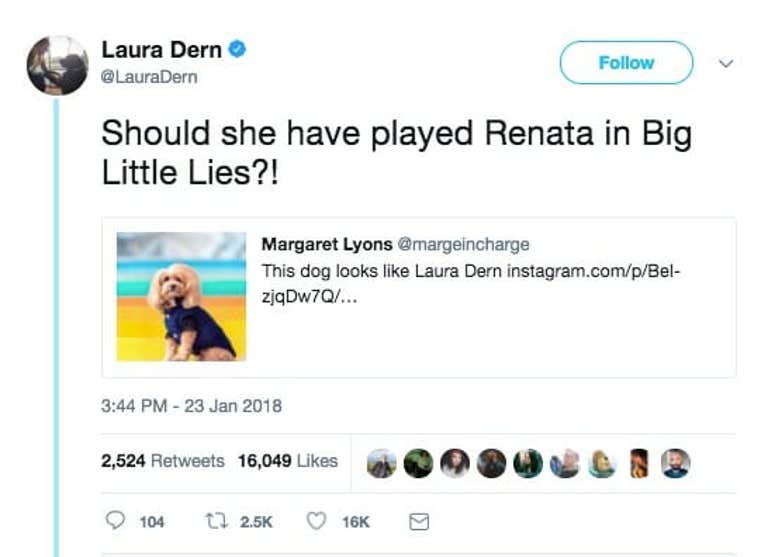 Maybe an all-dog version of Big Little Lies is what we need. We just need to find the dog versions of the other actors on the show.
Find a collie that looks like Nicole Kidman and a Jack Russell terrier that resembles Reese Witherspoon, and you have an HBO series order, Lyons.

— David Fear (@davidlfear) January 23, 2018