Kendrick Lamar revealed the album artwork for his next record, DAMN., on Tuesday, and the internet has come to a consensus: it's readymade to be a meme, and that may have been part of Kendrick's strategy when he chose it. Both the front and back covers feature the title "DAMN." in a serif font, over a photo of a fed-up looking Kendrick.
DAMN. by Kendrick Lamar. pic.twitter.com/ucQcg0PuzG

— Kendrick Lamar (@kendricklamar) April 11, 2017
It's almost crazy how many people on Twitter had the same thought upon seeing the cover for the first time: Kendrick knew damn (DAMN.?) well it was gonna be a meme.
https://twitter.com/TsunamiSlim/status/851826275014651906
https://twitter.com/Crombie_Kid22/status/851827341412249600
https://twitter.com/Loxb3ats/status/851815514334568448
Kendrick Lamar's new album cover is genius. That marketing team knew DAMN WELL it was going to be a 'one size fits all' social media meme.

— ♨️ (@_Politico45_) April 11, 2017
https://twitter.com/DeFreitasJordan/status/851801426636492800
The album art/name for the new Kendrick Lamar is a big day for the meme-industrial complex.

— Gout Mask Replica (@merepseudmcl) April 11, 2017
So far, there are more posts praising K-Dot's meme genius than actual DAMN. memes, but a few examples are already popping up.
Remember "Damn, Daniel," the early 2016 meme about the kid who made fun of his friend Daniel's white Vans? That joke was dead and buried, but Kendrick has brought it back … kind of.
new kendrick lamar shit cant wait cant believe he brougth on the man mhimself "Dam DAnbel" the myth., the legend. tbhe meme. the l egend. t pic.twitter.com/wDDqgJAi97

— Landy (@LandyRS) April 11, 2017
this will be done a milion times for sure pic.twitter.com/AbeL1VyuW6

— LENNOZ (dragon dream feet guy) (@LENN0Z) April 11, 2017
I can't believe Kendrick Lamar named his new album after Damn Daniel

— vetos (@vetos_) April 11, 2017
The "DAMN." meme can also be used to comment on legitimately shocking events, like the violent removal of a United Airlines passenger from a plane this week:
https://twitter.com/cian_mcentee/status/851805882837065728
Or you can use the album cover to respond to anything you would conceivably say "damn" about:
"I'm pregnant….and I'm keeping it" pic.twitter.com/Ql7Shlb3X0

— Curren¢y Spitta (@Mayberrykush) April 11, 2017
When you look at your checking account after a long weekend of bad decisions. pic.twitter.com/0oENDF1ltV

— tg (@TGTheTruth) April 11, 2017
When you've dominated the MVP conversation all year, but you get a wrist injury as Westbrook goes super saiyan in the last few weeks pic.twitter.com/C2LTNAYvSU

— Jrue-Tang Forever (@SteadyLosing) April 11, 2017
https://twitter.com/zackfox/status/851844367144730624
And some people are using it to say, "Damn. Why isn't Young Thug on this album?"
https://twitter.com/aroblessrevenge/status/851847938510860290
All in all, it's highly versatile, very relatable, and doesn't take much effort to participate in—all signs of a successful meme. Plus, it has huge support from Black Twitter, one of the most influential communities in the meme game. Is Kendrick's "Damn" album cover going to be the meme of the month? No offense to the Estonian dwarf from The Simpsons, but probably!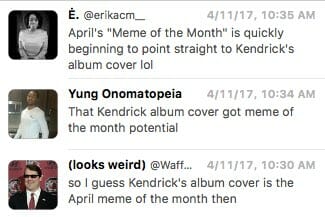 He could have the album of the month, too. DAMN. drops April 14.
Update 1o:24am CT, Apr. 18:
The Kendrick memes really took off in the days after DAMN. was released. People are replacing Kendrick on the cover with various other characters, and replacing "DAMN." with other, similar slogans. This heckin good doggo has been very popular on Reddit: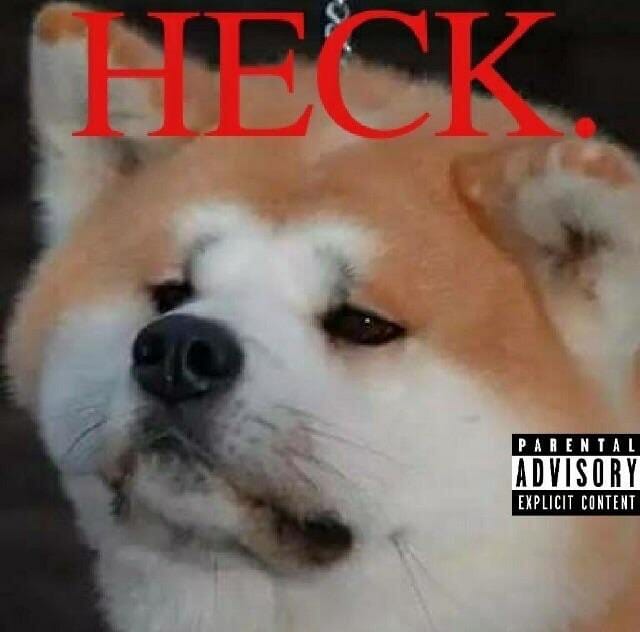 And these variations have shown up on Facebook: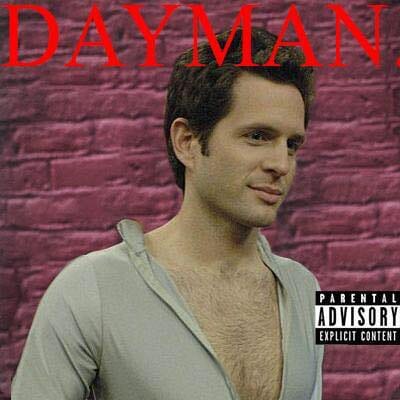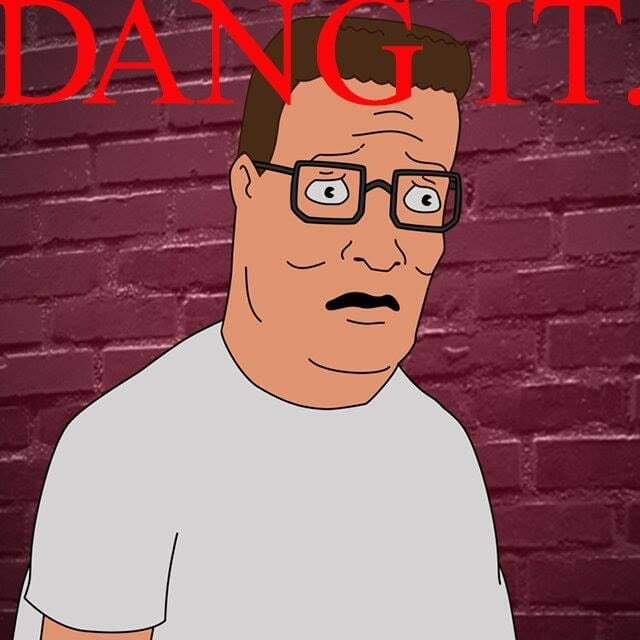 Is this what Kendrick imagined when he picked his album art? Probably not, but you've got to admit it's pretty funny.