J.K. Rowling quickly deleted a tweet with transphobic language after she included alongside commentary on a child's fanart created for her upcoming children's book.
Over the past several days, Rowling, who is releasing The Ickabog for free online before it's published as a book in the fall, announced an illustration contest where children between the ages of 7 and 12 can submit original artwork for the chance to have it included in the published version of The Ickabog. (But that doesn't come without its own set of legal caveats.) While Rowling isn't personally judging that contest (and her praise doesn't count as an endorsement), she's taken to sharing plenty of fanart on her Twitter feed to her millions of followers.
But when Rowling shared a drawing of an Ickabog from a 9-year-old girl (and first posted by Mike Kelland) on her feed, she also included commentary that had nothing to do with The Ickabog.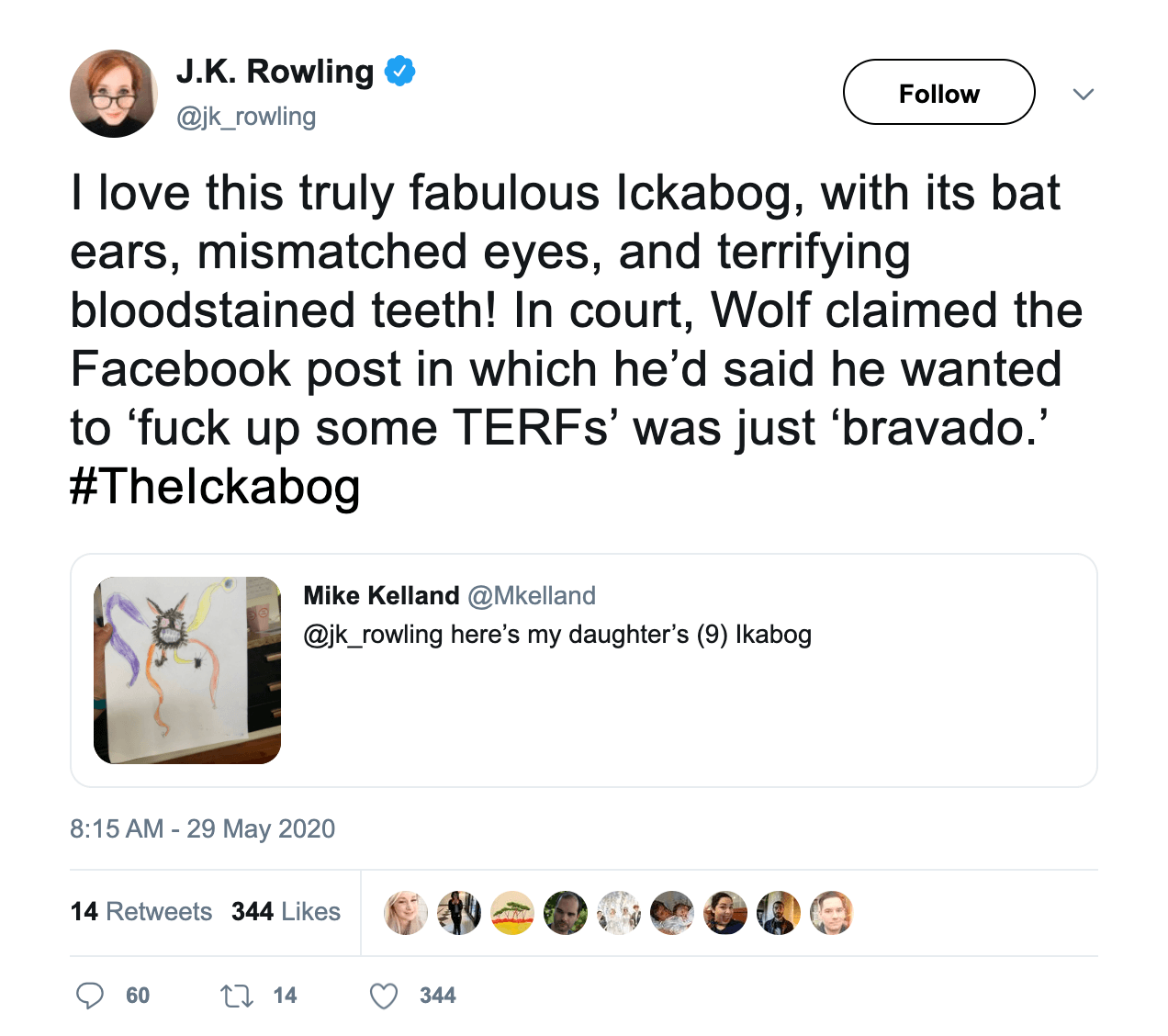 Rowling is referring to Tara Wolf, who was found guilty of assaulting transphobic activist Maria MacLachlan in 2018 during a protest in London's Hyde Park. Although the language doesn't match word-for-word, the language in Rowling's tweet is very similar to a transphobic write-up of the trial in which Wolf is misgendered throughout the entire blog post.
She quickly deleted the tweet as fans pointed out Rowling's transphobic wording and reshared the art from Kelland's daughter. In a follow-up tweet, she apologized for including commentary that didn't have anything to do with The Ickabog on a fan's artwork.
"I accidentally pasted in part of a very un-Ickaboggish message I'd just received," she wrote.
Shortly thereafter, Rowling followed up her tweet by refusing to apologize for reading about Wolf's case or misgendering Wolf. She also accused critics of "thought crime" and trying to censor her.
Rowling has a history liking and sharing transphobic tweets on her account—where she currently has more than 14.6 million followers. It's nothing new for those who've paid attention to Rowling on Twitter. And while including commentary on a two-year-old court case on a child's fanart for her children's book was a slip-up, the transphobic language included in the tweet appeared to be anything but.