The jig is up, Instagram fakers. A new automated archive on Tumblr chronicles everyone who says their photos are #nofilter—a term for designating shots that don't or not using one of Instagram's many enhancing filters—but is lying.
Filter Fakers shows you the offending photos, the person's username, and then identifies the filter used.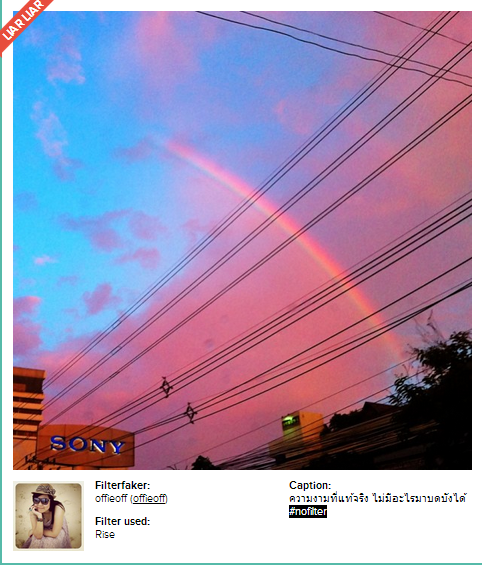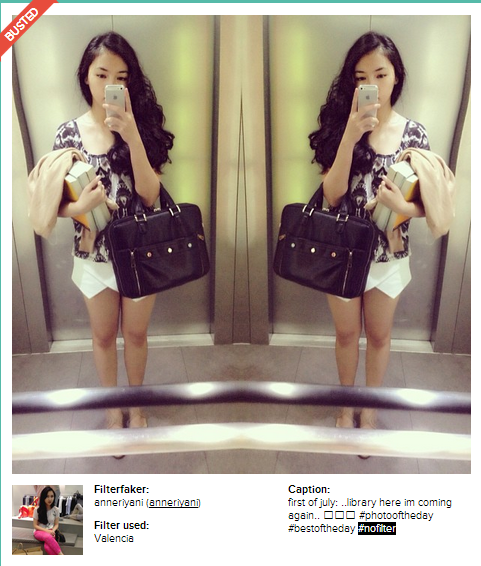 If you think someone you know is faking their photos, you can submit them to the site, and the creators will check for you. Created by the duo Kind Of Like A Big Deal, Filter Fakers also provides a rundown of Instagram's filters, teaching you the difference between a real untouched picture (conveniently of Ryan Gosling) and one with one of Instagram's filters.
So why claim publicly that you're #nofilter when you're using a filter? The answer might be not wanting to seem "fake." Instagram has long been mocked for enhancing ordinary, or even not very good, photos—making beauty queens of normal folk and astrological events of plain sunsets, etc.
On the site, Filter Fakers says that #nofilter is one of the most popular hashtags on Instagram. Refusing to use the filters is a mark of pride. You really are that beautiful. The pool at your house is that blue. Your jewelry is that sparkly. You are superior to everyone else using the app.
"People that want you to think their photos just turned out that great, completely without the help of any filters. And you had to believe them – until now," Filter Fakers' "About" page boasts. "We can only catch people using Instagram's built in filters, so if you still want to cheat, use Camera+ or similar apps."
There's also an element of the art of photography being overrun by amateurs. Where once, a photographer had to have a keen eye and struggle for a perfect shot, technology now makes every schmo on the street think he's a pro. Recently, the Chicago Sun-Times fired its entire photography staff and replaced them with reporters snapping pics on iPhones. Let's hope none of them are Filter Fakers.
Photos via Filter Fakers