In recent weeks, we've seen Instagram filters that tell you which Disney character you are, which of the Friends cast you most resemble, and of course, the age-old question of whether you're a Carrie, Samantha, Charlotte, or Miranda. But some are finding that the latest in this augmented reality trend, a new "How Old Do I Look" filter, is maybe not all its cracked up to be.
British singer and television personality Cheryl (full name, Cheryl Ann Tweedy) recently gave the new filter a spin, and let's just say that the 36-year-old was less than thrilled with her results.
Sitting in the backseat of a car, the former Girls Aloud star recorded a selfie video with the How Old Do I Look filter, but was shocked when it was revealed that the camera added 11 years. As such, she was informed that she supposedly looks like a ripe old age of 47?
[Extremely narrator voice: "She doesn't."]
Viral Instagram filter reveals how old you look – and 'horrified' Cheryl Cole by guessing her age as 47 https://t.co/BHlrxPPQ1e

— The Sun Tech (@TheSunTech) February 6, 2020
Fortunately for her livelihood, Cheryl's "How Old Do I Look" results were not any more scientific than the Disney, Friends, or Sex and the City filters—in that it's all completely random. Had she taken it again, the filter may have guessed anywhere from 12 to 85.
Yet, for anyone else who would enjoy having their age and looks randomly evaluated by an augmented reality filter, the good news is that it's pretty simple to try out the How Old Do I Look filter for yourself.
How to download the 'How Old Do I Look' filter
First of all, ensure that you have the latest version of Instagram downloaded on your smartphone. Otherwise, it won't work.
Then, search for (or click on) the profile for user @ferdaysss.
From there, click on "filters" (the icon that looks like a smiley face with sparkles between the main grid and tagged photos), and the How Old Do I Look filter should appear at the top.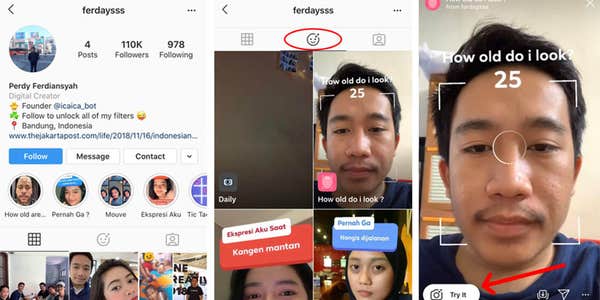 Simply click "try it," and when prompted with the Stories screen, just tap and hold the circle button and the filter will proceed to guess your age. (Make sure to keep the phone still and your face fully contained within the frame.)
Viola! If you've done this correctly, the filter should then randomly assign you an age, which may or may not be (but probably will definitely not be) flattering. You can then share the results in your own Story at your discretion.
You also have the option to save the How Old Do I Look filter for future guessing, by adding it in your main Stories filter list—simply click the "Add" button on the bottom of the page.
Happy guessing!
READ MORE: